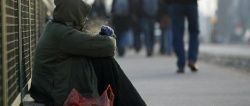 The Salvation Army plans to collect 10 pairs of shoes for the needy
Event ended
The Estonian branch of the charitable organization, the non-profit union of the Salvation Army (MTU Paastearmee), in cooperation with the shoe store Kingakaubamaja, has launched the "Toome ara" winter footwear collection campaign. With the help of donations, it is planned to collect 10 pairs of shoes.
The aim of the campaign, which runs throughout Estonia, is to support those people whose income during this difficult period is spent mainly on food. According to Daniel Handerson, the regional leader of the Salvation Army, shoes sold in stores are too expensive, so many unemployed, large families, the elderly, and other low-income people need support.
The campaign runs from January 16 to February 17, 2012. Anyone to send their little-used or new shoes to the Salvation Army, which at the end of the campaign, with the support of social workers from local governments, will organize the delivery of shoes to the needy. The patron of the campaign "Let's bring" is the figure skating coach and former professional figure skater Anna Lewandi.
"The last winters were very severe, and this winter was no exception. There are 50 registered unemployed in Estonia. In the Põhja-Tallinn region alone, there are about 000 distressed families for whom decent shoes are more of a luxury. It's sad to realize that in such families, children should walk with their feet frozen and wet all winter, "said campaign founder Anna Lewandi.
You can contribute to the success of the campaign by sending shoes using SmartPOST mail machines to the Salvation Army.
SmartPOST mailboxes are located in shopping centers throughout Estonia, and a map with more precise locations can be found on the website www.smartpost.ee. Shipping costs 1 euro. To send a parcel using a postal machine, you need to find the nearest postal machine, select the "Charity" service (Heategevus) on the touch screen, and follow the instructions below.
A similar campaign, but on a smaller scale, was carried out last year, and then more than 400 pairs of different shoes were collected.