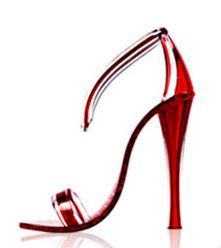 Ecco Walk in Style Award kicks off Copenhagen Fashion Week
Event ended

31 January 2012 The Ecco Walk in Style Award ceremony opens Copenhagen Fashion Week. The Scandinavian brand show, which will feature a collection of shoes and accessories for the fall-winter season 2012-2013, has become a traditional part of the fashion show program in the capital of Denmark.
The symbol of the award - a graceful crystal shoe - reflects the Ecco philosophy: the unity of style and comfort, the combination of external and internal beauty, because the Walk in Style Award is part of the Ecco global charity program. During the ceremony, the company celebrates the achievements of outstanding women who inspire others by their example and help change lives for the better. Established by Ecco in 2008, the award aims to highlight the challenges faced by women around the world, especially from disadvantaged backgrounds.
This is the fifth time that a charity grant in the amount of 33 500 euros will be awarded to a nominee from one of the participating countries. In 2012, at the Walk in Style Award ceremony, six projects from Norway, Sweden, Denmark, the Netherlands, Poland and for the first time in Russia will be presented. The winner of the ceremony will be able to send a grant to support her project.
In 2012, Russia is represented by Maria Butyrskaya, the famous Russian figure skater, the winner of the title of world champion in figure skating in Helsinki in 1999, three-time European champion and multiple winner of the Russian championships. In case of victory, Maria Butyrskaya plans to send a charitable grant to support the Russian Paralympic Sports Center, which organizes classes and sports sections for children with disabilities, because very often sports for them is the only opportunity to become full-fledged members of society and look to the future with confidence.
The guests of honor at the Walk in Style Award ceremony will be crown princess Maria Datskaya, who, on behalf of the jury, will announce the winner of the charitable grant nominees, well-known beauty expert Ole Henriksen, influential socialites and fashion professionals.
Ecco ranks third in the world among the largest manufacturers of everyday shoes. In 1991 the company received the honorary status of "Official Supplier to the Royal Danish Court".