A showcase is a visiting card of a store, the first thing a passerby draws attention to, and how well it is illuminated depends on whether it will turn into a store visitor. How to make a light in a showcase advantageous and attract visitors to it? - This and other questions are answered by the teacher of the project "Vitrinistika.ru" and expert on lighting devices Konstantin Kozyrev.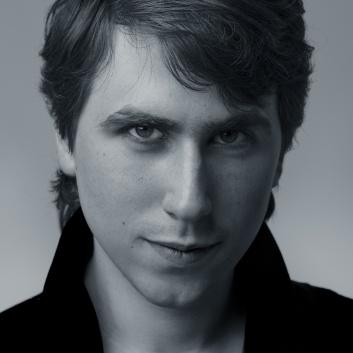 Konstantin Kozyrev
- Head of the sales department of Trading House KVADRO-LUX LLC (St. Petersburg), which has been manufacturing lamps for home, office, hotels and cafes for more than 20 years. Lecturer of the project "VITRINISTIKA.RU"
What shop windows do shopping center visitors pay attention to? 1) For those that are somewhat different from the rest. If everyone has a bright illumination, make yours calmer, dim the searchlights. This advice is easy to do when the windows of the neighbors are terribly lit, or neighboring stores do not sell shoes, but linen or telephones. Difficulties begin when your fellow competitors are well aware of what's what, and hire professionals in the world.

Light is not only bright or dim. Light has a spectrum: cold and warm, and it can also be painted with light filters. The warm spectrum, of course, is associated with summer and the beach. This is a winning lighting for a swimsuit store, but is it suitable for a shoe display case? It all depends on the design and collection.

You can "colorize" the monochromatic back of the display case with colored spotlights, and this will set you apart from the "monophonic" competitors. There are LED lamps on the control panel, the spectrum of which can be changed with one touch.

But be moderate, do not turn on color music. The range of lamps is enough to change several times a week. Mount the cartridges on the floor of the display case so that the lamps themselves are hidden from the eyes of visitors. And see how the spectrum changes the perception of the storefront. Shopping centers have a constant audience - people who come here several times a month to the supermarket or to the cinema. They are used to all the shops and do not pay attention to them, but with a side vision, a person will see that the window has changed since his last visit. In this case, the only thing that has changed is that in the morning or in the evening you have chosen a different spectrum of glow.

Pay attention to two points: not all shopping centers will approve of the blinking of lamps, and for the glow to be noticeable, the lamps must be powerful enough or be close to the illuminated surfaces. Otherwise, due to the abundance of light from other lamps, your game spectrum will not be noticeable.
2) On shop windows where there is a semantic link between light and the concept of design. Interesting decorating moves attract attention, and emphasize light so that light and shadow enhance visual perception, not disturbed him.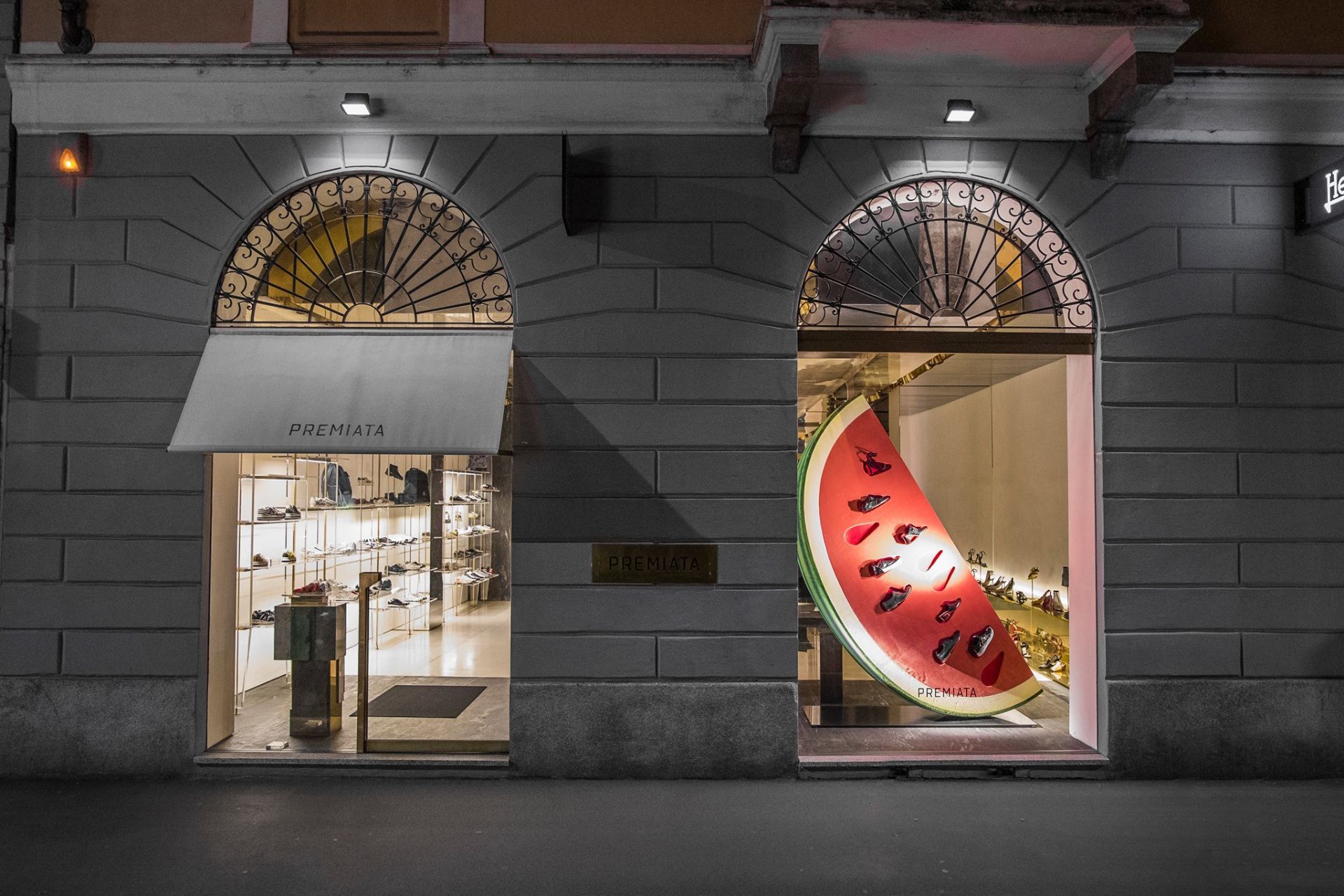 Premiata Milan shoe store showcase in Milan with evening lighting
Before you "launch" a storefront, check it out for yourself: let someone adjust the spotlights from the stepladder, and you (the store director, manager, merchandiser-showcase) walk along the corridor along the storefront and see what happens to it. It becomes more interesting, unusual, brighter or not, the play of shadows and lights looks "as intended" or needs to be improved. If you don't have any special design, but just put on a few mannequins in beautiful clothes, shoes, or podiums with shoes, remove all excess light in the window, and light only them.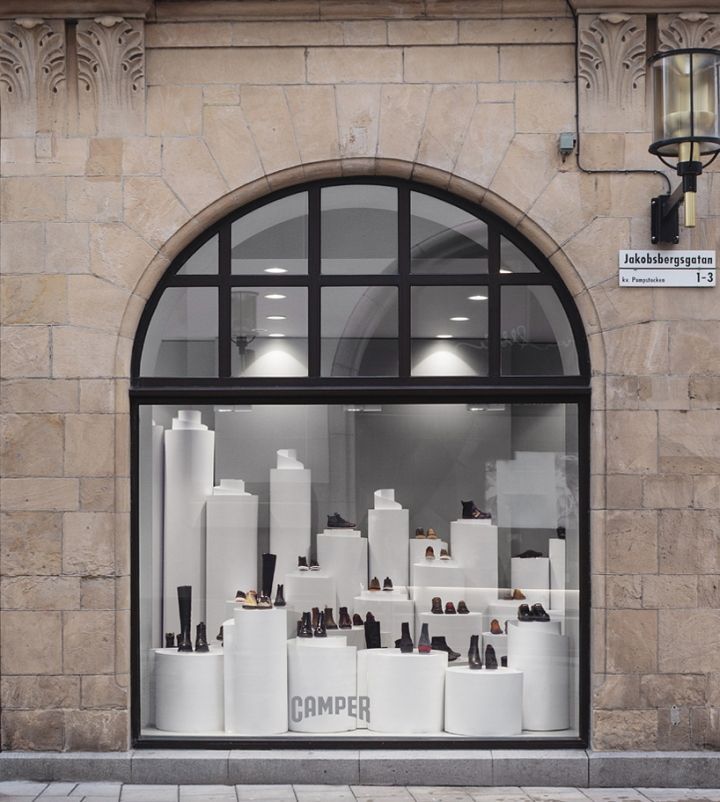 Showcase Camper store in Stockholm
3) On showcases with specific relevant information. Perhaps the whole design of the showcase comes down to the fact that you are informing the guests of the shopping center that you have a new collection, such and such brands of shoes, or a sale has started / is going on. Highlight precisely this important information. From the side it looks sloppy when the spotlights are aimed at empty sections of the wall or floor, and the sale stickers are darkened. Our customer will simply pass by without noticing information about discounts.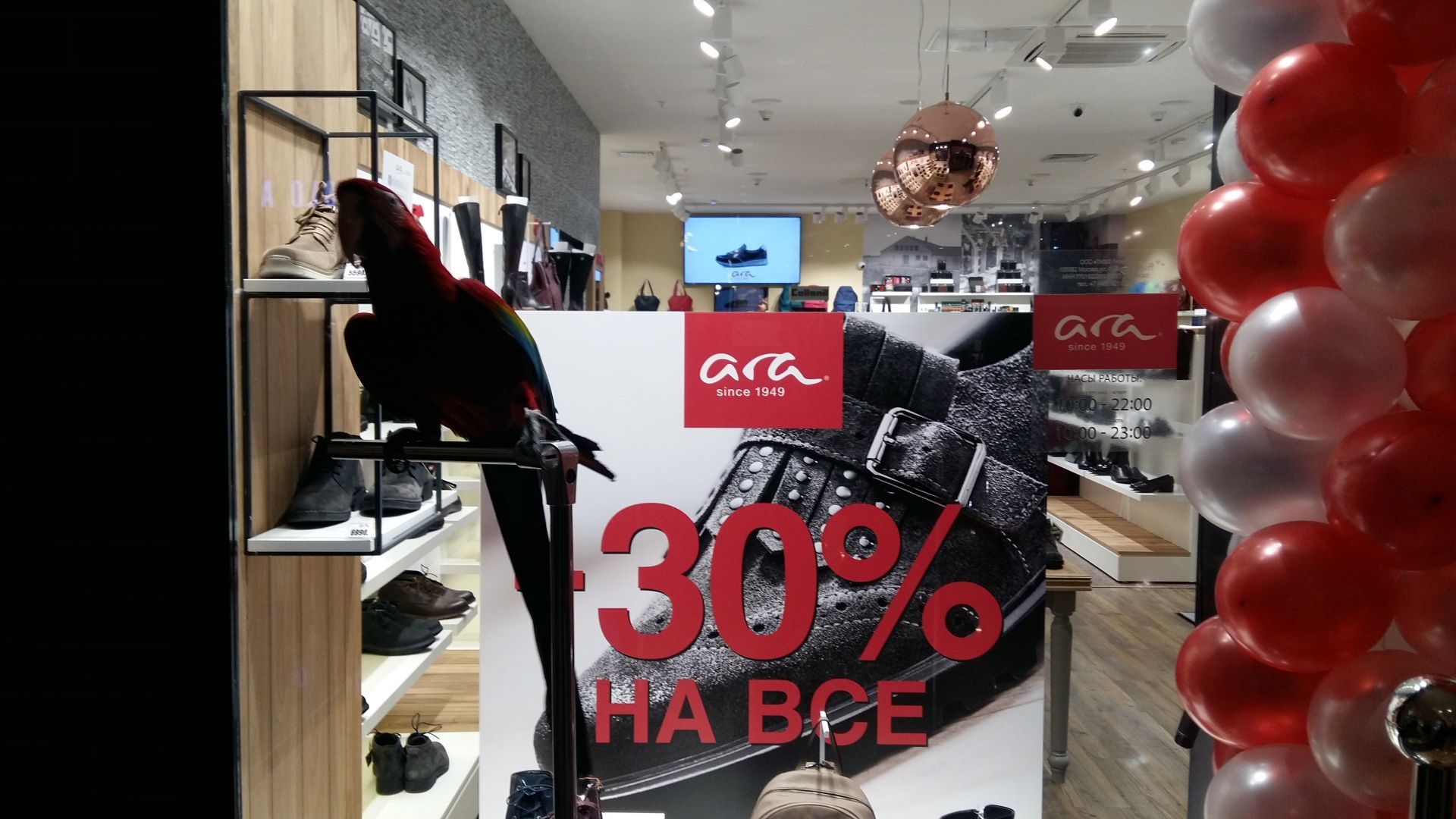 Showcase ara store in the Moscow shopping center Afimall City
Games with light on the trading floor
The customer lingered for a split second at the doorstep of your store. He decides whether to go in to see the goods, inspecting the shelves from afar. At this stage, it is very important that the visitor's eyes have something to stop at and catch on the trading floor.
Often in shoe stores, especially in an inexpensive segment, the following picture is observed: fluorescent or LED ceiling lights are used that evenly illuminate the entire room.
Frankly boring ... It is clear that an inexpensive store is also inexpensive equipment, but even a person with limited finances (a potential buyer) wants comfort, beauty and attention to themselves. If the buyer sees an inexpressive space in front of him, will he want to go inside and try something on? He is in doubt: "Yes, the sale, yes, my favorite brand. But actually, a friend is waiting upstairs, and the general feeling of the store does not inspire confidence "...
Owners / managers of expensive stores are also not always able to competently work with light. It often happens: the whole space is studded with spotlights, but they also evenly illuminate walls and stands.
Meanwhile, at the expense of light, one must strive to capture the attention of the visitor. Bright light spots will attract his attention, and he will ignore the darkened areas.
"Play" with the light you have, depending on your primary tasks. Do you need to sell your old collection? Expand the spotlights on a sale booth. Do you have a new collection with excellent margin? Put an additional lamp, a brighter lamp (observing the power limitations), make the shelf illumination. Let with a cursory looking from the entrance, the first thing that catches your eye will be exactly the stand that you planned for a potential client.

Everything, you captured the attention with the help of lighting solutions - our customer crossed the threshold of the store and moves to the treasured shelf. Having examined the models presented on it, probably, our hero will not want to see something or compare several models. And here a competent and friendly seller can be very helpful. But sellers are busy with other customers, are not very professional, or the buyer is not in the mood to listen to the seller. So that at this moment the visitor, already five minutes before the buyer, does not disappoint and does not leave with anything, mentally put yourself in his place. Go to the very shelf that attracted her attention and with it take a step away from the shelf. Now, from a new angle, inspect your store. What do we want to show her now?

Here we need a light focus on proposal number two, although it may just be a good general illumination of other shelves. But then the question arises about the general atmosphere of the sales area - does it mean that the visitor or visitor continues to walk around your store? Perhaps they will put in place the only highlighted pair of shoes that their eyes fell on, and head for the exit. It is very difficult to imagine yourself in your own store as the first time. Simple tricks will help: unwind in one place or stand, opening and closing your eyes. Then ask yourself: what is striking in the first place and do you need a light accent number two or not?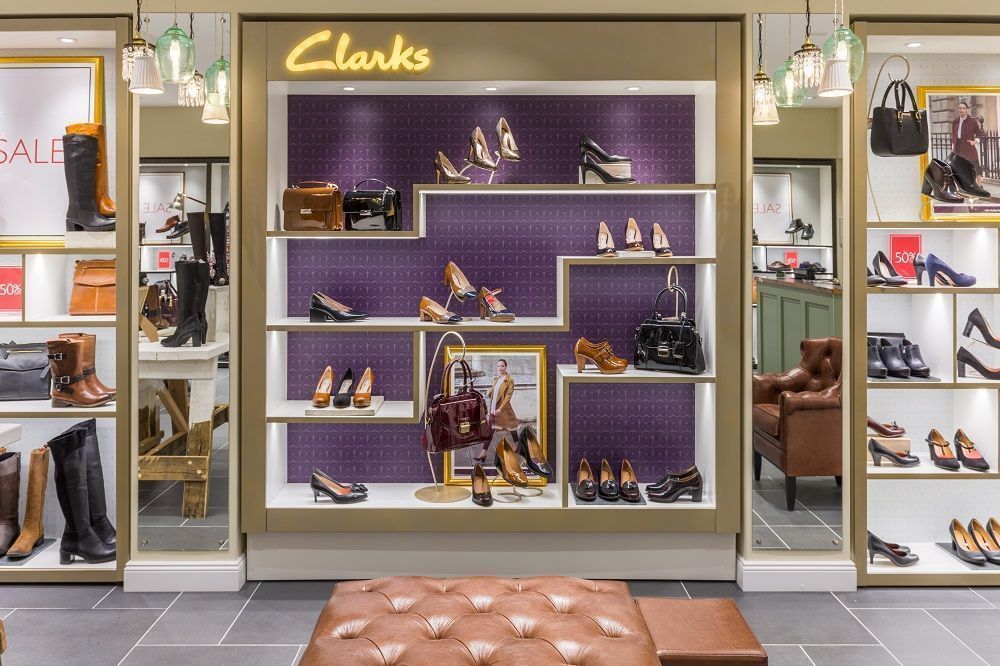 Clarks store interior in the Afimall City shopping center in Moscow
Bulb and Bunny Navigation

We should also talk about light navigation. The walls of the trading floor can accommodate brand names or price offers. In a shoe store, the fitting zone is usually in the center, so brands and promotions can be highlighted. If this is a children's shoe store, you can play with shadows or crystal pendants. Not all children They like to choose shoes and, if they start to be capricious, parents accelerate their decision-making or, having lost patience, leave without a purchase. Let the kid be interested in your store. A small halogen bulb aimed at the crystal light will create solar bunnies on the wall. Characters painted on the wall will also entertain the young visitor while parents pull another boot on his leg.

Comfort zone

By the way, about moody guests. An important point for those to whom customers come in pairs, and a man often sits with a bored look in his chair while waiting for a purchase. Create a comfort zone for these clients. If he will be comfortable in this chair, then he will not rush his companion, and, therefore, more likely that the purchase will take place. Comfort, in addition to a comfortable armchair (tea / coffee or a TV that broadcasts a sports channel), also means lighting. Ideally, individually customizable (for example, a floor lamp). A man wanted to take a nap, while his companion was trying on the 20-th pair of "hairpins", the floor lamp turned off. The phone rang, and he needs light - he turned on the floor lamp. You can, of course, do without a floor lamp, but then provide the visitor with at least a comfortable chair.

About the subtleties and nuances of lighting

Lamps come in general and directional lighting. General lighting is recessed, overhead lights and chandeliers that fill the space with light. Directionals give accent lighting - these are spotlights or spots. If there are quite a lot of searchlights, and their light spots overlap each other, then they can also create general wall lighting.
For good store lighting, you need to use dim lights in general lights and good spotlights for highlighting areas and creating accents in the store. Spotlights have a different scattering angle, and, therefore, the diameter of the light spot. This must be taken into account both in the selection of lighting equipment, and in the arrangement of existing fixtures. Turn them on, rotate, move and look at the result. An important question is which lamps to use? The lamp does not affect the type of lighting, but here you need to understand the fundamental difference. LEDs are expensive, but provide savings in consumption, and they heat less. Saving consumption is not only electricity bills, but also the ability to supply more lights with the same power limit to the store.
Halogen lamps are very hot, they can not be used next to flammable materials, or in a store with low ceilings: the room will always be hot if powerful halogen lamps are used. A halogen lamp can be either in a general light fixture (for example, a built-in lamp, the so-called downlight) or in a spotlight. Fluorescent lamps heat up slightly, and are relatively inexpensive, but they can "blink", and with an inattentive vendor on your ceiling can happen perfectionist's nightmare: lamps of a different spectrum will be installed in the lamps, and this will be noticeable. In the low-cost segment this is still acceptable, but on average and higher, of course, not.

FOR THE NOTICE
1) If the display window has changed the location of goods or mannequins, look - perhaps you need to change the direction of the spotlights.
2) When choosing new fixtures, it is better to give preference to track systems. A track is a guide rail where you can install a lamp anywhere. Thus, you will have more opportunities to move lights in a running store.
3) Two or four tracks mounted parallel to each other on the ceiling of the display window will allow you to create interesting light scenes using spotlights.
4) If you have any familiar studio photographers, invite them to put out the lights in the store. Photographers pay great attention to lighting during work, therefore, they may help you to correctly direct the spotlights in the trading floor and shop window.
5) Each price segment of the market, among other things, has its own light association. For example, a wealthy self-confident man is a muffled, warm light. Studentship and ease of being - brighter white. In the boudoir of a secular lady, a soft pinkish light is acceptable. This does not mean that you need to radically change the lighting of the entire store. Be guided by taste and moderation. Perhaps some kind of special light needs to be created only in one area of ​​the store or only at the storefront.
This article was published in the 133 issue of the print version of the magazine.
A showcase is a business card of a store, the first thing a passer-by pays attention to, and it depends on how well it is lit whether he turns into a visitor ...