The first Il Quattro shoe and apparel chain store opened in 2001. Now it sells only Made in Italy products. It is to these brands that Gianmarco Lorenzi belongs. For five years, the network and the Italian manufacturer have been cooperating. During this time, partners have turned into friends and are now discussing the opening of a single brand. General plans for the development of the brand in Russia by Il Quattro CEO Mikhail Sarukhanyan shared with SR columnist Evgenia Zharkikh.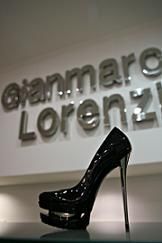 - How and when did you notice the Italian footwear brand Gianmarco Lorenzi?
- We started working with Gianmarco Lorenzi 5 years ago, in 2004. Although I heard a lot about her back in 1998. But then we didn't have our own stores, so we didn't have the opportunity to communicate directly with Gianni. In 2001, we opened our first store, but, unfortunately, financial resources did not allow us to deal with this brand, since the average purchase price of Gianmarco Lorenzi shoes is about 200-250 euros in Italy. Fortunately, the 1998 crisis eventually passed. And one fine day at the National Hotel, when there was a shoe exhibition, we made our first order. At that time, we had several similar brands, so there was internal competition in the store - by trial and error, we came to the conclusion that Gianmarco Lorenzi shoes are the strongest brand in the sector in which they are positioned.
- How do you imagine Gianmarco Lorenzi shoe shoppers?
- These are shoes for self-confident women who are not afraid to walk in heels from 8 to 15 centimeters. And not only to walk, but also to dance folk dances in them at discotheques (smiles. - Approx. author).
- Did your acquaintance with Gianni Renzi somehow affect your cooperation with his company?
- It can be said that to some extent it influenced. Once Gianni told me: "Misha, I'll tell you one thing, you listen to me, and everything will be fine." I answered him: "You are an authoritative person for me, I am ready to listen to you." He suggested that I give up competing brands with him and work with him more closely. I decided that if he has a huge selection of shoes that we can sell, then really, what is the point for us to spray on different brands so as not to adequately present one. 5 years passed, during this time we opened another store on Nikolskaya Street on Red Square, where a presentation was held in January 2007. Gianni was, of course, an honored guest there. We invited the famous Italian singer Albano Carrizi (Al Bano), we had a great evening on 250 people, of which 150 were Italians: embassies, consulates, various Italian trade missions, as well as representatives of the brands that we represent. Since then, our relationship has grown into more friendly ones. We swear as partners and communicate as friends.
- What can you say about this company as a supplier?
- At 85-90%, everything suits us. If it weren't for customs, paperwork with import clearance, we could work even better. Additional collection is possible, but, unfortunately, not to the extent that we would like. He has rather specific shoes, non-standard forms of heels and platforms, an abundance of stones, a combination of various types of leather and fabric. He is simply physically unable to reproduce the entire collection twice or thrice. It's possible to order basic models, but to regain the entire collection is unfortunately unrealistic. And who is it possible now ?!
- Does the company take into account your wishes when you order a collection?
- Oh sure. At each exhibition, they present about 1000 prototypes, from which we select 70-100 models. There are some basic models that we order exactly as they are. There are trending patterns that he saw in a certain color, for example, in saturated red. Naturally, we order models in this red color, plus a couple of more standard colors. Usually, when ordering in 70% of cases, we change some details - leather, stitching, sometimes heel height. But the overall concept of the model remains.
- Now is the time of crisis, has the demand for shoes of this brand dropped?
- Yes, there is a decrease. After all, these shoes are not for every day. At the beginning of the crisis, our regular customers came to us and complained that they could not buy pairs of shoes from each new collection on 2, they were forced to wear shoes longer. Unfortunately, people cannot spread 30-40 thousand rubles every 5 minutes now. But given the fact that Gianmarco Lorenzi shoes are designed for a certain class of people, for today the demand is still quite high.
- For 5 years of work, what do you consider to be the most important achieved result of cooperation with this brand? What is important to you in the first place - money or the status of your store?
- Money, of course, is important. But I can say that thanks to the close work with this brand, more beautiful girls began to come into our store, there were more respectable young people along with charming companions.
- What are your plans for the future?
- They are grandiose, and I hope that they will come true. We have been approaching this for two years, but the notorious crisis has set us a good bandwagon. Unfortunately, we cannot but reckon with this. We have an idea to open a single brand on Red Square. As I said, we have one store on Nikolskaya Street, it has two halls. We want to make one of the halls a boutique Gianmarco Lorenzi. I hope that in the near future we will implement this project.
- What planning horizon do you use for the Gianmarco Lorenzi brand?
- We plan to work for 6 months, that is, we place our orders six months before the season. But there are also disadvantages. We ordered a large volume in March, when everything was calm, and in September a crisis broke out. In this regard, we experienced some difficulties that are now being overcome.
- How interested is Gianmarco Lorenzi in demand and sales in your stores?
- We constantly monitor sales. We do customer surveys to understand their expectations, constantly communicate with suppliers, share with them information related to product quality, ease of use. We are in full contact, without this it is impossible to work. We communicate with the end customer. And he draws, and draws for the same end customer. If he does not know what the quality of the shoe is and how comfortable it is, then this will not be very correct. We are constantly monitoring the process.
- How can retailers find a common language with suppliers? - Unfortunately, the business has such specifics that it is impossible to exist without conflicts. Sometimes a process of patient persuasion comes to the rescue in a business conversation; sometimes you tell a person what he wants to hear at the moment, given his mood, then after a while you will correct something. I can say with confidence that the location of our stores allows us to count on the best supplier relationship, we must take into account our good work, friendly relations with suppliers and with our customers. We often see manufacturers in our stores, which confirms our good relations with them. Another important factor is that we provide buyer contact with the manufacturer. In this case, I act as an intermediary, while receiving my dividends.
The first Il Quattro shoe and apparel chain store opened in 2001. Now it sells only Made in Italy products. It is to these brands that Gianmarco Lorenzi belongs. Already…