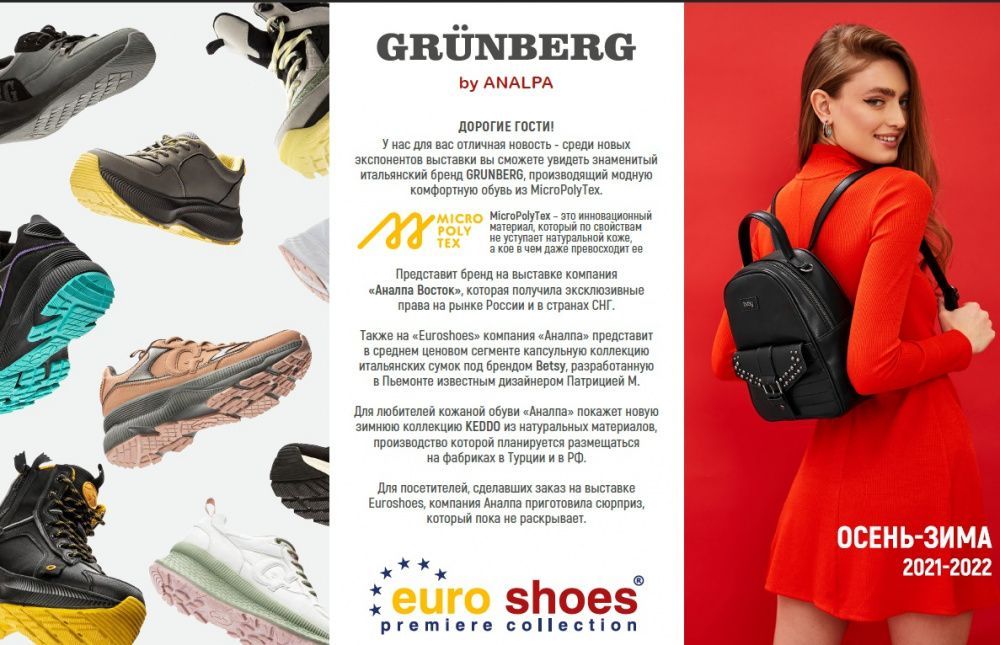 16.02.2021
3338
Analpa is preparing a surprise for buyers at Euro Shoes
Analpa will take part in the exhibition again after a break Euro Shoes which will take place on March 1-4 at the Main Stage. Among the new exhibitors of the exhibition, you can see the famous Italian brand Grundberg, which produces fashionable comfortable shoes from MicroPolyTex.
The style of the brand can be described as futuristic or neo-sporty. The models are distinguished by unusual geometry, slightly streamlined design. The palette is mainly monochrome, although it cannot be called boring: designers use complex rare colors, choosing interesting combinations in the same range. The Grunberg collections are all-season, and the fullness from medium to wide is especially for problematic age legs.
Consumers often note that Grunberg shoes are as comfortable as possible. This is due to a special technology that manufacturers call "light-flexible-soft-air-comfort-water safe". The outsole of all models is durable but elastic. The insole ideally follows the foot, if desired, it can be removed, which makes it easier to care for shoes. Even in winter shoes, breathable nets are used, which do not allow moisture to pass through thanks to special impregnations. Demi-season models are equipped with cushioning inserts in the heel.
GRÜNBERG is an international brand of innovative everyday footwear that pioneered the concept of fashionable comfort. Created in Italy, he very quickly conquered the markets of Western Europe, and then the whole world. Most of Grunberg shoes are made from "micropolytex" - an innovative fiber material that is highly hygroscopic and breathable. That is why the brand's shoes are ideal for all lovers of an active lifestyle. Grünberg shoes are absolutely environmentally friendly, because all models, regardless of demand, are produced in limited editions from the highest quality materials and at the same time with a minimum amount of waste.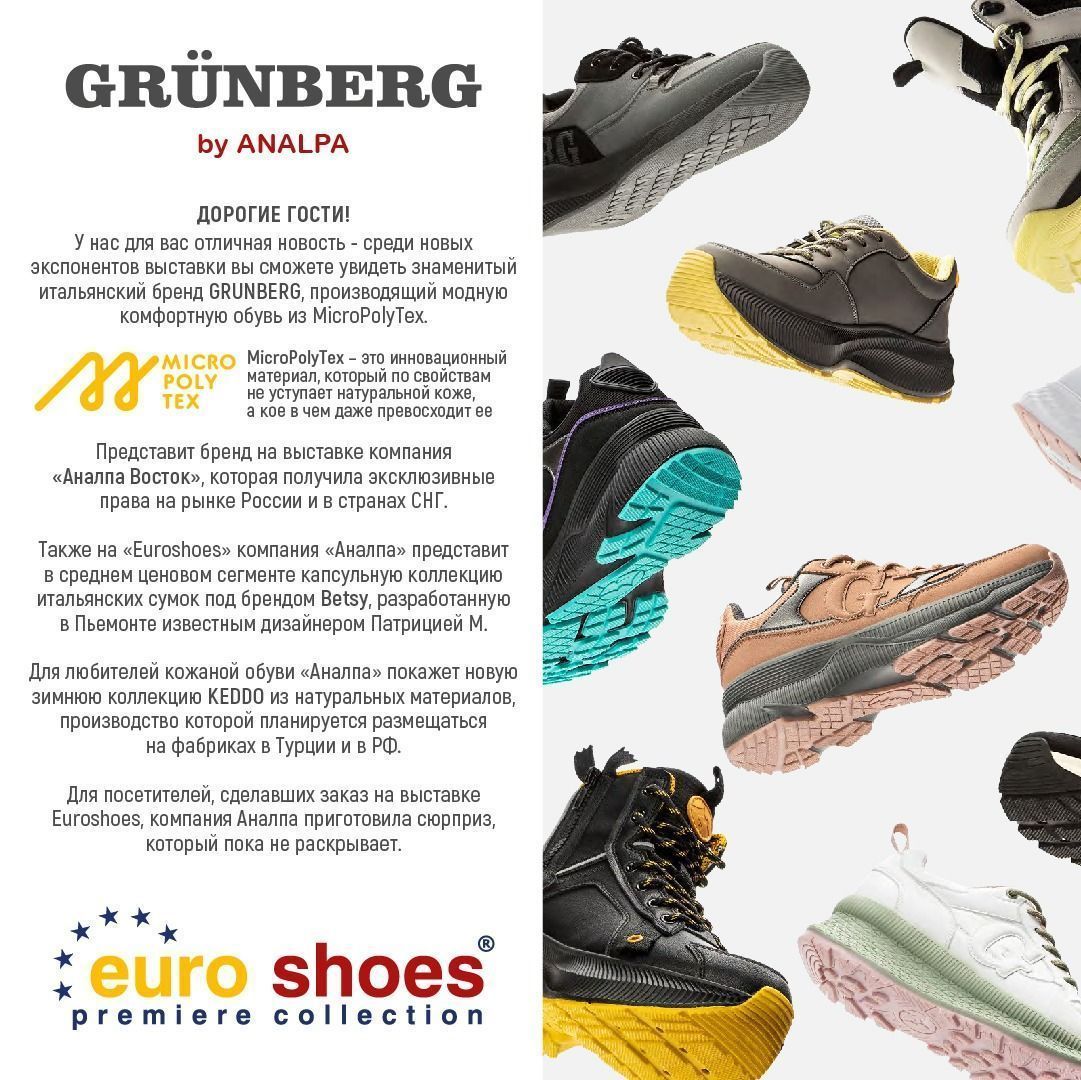 Also at Euro Shoes, Analpa will present in the middle price segment a capsule collection of Italian bags under the brand Betsydeveloped in Piedmont.
For lovers of leather shoes, Analpa will show the new winter collection Keddo made from natural materials.
Keddo Is a youth shoe brand of the international corporation Analpa. Under the Keddo brand, fashionable casual shoes for men and women are produced. The Keddo brand lineup is developed by an international staff of designers. The collection is updated annually with thousands of new models for the markets of different countries.
For the Keddo brand, unique lasts and soles are created, shoes are decorated with author's prints. The materials testing laboratory is located in the Netherlands, production is concentrated in Europe and Asia.
Get invitations to the exhibition Euro Shoes
After a break, Analpa will again take part in the Euro Shoes premiere collection, which will be held on March 1-4 at the Main Stage.
Editorial Office Shoes Report