The German brand of women's shoes and bags MARCO TOZZI (part of the Wortmann Group) is a permanent participant of the exhibition EURO SHOES premiere collection. MARCO TOZZI Sales Director in Russia Eldar Schaffner spoke in an interview with SR about the new collections and the company's franchising program.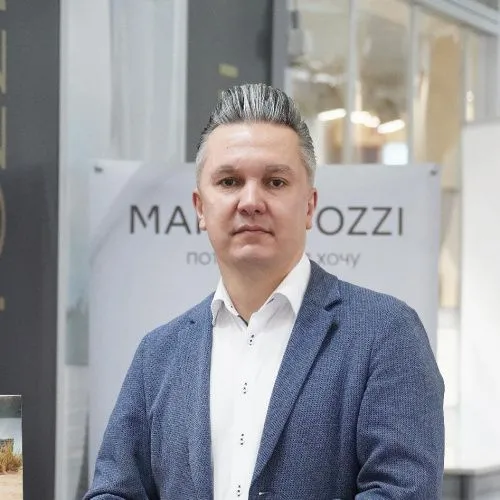 Eldar Schaffner
- Sales Director MARCO TOZZI in Eastern Europe and Russia
Eldar, tell us about the results of this year: financial, collections and models of shoes.
The year turned out to be difficult, but, despite this, almost all the goals set were achieved. First of all, there was a change in the visual component of the MARCO TOZZI brand. The corporate style has received a new breath, a new cut. Black with gold was chosen as the main color combination, and the heart-shaped logo became the main identifier and brand name. From the autumn-winter 22/23 season, the new brand name is officially presented on the details of shoes and bags, in the new design of the pair box, as well as in all marketing communications.
We have developed and launched a new capsule wedding collection, which our customers have already appreciated, and we hope that the end consumer will also appreciate it. The collection will be available in stores in spring-summer 2023.
Increased use of sustainable alternatives in production, such as: our steam boxes are made from recycled materials, we use exclusively water-based adhesives, and polyester, which is mainly made up of recycled plastic bottles (PET).
With each new collection, MARCO TOZZI strengthens its position in the market, and this cannot but rejoice. Elegance, femininity, fashion - three words that clearly characterize the style and character of the brand.
Why was the decision to change the logo made?
MARCO TOZZI is a fairly young brand, if we take our entry into the b2c promotion segment as a starting point. We do not stand still, we are looking for new ways of development and are constantly trying and experimenting. Both in promoting and creating our collections. This is how new models, prints, elegant details appear. The MARCO TOZZI collections clearly show a style in which we put emphasis on elegance and femininity, and a special love for details in all production processes is our distinguishing feature. This is what the heart of MARCO TOZZI symbolizes.
Tell us more about the bridal collection and what's new in 2023.
In the spring-summer 2023 season, in parallel with our main collection, we launched a new bridal capsule collection on the markets of all countries where we are represented. For the first time, the MARCO TOZZI bridal collection was developed in collaboration with the famous fashion designer and designer Guido Maria Kretschmer in Germany and presented in the spring-summer 2022 season.
We have been successfully cooperating with Guido for several years, and the decision to create a bridal collection was a kind of experiment. The success was colossal, which, in fact, became the catalyst for the creation and opening of the MARCO TOZZI wedding collection for all countries.
We provided and presented models not only for brides, but also for guests of the most important holiday in the life of every girl. The collection includes classic and laconic pumps, sandals with elegant details, comfortable flats and even incredibly feminine sneakers. We are convinced that every girl will be able to choose the perfect pair for herself, which will perfectly emphasize and complete the image she has chosen.
As for the main collection, there are also a lot of new items. Designers and technologists of the brand have focused on the color component: trendy intense colors, noble and pastel shades - an incredible variety to create a bright and fashionable look. We have developed new styles, forms of soles and heels. Comfort is always a priority for us, so the heels have an optimal height and stability. Added stylish details to the design of each model.
The MARCO TOZZI collections harmoniously combine modern fashion trends and comfort, which is achieved thanks to unique proprietary technologies.
Tell us about MARCO TOZZI stores, system partnerships, franchising.
We provide our customers with the opportunity to open their concept store MARCO TOZZI and accompany at all stages - from the creation of a design project to the opening ceremony with subsequent seasonal support. Unique loyalty offers designed for system partnerships are also built into the franchise conditions.
Depending on the available space, we can offer a choice of design options for the Shop-in-Shop system or a separate concept store.
Currently, there are 12 MARCO TOZZI concept stores and 11 Shop-in-Shop systems in Russia. We plan to continue developing and expanding the geography of the MARCO TOZZI system partnership in Russia.
MARCO TOZZI will take part in the upcoming Euro Shoes exhibition from 20 to 23 February 2023 with a new collection for autumn-winter 23/24.

The German brand of women's shoes and bags MARCO TOZZI (part of the Wortmann Group) is a regular participant in the EURO SHOES premiere collection exhibition. Sales Director MARCO TOZZI in Russia Eldar…