The Moscow Fashion Week, which took place this summer in the capital, gave a chance to get acquainted with new footwear brands born and developing in Russia. The markets of the Week presented incredibly feminine, one might say, handmade artisanal shoes by the St. Petersburg brand Mark Levillen. The brand was created by a married couple Lena and Dima Lozhkin. Their mules, the top of which is decorated with delicate leather flowers, already have a whole army of fans in different cities of the country and even beyond its borders. However, a number of attempts to repeat the success, which were made, including by Chinese manufacturers with Ali Express, failed, because the manual labor of a real artist cannot be repeated. Shoes Report spoke with Mark Levillen brand founder Lena Lozhkina.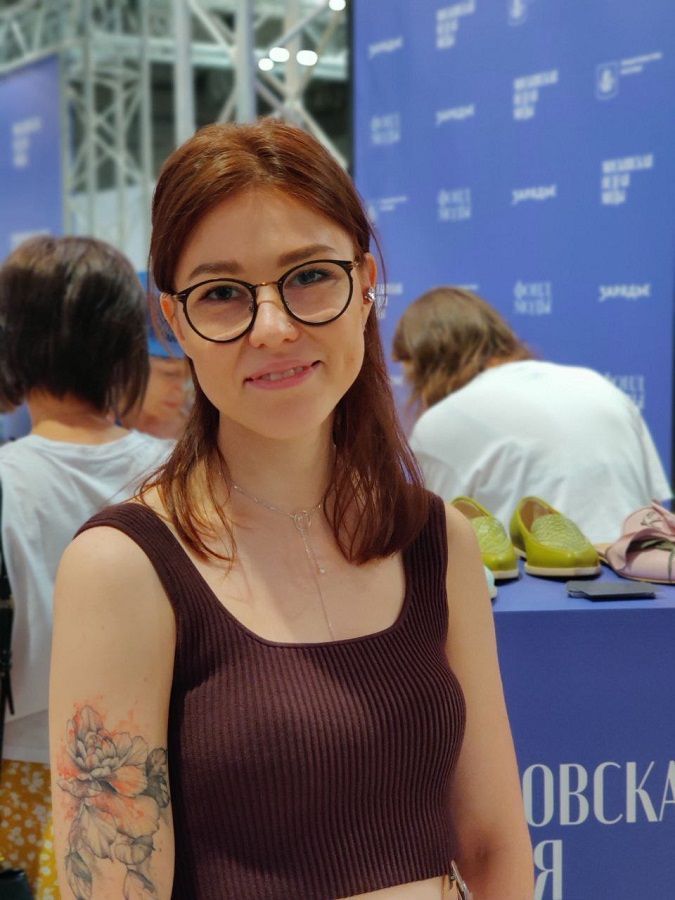 Mark Levillen brand founder Lena Lozhkina
Lena, please tell us about yourself and the creation of your Mark Levillen brand!
I am a graphic designer by education, I graduated from the Stieglitz Academy in St. Petersburg, and before that, an art school in my native Yekaterinburg. In St. Petersburg, after the "Fly", I worked in an IT company. When I decided that I wanted to create shoes, I found a master, and learned, tightened several pairs myself, understood how it all works, how it works. I taught my husband how to sew shoes, he supported me in my project. Four years ago we started everything as a hobby. We sewed on our balcony for a while. Then we had a baby, and in order to get away from the dust and smells in the house, we decided to rent a small workshop. Gradually, a team of friends and acquaintances appeared, whom we trained.
So you have your own workshop?
Yes, at first we moved to one small room, and then there were so many of us for 15 squares that we took the second one. We now have three sites. The team was slowly building up. First, one friend moved and joined us, then another ... We tried, we liked it, we taught. In the team, we do not have specific tasks for everyone - someone is a manager, someone is dragging, someone is sewing. Everyone decides for himself what exactly he would like to do, and from this his tasks are formed. For example, the girl who takes orders is a ceramist, and we use her skills in our work - embroidery, ceramics. I set myself the goal not just to build a production facility, but to gather the most interesting and strong people into a team. I wanted to connect two worlds - art and leather. All art around is subjective - you may like it - you may not like it. The main thing is that we ourselves like what we do, so that we can convey this emotion to others.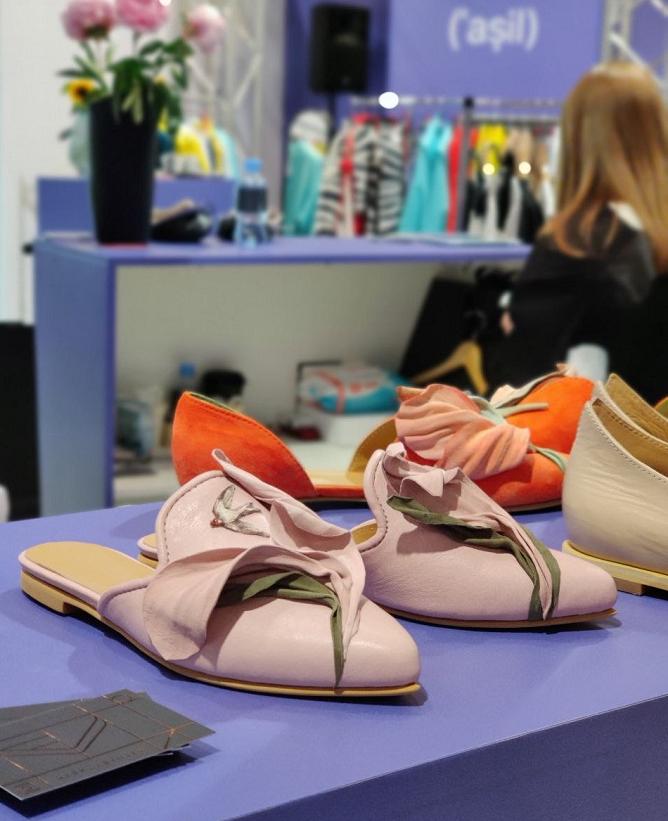 Mark Levillen shoes at the Moscow Fashion Week market, mules 17500 rub.
Can you imagine what kind of people you sew for?
In fact, when creating models, I start from what I like myself, and it turned out that this is also attractive to other people, since they order tailoring from us.
We started by registering on Instagram (Editor's note: blocked in Russia, owned by Meta, which the court in Russia recognized as an extremist organization, its activities are prohibited), and 120 of our friends subscribed to us. And then every day we posted photos, filmed in the same place where we sewed, on the balcony. From some moment, someone liked or reposted, and they began to actively subscribe to us. Pretty quickly gained about 40 thousand subscribers. And a year ago there was a revolution in my mind, I came up with my own flower story (Editor's note: mules with a floral motif). I was inspired by flower brooches. I liked how leather is used, how it signs something, I became interested in what paint all this was signed with, I stumbled upon flower girls who make silk things, I bought various tools ... But in the end, to create my flower shoes, I only needed a rag, glue, leather and my hands. Having made one pair, I saw a positive reaction from my team, and it became clear that this should work. But I didn't expect such interest as we got by showing the first two or three pairs!
After all, we did not offer an everyday option. Before that, we were ordered 50% black, sort of like for every day, and then colored shoes, feminine, received incredible interest. Ali Express started copying us (Ed. note: Chinese online marketplace). Now it's funny for me to remember, but at that time it was unpleasant, because when I tried to complain that my photos were being used, my own Instagram posts were deleted, accusing me of plagiarism. All my photos were deleted, and the Instagram blog was blocked for several days. And on one of our publications already then there were 50 thousand likes, it was very disappointing to lose it. Then Ali launched a story in Stories with my models, which was spinning in the publication of each user. But at that time we already had a large audience, and everyone wrote to us - "did you see it?" And this unpleasant story provoked a boom that brought us 173 thousand subscribers.
That is, there would be no happiness, so misfortune helped?
I guess it's yes.
Do you work with any copyright lawyer?
No. I began to study this issue, but since I probably have a too creative mind and character, I realized that I am not ready to emotionally get involved in litigation yet, otherwise I, roughly speaking, stop generating ideas.
I thought that I would still always be one step ahead, since I came up with it, created it with my own hands. We had cases where our simpler models were copied. I tried to reason with the girl who did this, I wrote to her. But she told me that there was nothing special about my models. In the end, I decided that this is my path, here it is. Arriving here, I saw a whole army of fans who hug and say so many good words that I understand that we succeeded, what I initially aspired to. I did not have a goal to build a business, I wanted to create my own, so that I would have my own handwriting, so that they would recognize me.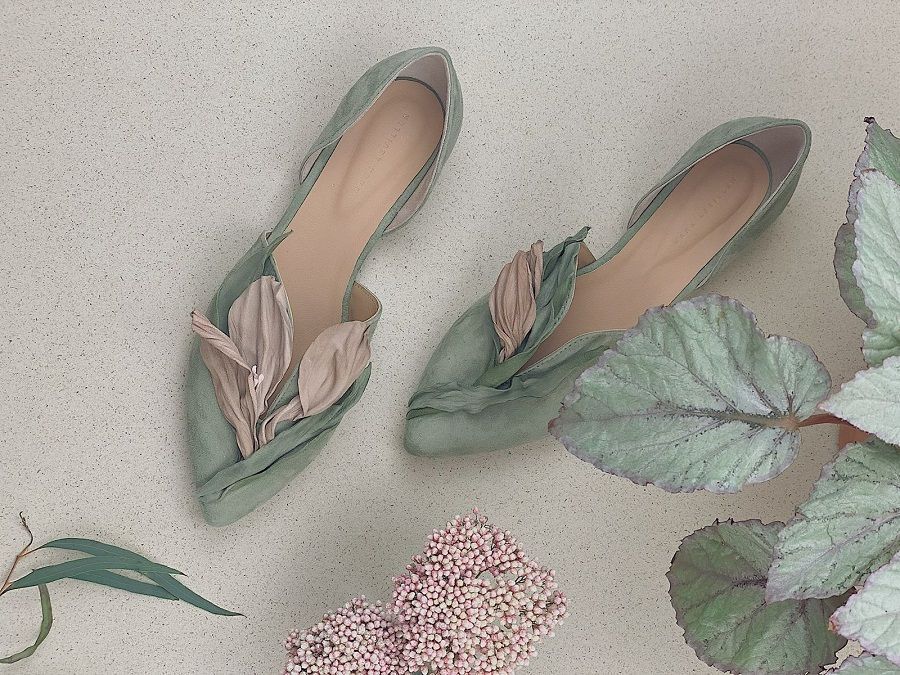 Mark Levillen, 17 rubles, photo courtesy of the brand
Let's get back to sales a little, because successful sales are the confirmation of the correctness of your path. That was Instagram...
And so far, this is the only sales mechanism; nowhere else have we had such sales. They write to us on Instagram (blocked in Russia, belong to Meta, which the court in Russia recognized as an extremist organization, its activities are prohibited), we request measurements of the legs to understand whether our last fits or not, and so the sale takes place.
Offline you are not torn?
Participation in the markets at the Moscow Fashion Week was the first experience when we decided to step out of our comfort zone and look people in the eye. We have orders for a month, two months in advance, and everything is at work and everyone is fine. But I want to hook some other audience, so we decided to try.
They place an order for you, you produce a pair, how long does it take?
It depends on the workload, on average we have a queue of up to two months, and people are ready to wait.
What about scaling?
Since we trained everyone in our team ourselves, I understand that this is a lot of work. Building a strong team is harder than raising a child. Probably for this I came just to understand our capabilities, to see the prospects. We have never had a financial cushion to invest in development. It all started with the purchase of the first two machines - sewing and trigger. There was no support. Our parents have no experience in building any businesses, everyone is ordinary workers. We are slowly developing step by step. At first they could afford to buy one leather in reserve, then a pack. On the way, there were people who agreed not to sell in batches, the same lingering insoles, but 10 pairs each. Everything worked out, they believed in us, went forward, and we did everything a little bit.
Now, after all, there are many banking programs for the development of small businesses, they give loans at a small percentage ...
We've thought about it, but haven't found out yet.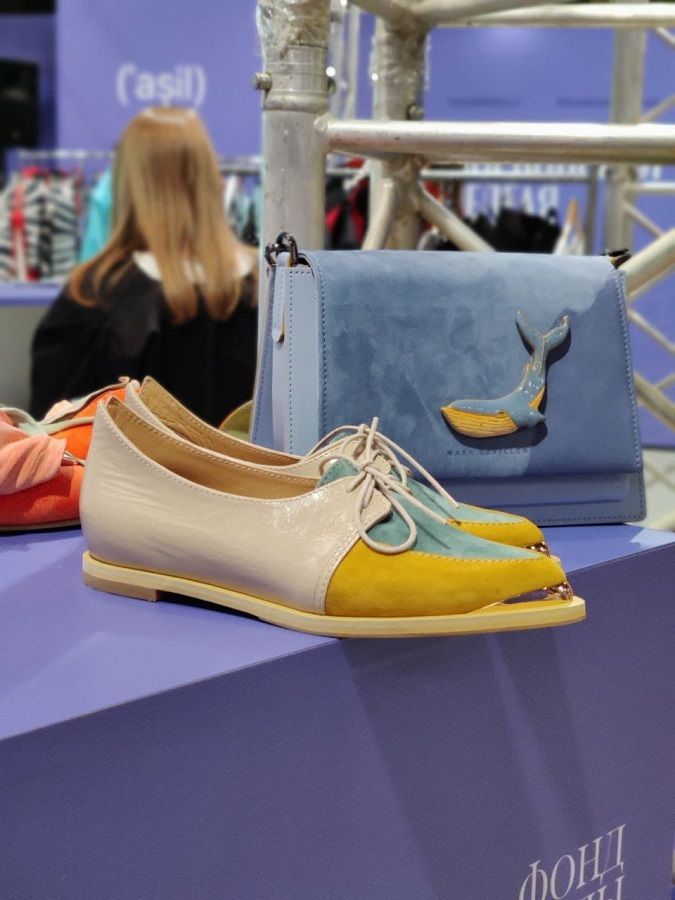 Mark Levillen shoes at the Moscow Fashion Week market. Shoes -11700 rubles, bag 19000 rubles.
Do you think that the biggest problem for the development of a shoe brand is production?
Yes, because wherever I turn, to those who are engaged in the production of soles, lasts, they all say - "what you do, no one will do!". Because we create all the embroidery by hand, I twist the flowers on the mules by hand myself. For a year, I have not been able to teach anyone to do what I need, and I understand that it takes so much time and effort! We need to put the work on the flow so that everything can work without my participation, and I could expand. But so far I am being pulled from all sides, and I do not have enough physical capacity for this.
To build a production is to assemble strong handicraft people, because machine work does not provide the required level. No matter how advanced the technology is, there is no substitute for hand embroidery. The same Chinese who sent people models copied from us - this is not it. And I understand that if people purposefully try to repeat, and they fail, then there is probably a difficulty in this, this magic cannot be repeated.
What do you aspire to, maybe there is some kind of dream?
I dream not of production, but of a workshop shop, where people will come as if to visit me and buy. Now all orders are online and they come from different cities. Moscow orders the most, but there are customers all over Russia, even from places where, probably, you will never reach. There are those who collect our shoes and bags, who already have twenty sets. But I don't know what kind of people they are, but it's interesting to look into the eyes of your buyer.
From the moment we started, our price tag has grown two or three times, and the audience has naturally changed. But the price rose not because of the thirst for profit, it is connected with our growth. Now, we understand more from what we sew, we use Italian materials. When I look for materials, I don't look at the price, the main thing for me is to realize the idea, and then I already figure out how much I will need to sell the finished item in order to continue sewing. I lack a cold mind, but my other half, my husband periodically brings me down from heaven to earth. He can say; "Think before you do!"
What was your husband's job before your project?
He did furniture. We are lucky, everything is connected with our hands, and all our previous experience worked for the idea that inspired us.
Interview: Marina Shumilina
The Moscow Fashion Week, which took place this summer in the capital, gave a chance to get acquainted with new footwear brands born and developing in Russia. At the markets of the Week, an incredible…