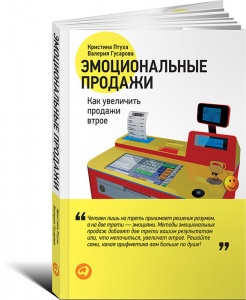 31.10.2013
7397
Emotional sales: How to triple sales
Many sellers ask the question "Why are buyers buying so badly?" The authors of the book "Emotional Selling" have the answer: "Because buyers are tired of a callous attitude and the same type of service." Many experts point out that the buyer has changed a lot since he had to search for the right product all over the city. Now he just won't pay attention to you if you don't touch his feelings.

The book "Emotional Selling" just tells in detail how to do this at the stage of attracting a buyer, demonstrating the benefits of the product to him, working with objections and making a deal.

What are the specifics:
In addition to an intelligible scheme for converting a brand into a brand, the book contains many specific phrases that are unlikely to leave any buyer indifferent, communication scenarios and examples of emotionally colored words are given. In each chapter there is homework, with which you can work out the knowledge gained in your case.