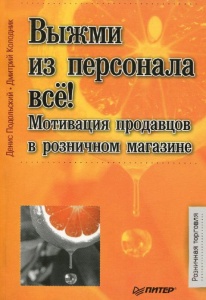 04.12.2013
9833
Squeeze everything out of the staff! Motivation of sellers in a retail store.
The authors of the book look at the problem of personnel management very soberly. According to their fair observation, the seller is not the owner of the business, he will never treat his work as the owner of the store does. And the store owner should take off his rose-colored glasses as soon as possible and stop wasting time and money on his attempts to treat the staff "like human beings".
No, of course, mental attitude is very useful, but do not forget about measures such as immediate dismissal, fines and a systematic approach to assessing productivity.

The book tells about how to "squeeze out the slave" of the staff and become a true leader. How to understand who is working and who is just pretending. How to find good employees, how to build a sales management system and what motivation methods to use in order for salespeople to give their best.

What are the specifics:

the book is written from the perspective of the owner of the business, and every word causes a desire to actively nod, sigh and agree, and each chapter reveals and treats another businessman's pain.


Buy the book "Squeeze everything out of the staff!"