How to open a store in a period of low consumption? How can beginners not step on the "rake" that experienced retailers have stepped on more than once? How can a merchandising system help save money and nerves when opening a shoe store? Life hacks and recommendations from our expert on VM, design of the trading space and shop windows of Marina Polkovnikova. We deal with her one of her cases - opening from scratch a premium store of shoes and accessories.

Marina Polkovnikova
-
Founder and CEO of VMC Retail, an expert in merchandising, window dressing and store building, a coach, analyst, and author of a unique teaching methodology.
The project, which we will try to analyze in this article in full detail, was large-scale, therefore it is important to understand the algorithm and sequence of all the work. The development began when the brand portfolio of shoe brands was determined and it was clear that we were creating the future network. It was immediately determined that it would be a serious recognizable brand.
The customer has a successful retail business in Russia, Kazakhstan and Ukraine, so there are long-term plans to open stores everywhere, and the task was to focus on these three countries, first of all. After the key competitors were identified, we decided on the positioning of the brand, its price segment and identified possible locations. This is not a street retail, the owner plans to open all stores only in class A shopping centers. At first there were plans to open the first store in Moscow, but in the end he appeared in Kazakhstan, in the city of Almaty, the store's area is 96 square meters. meters.
#life hack: the customer must clearly understand that it will take at least 2 seasons to work before opening the second and subsequent stores. For two seasons, you monitor the sales and reviews of all selected brands, replace them if you understand that they do not suit you. Only after that, scale your business.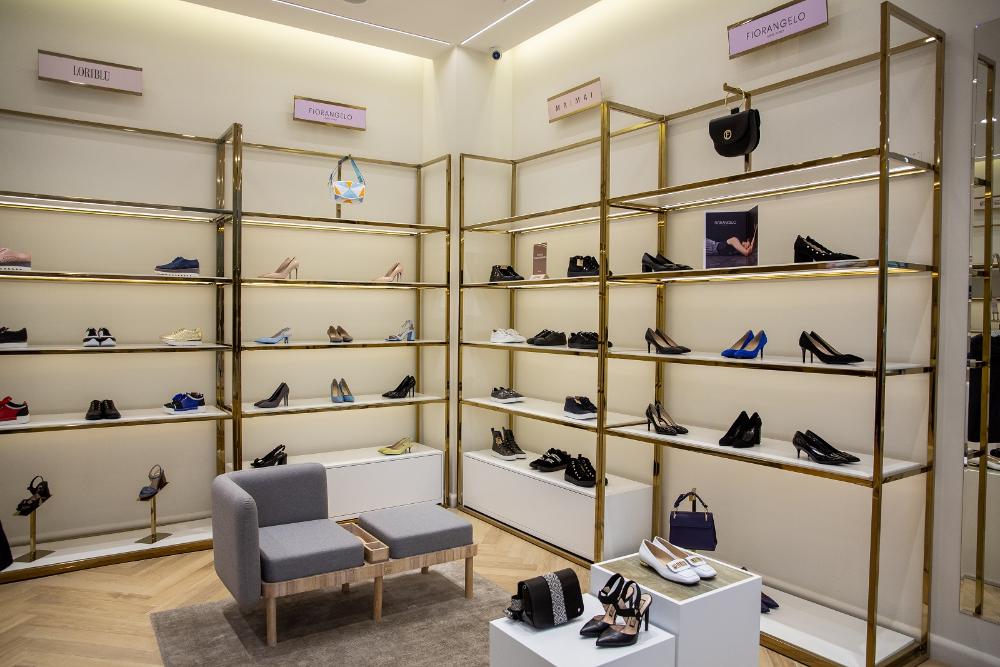 Algorithm of actions:
1. How it all began - with the name of the store. We took an active part in this process, and by joint efforts the name was determined: it symbolizes sensuality, which means that the emphasis in the corporate style should be on the sensations, and therefore, the interior should have very soft, warm colors. A variety of textures and special tactility in the materials - it is also all about convenience and comfort. Particular attention was paid to finishing materials in commercial equipment, flooring, walls and decoration.
2. After developing the corporate identity, we began to study the design of the store - its interior and display case.
#life hack: in order to make a modern interior using the most modern materials, with a European approach, you should not save on finishing materials. It is important to convey the details of the interior to the very bourgeois European spirit that hovers in department stores and shops in Italy, England, Spain, France.
In our case, the target brand's CAs are people who spend a lot of time in Europe, so it was important to create such conditions so that they would not see any difference. The inspiration of our team, we chose London - a city where everything is saturated with modern design.
3. When the brand's concept and DNA were ready, the task was to strengthen the DNA, emphasize the comfort, convenience and European quality of Italian shoes.

For this, high-quality materials were used, for example, four types of stone were used in the concept (as mentioned above) - marble, onyx and others. We also used one type of natural wood, first we selected the floor and made upholstered furniture and various items of equipment from the wood to the floor. The premium sign in a shoe store is glossy gold, a coating of metal surfaces with titanium nitrite. Thanks to this galvanic technology, mirror gold is obtained (like Furla). Other signs of premium: the whole store is clearly visible, clear zoning, the distance between the shelves is increased, in the window are used typesetting price tags.
When designing the store, the task was to organically "implant" into the space of the shoe store a small amount of outerwear - men's, women's coats and jackets, it was important to allocate a separate zone for this product so that it was highlighted for customers, but was not a priority. This non-core assortment group was allocated, but in such a way that, if necessary, equipment for clothes can be removed and the space filled with shoes.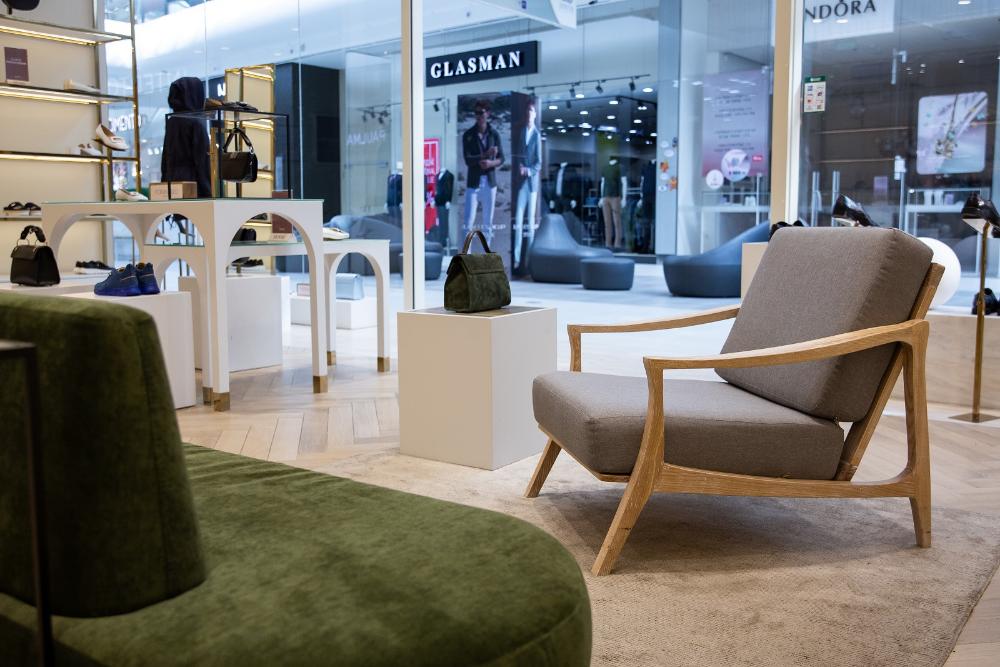 #life hack: Such a "mobile" zone for non-core goods is necessary for any shoe store, since today many are trying to expand their assortment, try something new in order to increase traffic and average check.
4. When designing a store, one should not forget about the dimensions of the warehouse.

This store has a total area of ​​96 square meters. meters allocated quite a large warehouse for goods - about 13 racks.
Since this store is the first and so far the only one, it was important to ensure the possibility of stock.
#life hack: the opportunity to provide the store with stock is considered at the design stage of the store, and not when it is already open.
5. A special conversation about the zone for fitting, it is necessary to approach its creation with creativity, but do not forget about the comfort of customers. Trying on shoes is a very important, if not the most important stage in the buying process: how it goes, under what lighting, on what ottoman or chair, in what mirror a person sees his legs in trying on shoes - all these points play a key role and can become decisive when a person makes a purchasing decision.
In our store - about 6 seats for customers, not ordinary ottomans, which we often see in shoe stores, were created, but a full-fledged sofa, sofa and chair, very comfortable, adapted for retail. For example, a sofa: in order to make two clients comfortable so that they do not interfere with each other, we divided the seat and got seats with a well-thought-out location of the cell for tracking and horns / spoons. Usually the horns are lying randomly on ottomans, a normal place for them is not provided simply because no one thought about this at the design stage. It was important for us to take into account all the details so that everything looked neat and convenient for sellers and customers. By the way, all the furniture - commercial and upholstered - was made in Russia.
Here, control by the authors of the project was important. In addition, the Kazakhstan market cannot yet realize many ideas in the manufacture of equipment.
6. Finally, equipment for the presentation of the product itself - shoe racks - were developed by our team, they have the ability to adjust the height and at the same time are stable. Today, Chinese-made shoe coasters are often used in the display case and the trading floor; even if you touch them lightly, they fall.
#life hack: Do not skimp on quality exhibitors, especially if you have a small area. In a small space, it is important that all equipment is stable.
7. Lighting - It creates a special atmosphere in the store. The color gamut is important to strengthen precisely with the help of diverse, multifunctional lighting: here two levels of ceiling lighting were applied, each shelf has a hidden backlight.
All light sources have a single color temperature - natural warm, thanks to this the store does not have dark spots and idle zones.
8. And a few words about visual merchandising. A merchandising system is being developed at the stage of developing the store's concept: capacity, variation of display, a clear distribution of brands and a possible neighborhood are calculated. After developing a merchandising system, it is determined what types of exposors and demoforms you need. In our case, these are various stands for shoes, forms that allow you to present goods in various ways, demoforms for the presentation of an accessory group and hats.
How to open a store in a period of low consumption? How can beginners not step on the "rake" that experienced retailers have stepped on more than once? How a merchandising system can save money and ...