Last year, the French Federation of Footwear Manufacturers announced the start of a long-term program to promote French footwear abroad. In Russia, the first sign was the MosShoes French Style project (see SR, №61). Already 18 French factories took part in the international footwear exhibition "MosShoes", which took place at Crocus Expo on March 21-16 (10 more than in the past). The exporting companies were supported by the French Federation of Footwear Manufacturers, the Economic Mission of the French Embassy in Russia and the agency for the development of international activities of French enterprises UBIFRANCE. Manufacturers and Russian distributors tell about the peculiarities of French footwear.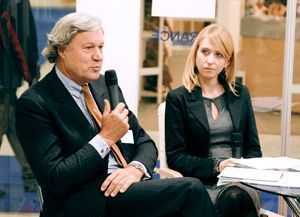 Figures and Facts
The total export of French consumer goods to Russia in 2008 amounted to 7 billion euros (+ 24% compared to 2007). In 2008, 39 million pairs of shoes were produced in France, another 458 million pairs were imported into the country and 59 million pairs were imported (including re-exports). The average consumption in France is 6 pairs per year per person. If we are talking about footwear, the retail price of which is 70 euros and more (this is exactly the category of footwear that was presented at the exhibition), then in just a year about 100 million pairs are sold in the country. The export of footwear last year increased by 41%, the average export price per pair - by 12%.
Reliability and listening skills
According to Patrick Moniott, president of the French Federation of Shoe Companies, the advantages of French companies are that they are reliable and know how to listen well to their customers. "If you want consistency of quality, if you have any specific requirements, then you will find them from French companies," explains Mr. Moniott. "I would also like to draw your attention to the fact that French companies are now investing a lot in training, and this is a sign of continuous work on the quality of footwear." Stressing the importance of the Russian footwear market for French manufacturers, Patrick Moniott added that the MosShoes French Style project will not be the only one this year, in April Anne-Marie Idrac, the Secretary of State for Foreign Trade of France, will come to Russia with an economic mission.
"France is not only a country of luxury and luxury. France is a land of art to live, - the president of the federation is convinced. - Now French companies are returning to the Russian market after a difficult period for them. The fact is that we have a very strong system of social guarantees, which is why we could not compete with Asian manufacturers, but now this time is behind us. Whereas in France the salary of a skilled worker in a shoe factory is 2500 euros per month, in India an employee of the same qualifications for the same productivity receives 100 euros. As a result, in order to maintain quality and reduce costs, some French companies have outsourced some of their production to the countries of Southeast Asia. However, the final assembly and finishing remained in France. "
Mikhail Kulagin from the Ermak Business Center noted the thoroughness of work with the collection. The Ermak company has been working with the Samson factory for the fourth season, and last year it began selling Sledgers men's shoes. In four seasons, the Russian market has become the number one market in the Samson export program.
"We are distributors of European brands," says Mikhail Kulagin, "we work with both German and Finnish footwear. We have long wanted to expand our assortment with Made in France brands. And our not so long-standing cooperation with French brands can already be called successful. It is important for us that French manufacturers are ready to listen to the opinion of customers, they themselves want to adapt the collection, they do not need to be persuaded. The results are obvious: we have our own retail, and from our retail stores I can tell that customers come back and ask, when will the next collection be? "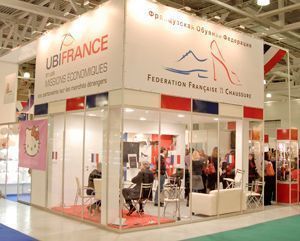 Antidumping and exchange rate differences
Naturally, the two most pressing questions for distributors of European footwear are what it is like for Europeans to live with anti-dumping duties and what to do with such a sharp rise in the euro. Patrick Moniott believes that anti-dumping is needed to show that the Chinese and Vietnamese do not adequately calculate the profitability of their companies. "On the other hand, when Chinese shoes are bought for 4 euros, and retail for 39 euros (with a 10% duty), this is probably not very correct either," muses Moniott. - However, anti-dumping duties bring the European Bank about 350 million euros a year, so I don't think we will abandon them in the near future. Another issue is that this money goes to the European Bank and is not returned to the shoe sector. And I think that the money from duties should be returned. "
To discuss possible solutions related to the growth of the euro, Moniott suggested to the merchants on an individual basis: "You have a devaluation of the ruble, we have our own problems - the rise in the cost of production and labor. We support our manufacturers by investing heavily in promoting Made in France products abroad. "
Luxury and plastic
Of the companies that first participated in the Russian exhibition, it is worth noting the premieres of two premium brands Azuree and Adige.
The family-owned company Adige, established in 1957, specializes in the production of luxury women's shoes. Until now, these shoes were sold only in France (the company was quite satisfied with the fact that Guy Laroche, Ted Lapidus, Castelbajac, Loris Azzaro and Jean-Lois Scherrer lined up behind her shoe collections). For half a century, the company has a serious distribution network of 700 boutiques in all regions of France. Now Adige is looking for access to new markets for her. The Russians became the second country that the French are ready to offer this magnificence.
Cannes company Azuree brought elegant, sophisticated and sensual shoes made of transparent three-layer vinyl to MosShoes. According to the managing director of the company Alain Chasinho, the material not only takes the shape of the foot, but, unlike any other plastic, can "breathe". The secret is in three layers, it is she who provides breathability. For his words, the manager vouched for 15 years of experience in working with the material and a patent for its production. The company started exporting its footwear 5 years ago, now the share of exports has reached 40%, while vinyl footwear makes up about 80% of its total volume. As Chasigno says, these are not casual shoes, they offer them as an option for going out. The pricing policy is appropriate: sandals in the purchase cost 60 euros. For five years, Chasinho has already got used to the skepticism of buyers who prefer "only leather" and is ready to go through this stage in Russia again. "At first, everyone looks at our shoes with bewilderment," says the manager, "but as soon as they try them on, all doubts disappear. Those who started working with us do not refuse. Want to get started? We are ready to send you one pair to try. "
For your information:
Tourists constitute a separate consumer flow in France. Just one figure: the average check is 870 euros, and the share of Russian tourists in this flow has already reached 10%. As representatives of the French side noted at the MosShoes exhibition: there is demand, and very soon it will be easier to buy French shoes in Russia than to go to Europe for them. Last year, footwear consumption in France grew by 1,5%. This is understandable. There is such a phenomenon in the economic behavior of people when, knowing that they cannot please themselves with large purchases, they begin to make themselves small gifts. Shoes fit perfectly with this behavior.
Season trends
For the Fall-Winter 2009/2010 season, French stylists have identified four dominant trends. In their opinion, "Tradition", "Fairy Tale", "Extravagance" and "Dream" should become the key to success. "Tradition" is classic colors, Scottish plaid, elegance of noble sports. The "Fairy Tale" is directed to the East, from where it has absorbed forms and patterns. "Extravagance" adds bright rich details and deep baroque colors, and "Dream" harmoniously interweaves retro and futurism, creating an image of romantic femininity or fatal charm
Last year, the French Federation of Shoe Manufacturers announced the launch of a long-term program to promote French shoes abroad. In Russia, the first swallow was the MosShoes French Style project ...