In March-April, sellers, even leaving an advance payment to suppliers, refused the ordered shoes. Therefore, for the August presentation of EURO SHOES PREMIERE COLLECTION, which took place in Sokolniki, exhibitors gathered with vague doubts in their hearts. Fortunately, they were in vain. The success went off scale for all the maximum permissible expectations. At the stands of many exhibitors, orders were written without raising their heads from morning to evening and for several hours after the presentation was officially closed. This season there were twice as many visitors to the presentation as in the past.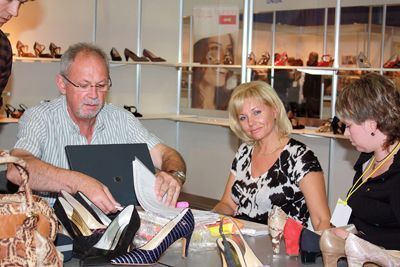 Firstly, because many sellers, in their own words, under-ordered shoes in February, "went on a diet", due to the fact that the consumption situation was too vague. Second, the economies of both Germany and France, the two largest European countries, emerged from recession in the second quarter of 2009. Russia, according to Finance Minister Alexei Kudrin, emerged from the recession at the end of September. But the positive mood was already felt in August. Including at the presentation.
Some German manufacturers announced an increase in production by 20% next season. Therefore, rumors about the upcoming shortage of shoes are somewhat exaggerated. Moreover, according to exhibitors, the word of mouth at the presentation works very well, the buyers, having placed orders in the winter, this summer brought two or three more colleagues with them.
Should suppliers flatter themselves about the fact that this growth trend is steady?
Unlikely. Diet really usually ends with overeating, but it is almost always short-lived. There is a likelihood of a second wave of ruble devaluation (see the article in this issue) and a second wave of unemployment. At the end of April 2009, the unemployment rate in Russia reached a record high of 10,2% of the economically active population, according to the methodology of the International Labor Organization, or 7,7 million people. According to the FBK forecast, by the end of the 2009 year, the unemployment rate will reach 11-12%, or 8,5-9 million people. Therefore, the questions "to whom to sell" and "at what price" will be the first in importance. The main criterion for choosing shoes for buyers is convenient, moderately stylish, restrained and with a twist.
There is another threat - an increase in customs duties on the import of shoes, although it fades in comparison with a fall in consumer demand and delays in customs clearance. However, as exhibitors noted at the August presentation, now customers are increasingly starting to come with their own transport schemes, with their own money transfer schemes and ways to complete the truck with orders.
It is clear that the basic models of classic colors are in great demand, so even the spring-summer collections were slightly less vivid than last year. However, this completely coincides with the global trend of avoiding exotic extravagance. "Today I try to order those models that I consider reliable. For example, black classic shoes with a semicircular toe on a steady heel. Yes, there are a lot of such shoes in stores, but they'll buy it anyway, "says Tatyana, the owner of several stores in sleeping areas of Moscow. - Plus, I choose models that can potentially attract customers of different ages: both a young girl and a mature woman. I will not risk choosing a purely youth model, since this immediately limits the audience of buyers of this model. In today's situation, taking risks is dangerous. In summer, red and white are considered reliable, with black there are difficulties. Shoes of bright and bold colors, such as lilac or yellow, are rarely taken, so buyers generally order it for shop windows.
Models that meet the latest fashion trends are not included in the reliable category. Say, in the style of glam-rock with all kinds of rivets, grommets, holnitene, sparkles. Or roman sandals. In order to successfully sell the trend, they need to fill the entire store, and for this the consumer audience must be different. "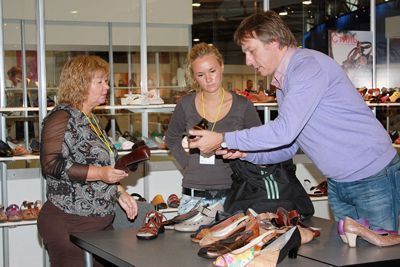 "My contingent is mature women with problematic legs," adds Tatyana Kazakova from Khabarovsk, "so I choose mostly comfortable shoes. Wide pad, small heel, classic model. The average price for a couple in my store is 5000 rubles. "
As one of the EURO SHOES visitors noted, the most pleasant thing in working is summing up the season, looking at the statistics and counting the profit figures. It's good if they grow. It is clear when many say that "we would have to resist." At the presentation, we heard the cries of the soul in the truest sense of the word:
"What distribution of European shoes can you talk about? In Noginsk we have 12 from 8 enterprises. People would like to buy good shoes, but physically they cannot afford it. "
"Neftekamsk is a small city, 130 thousand people, only I sell high-quality European shoes, but for our citizens and 3000 rubles for a couple - this is already a lot. But I really want to work with a good product. "
Fortunately, the August presentation showed that European companies are quickly responding to changes in the moods and habits of buyers, changing their assortment and flexibly approaching pricing. The Russian footwear market for Europe retains its value - both for companies that have long come to us, and for those who are just entering Russia. By the way, in the next issue you can read an interview with the debutants of EURO SHOES.
TOP3 according to Moscow buyers
Black shoes on a cork platform with an open heel and toes
Black, rather massive closed shoes with a seven-centimeter heel with an ankle strap Classic pumps with a 9 cm heel
In March-April, sellers, even leaving prepayments to suppliers, refused the ordered shoes. Therefore, at the August presentation of EURO SHOES PREMIERE COLLECTION, held in ...