How to prepare for summer lull in the shops? Organize in mae the action "Minimum grocery set" with a story Abouthow many shoes a woman needs in the summer (POSM, posters in the shopping the hall direct mail) Help your customers justify the costs for the second half. So, Of what is seasonal minimum minimorum?
Ankle boots. For the rain. If the summer rain turns into a downpour, and it gets colder outside so that you cannot do without your beloved light raincoat or stole, then it's time to remember practical and elegant ankle boots.
Sport sandals. For a walk. Running to the gym or taking a dog to the park is best done in comfortable, sporty flat sandals.
Sandals. For a date. Platform and stiletto heels are the best way to highlight femininity.
Sandals. For hippie chic. If the three previous models were almost universal, then especially for this summer, when the hippie style returns to fashion, be sure to buy a sundress on the floor and open sandals on a flat sole. Floral prints will remind you that the motto "Make Love Not War" is still relevant today.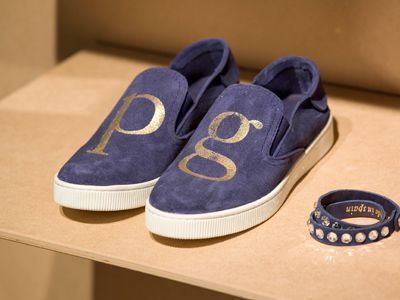 Sandals in the sea style. For a cruise. Even if you missed the last boat show or refused a regatta, beach shoes will still come in handy - at least several times during the summer. Blue and white stripes are welcome.
Shiny shoes. For a hike to the club. Lovers always be in the spotlight at parties can not do without rhinestones. In combination with gold, their stunning effect exceeds all expectations.
Shoes peep-toe. For a romantic dinner in a restaurant. To impress the man of your dreams (from time to time it is necessary to do this, even if you celebrated a silver wedding), choose shoes with an open toe to the cocktail dress.
Shoes. For strict dress code. Even in the summer you need to work. This means that strict black shoes with an elegant feminine heel will not get lost in a shoe wardrobe.
Ballet shoes. For a walk with kids. Children grow fast, run even faster, and to keep up with them, you need the most comfortable shoes.
How to prepare for the summer lull in stores? In May, organize a "Minimum Grocery Set" campaign with a story about how many shoes a woman needs in summer (POSM, posters in ...