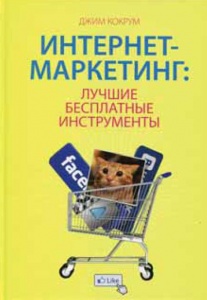 04.12.2013
12444
Internet Marketing. The best free tools
Internet promotion is not at all so expensive if you have a small and mobile company. Some ways to make yourself known online can be completely free.

For example, to keep track of mentions of a company (and therefore its reputation), set up Google's free notification service.
Make notes on the online maps of your city, post videos with useful information for your customer and do two dozen more free, but very effective things that will isolate you from competitors who create equally meaningless and boring sites.

What are the specifics:

The book contains non-banal tips for promoting on the Internet. No guidance on working with contextual advertising and references to other standard and expensive features.
The author does not waste time on telling what you can read yourself by entering the search query "internet promotion". Instead, he suggests a "guerrilla marketing" strategy called marketing without a budget.

Kokrum, J. Internet Marketing: The Best Free Tools. - M .: Mann, Ivanov and Ferber, 2013 .-- 382 p.


Buy the book "Internet Marketing. The Best Free Tools"