Russian shoe companies are exploring the possibilities of the Internet extremely slowly. One gets the feeling, even reluctantly. And users respond to shoe makers in return, reluctantly visiting shoe resources. Alexander Greb, Head of Advertising and PR RALF RINGER, shared his idea of ​​how to establish a dialogue using this communication channel.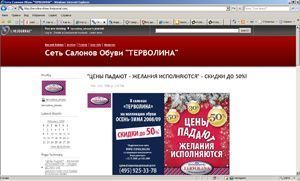 While many have already reached the level of "making a website", few have reached the level of "maintaining the site and increasing the level of comfort of working with it", then only a few have reached the level "conduct two-way communication with visitors". At the same time, without communicating directly with buyers, real and potential, it is extremely difficult to solve many marketing problems.
Today, blogs are the easiest tool that does not require serious investments and time to launch a project; it is a tool for communication with consumers on the Internet. In this article, I propose considering blogs as online blogs hosted by Livejournal.com and LiveInternet.ru (in parentheses, I note that LiveInternet is more suitable for manufacturers of women's shoes, especially for young girls). I will not dwell on the questions "where is it better to create a blog", "how to promote it", "how to measure effectiveness". To do this, there is a wonderful book that contains only practical advice: Anton Nosik, "Blogs. A new sphere of influence. "
According to data on February 12 2009 of the year, there are 89 blog services on the Russian Internet that run 6 382 446 blogs. In just one day of February 12, 208 420 entries were created on these blogs. Impressive numbers, isn't it? Especially when you consider that all the people who created these blogs keep records in them, read them, buy and wear shoes. That is, all of them are potential buyers.
However, the situation with the statistics of shoe representation on blogs does not give rise to optimism. Shoe companies themselves almost no blogs. I have found only four so far. You will say: "It is logical, who will read the blog about shoes?" They will, even as they will. And not only about shoes, but also about the company. 4-5 thousands of people visit RALF RINGER's CEO blog on Harvard Business Review monthly. This compares with the circulation of business and industry magazines. So it's not the topic of the blog.
The problem is the approach. Most often shoe blogs duplicate information from the site (the question is: why then should a person read your blog?). And this information is exclusively advertising in nature. For example, the blog tervolina-shoes.livejournal.com has a total of 2 entries: the first is about discount cards for buying at Tervolina stores, and the second about discounts up to 50%. The same picture on the blog "Econics": the first - a greeting and links to the pages of the company's website, the second - about an advertising campaign in the Moscow metro.
Given all of the above, I propose to consider how blogs can be useful for shoe makers in Russia.
We generate traffic to the site and the store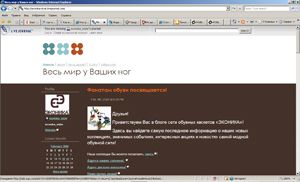 What are the goals of the business? In my opinion, the one and only thing is money.
If you admit this, then the question "why do we need a blog" (as well as "why do we need marketing, advertising, PR, reputation, loyalty, etc.") is removed. A blog is needed to make money. Or - it is needed if it makes money (if it does not, it is definitely not needed).
How to make a blog make money? The most obvious and understandable way is that your blog should lead people to stores or to your website (where a visitor will see your product, read the addresses of stores and may enter one of them on Thursday on the way home). How can I do that? 1) Post on your blog links to certain pages of the site. 2) Post the same links in other people's magazines and in communities. (Example: a person laments that he has smeared new suede boots and cannot clean them. You give him part of the advice in the comment on how to solve the problem, and send it to your site for the second half). 3) Post photos of your products. If you have decent photography available, you need to demonstrate it. At one time, we tested the following format of work: a hired person with his story in LiveJournal posted posts with photos of our shoes with the following contents: "And I bought my husband RALF RINGER. These are "(the photo was supplemented by a link to the site www.ralf.ru). By the way, links in third-party magazines can also be left both from the company and from the "independent visitor". 4) Write on behalf of an "independent visitor" about your stores (with addresses and phone numbers). How surprised you were by the design, how pleased the politeness of the seller, how you accepted the return without question. Ideally, being given out as "independent" posts and comments should contain some criticism. This will cause more confidence in the information.
And by the way, search engines take into account links left on blogs. And although only on such links you are unlikely to be able to bring the site to the TOP-10 at the request of "shoes", such links will in any case generate traffic to your site.
Gathering information
Blogs are a great source of consumer information. If studies give you your customers in the context, in the form of graphs, charts and tables, giving them the same faceless and unspiritualized name "CA" (target audience), then blogs allow you to get closer to the real representatives of Central Asia at arm's length. You can see them, hear them (you can post audio recordings on blogs) and - most importantly - talk to them. And this experience is invaluable! Since, based on this communication, you can learn to speak with your customers in their amazing, lively language (for understanding, we keep the spelling of the author).
rebel_girl_punk
I liked the shoes - well, right, yeah!
13 000 ...
and boots ... blue ... suede ... 21
I choooo, a fool ?? ((and they are beautiful - horror
and so I prefer European and ecco. even for my perverse taste there
still within 1500
I bought winter boots in a shoe center on Avatozavodskaya
Watch it! She liked the blue suede boots for 21 thousand rubles, and although they are terribly beautiful, she buys shoes at the Shoe Center on Avtozavodskaya (obviously not for that kind of money.). And he prefers ECCO (shoes, which, on the one hand, are clearly cheaper than 21 thousand rubles, and on the other hand, are sold in other places, not at Avtozavodskaya). Which agency that conducted the research for you has provided you with such customer information?
Another direct speech of the same "author":
rebel_girl_punk
I just want shoes ... I almost dream about them ... I don't know why ... but this is an erotic fantasy - as I swing in shoes ... and these nasty guys fall behind me, fall, jambs!
And here is the information for fashion designers and marketers from another "character":
j-sparrow-t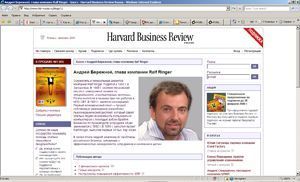 As the season is approaching, there are just funds for such a purchase. I need shoes, preferably black, unvarnished, on a small heel, with lacing and a nice, unbroken "silhouette". And who would doubt that such shoes are the hardest to find? Haha, just not me. I went around almost all the shops in those three districts, but I never met matching shoes according to the description. For some reason, just all black graceful shoes make it patent and with a big heel! Well, how can I, with my innate clumsiness, manage to keep black patent leather shoes in decent form? Yes, I'll scratch them on the very first day! If there were unvarnished ones, then as luck would have it without lacing, on an even bigger heel or absolutely "hoofed": ((
I am convinced that the latest message can be easily converted into a product presentation and direct sales. Nothing prevents us from leaving a comment of about this character: "But I literally yesterday grabbed off just black, unvarnished and not a small heel." And give a link to the site where your products are presented.
By the way, in the foreseeable future, blogs will be able to collect information not only about customers, but also about competitors. They will collect information about you. So, you have to once again ask yourself the question: "What to post on the blog?". But this is still a long time.
We correlate image and reputation
What is the difference between image and reputation? PR specialists have a clear answer to this question: image is what we tell about ourselves, and reputation is what people tell about us. Ideally, image = reputation. In reality, blogs provide a unique opportunity to adjust the reputation of a company or brand. How does this happen?
The blogosphere allows us to find out what our and not our customers tell us about us. The information will almost certainly be scattered and not always pleasant, but if you spend some time, you get a fairly complete picture. And you will find out:
1) How often they write about you (read: remember). For example, according to Yandex, in the Russian-speaking blogosphere ECCO occurs 4500 times, Econika - 980 times, RALF RINGER - 720 times, Tervolina - 420 times, Rieker - 280 times, Chester - 155 times, Westfalika - 8 times.
But do not compare these figures with each other. It is necessary to take into account the specifics of the Internet audience. These people are more focused on shoes like ECCO than on shoes sold at Tervolina. And this is not a question of price, quality. This is a matter of taste. It should also be borne in mind that women are much more active in discussing products and brands. Therefore, companies that have a significant share of women's shoes in their assortment will always be more actively discussed in blogs.
2) What and who writes about you?
Two different branding examples:
ryzhaya-rysya
More than once, not two, or even twenty, I said that let thunder strike me if I buy a) shoes with zippers, b) shoes of a cheap brand. We went into the nearest Chester ... and went out with a pair of boots. With a zipper. With a heel in 9,5 see. Absolutely plain, but absolutely Chester. Yes, I'm an idiot, but not to buy such boots for such a price would be even more idiocy. As a result, I pace around the apartment, as if on a catwalk, wear out, mentally prepare for the next "flying" lightning, and think about how I can get to the university on such heels ...
another voice
White shoes are presented in stores in the form of terrible lacquer galoshes with bl ... heels. Moreover, the galoshes performed by the democratic "Mattino" look much more decent than the galoshes performed by the pathos "Carlo Pazolini". Why - this secret is great.
As a specialist, I am sure that a negative assessment of a product / brand / company in a blog is not bad. Since people will be drawn to the negative, which means that if you can efficiently and quickly comment on the negative feedback, then at the exit you will get people who read the information you need.
3) How blog readers react to this or that assessment of your brand / product / company. Do they support you.
Example:
February 10 max_fedosov posted on his site the following message:
Well, everyone knows about the boot that they launched in Bush. And someone set out to find out which company's shoe was thrown into Bush. It turned out this Istanbul shoe company Baydan shoes.
Shoe firms in Russia, what are you waiting for? When will Econika be launched in Matvienko? When will Ralf Ringer fly to Luzhkov?
For what kladez_zolota February 11 replied:
And Ralf Ringer do not need such PR. It is only a pity that they do not produce women's shoes.
With authors of comments where you are praised and supported, you should enter into correspondence. And give them as much information as possible. So that they, in turn, acting as missionaries, then carry this information to the "popular masses".
But blogs give us the opportunity not only to assess the reputation of a brand / product / company on the Internet, but also to adjust it. You can convince a person, change his point of view on what is happening. It will take effort. But it's worth it. Moreover, your discussion will be public, others will read it, and if they see that you have persuaded a person, this will make readers of the blog also change their attitude towards you.
Final fly in the ointment
You can start a company blog in one day. To be more precise, it will take 30 minutes. It does not need a big budget. But it will take time and desire. And it is difficult. There will always be plenty of more urgent and important matters. But a blog that is not being updated is dying. It is no coincidence that one of the leading platforms is called LiveJournal (LiveJournal). If life in your magazine ceases, they will stop reading it. And you will lose the channel of communication with your customers.
Russian shoe companies are exploring the possibilities of the Internet extremely slowly. One gets the feeling, even reluctantly. And users respond to shoe makers in return, reluctantly visiting shoe resources. His ...