In 2013, young enthusiastic Russians fell ill with the idea of ​​reviving the Soviet-Chinese brand "TWO BALLS" sneakers. The main ideologist Yevgeny Raikov bought the rights to the brand, began searching for an investor for the project and exploring the possibilities of producing retro-sneakers in factories in China. As a result, on 6 of July 2016 of the year, the completely revived line of TWO BALL sneakers appeared on sale in the brand's online store and in the metropolitan Tsvetnoy department store. About how it all began, about the prospects of the new brand, about the specifics of working with Chinese factories and the peculiarities of doing business with entrepreneurs from the Middle Kingdom - in an exclusive interview with SR Yevgeny Raikov.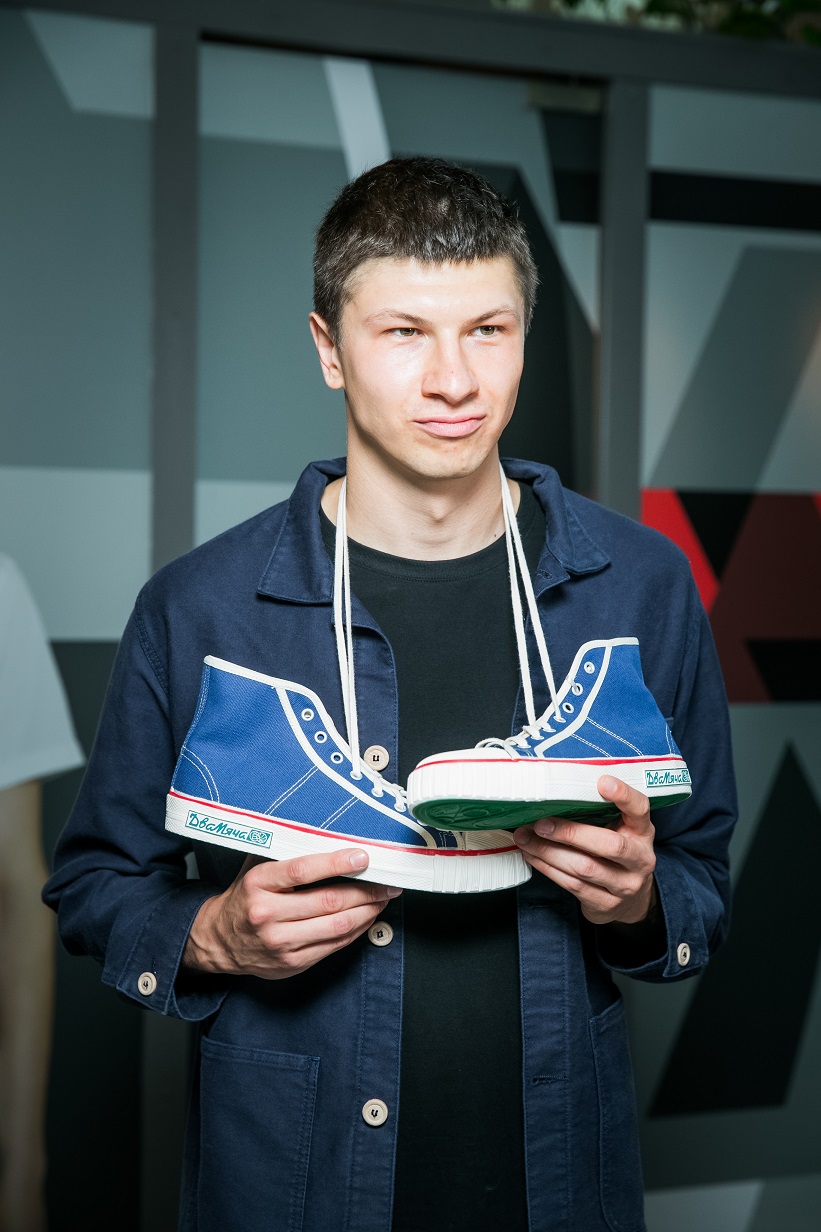 Evgeny Raikov, founder of the Two Balls shoe brand
Eugene, they say that in order to start producing TWO BALLS, you spent two years in China. Why was this needed?
Yes, I went there for three weeks and stayed for two years. If you want to make a high-quality product, you have to invest, and I set myself the task of completely restoring the cult Soviet product. Otherwise it would be a dishonest trick - to make some kind of sneakers and call them "TWO BALLS".
Our rubber sneakers. This is a complete reproduction - from the block to all the details. The only thing that we changed in the model is the insole material. The original foam rubber insole was quite heavy, we made the insole from EVA, this is a more convenient and relevant material that is now used in the manufacture of running shoes.
We try to keep the price of our sneakers lower than our competitors, but we approached the creation of the product with the utmost care. Everything is thought out - top material, quality of rubber, parts and assembly ... For example, most manufacturers use polyamide laces, they can be bought directly on the market, and we have cotton laces with metal tips with engraving. Only in the production of laces we have involved 4 factories!
What kind of factory in the Soviet era produced "TWO BALLS"?
These were sneakers of Soviet-Chinese production. They were also made in China. Then it was believed that imported ones mean high-quality ones. Today, China is good because it has a very powerful infrastructure. If you suddenly decided to make a block or a mold, or to buy fabric, in Guangzhou it's enough to drive a car for twenty minutes ... And in Moscow we can make a block for industrial production only a few people. There may be more specialists in Russia, but only one or two factories have equipment that allows us to provide services for the mass production of pads to order.
In China, this is a common service, much like printing a document here. In Russia, there are few high-quality manufactures of shoe components - no laces, no shoes, no molds. That is, all this is in one or two copies and for a huge price, with very poor service. Setting up a business process is difficult, time consuming and expensive. Let's say that all the molds are made in a row in the production of molds, but shoe molds have their own nuances. In general, we do not have infrastructure, but China does.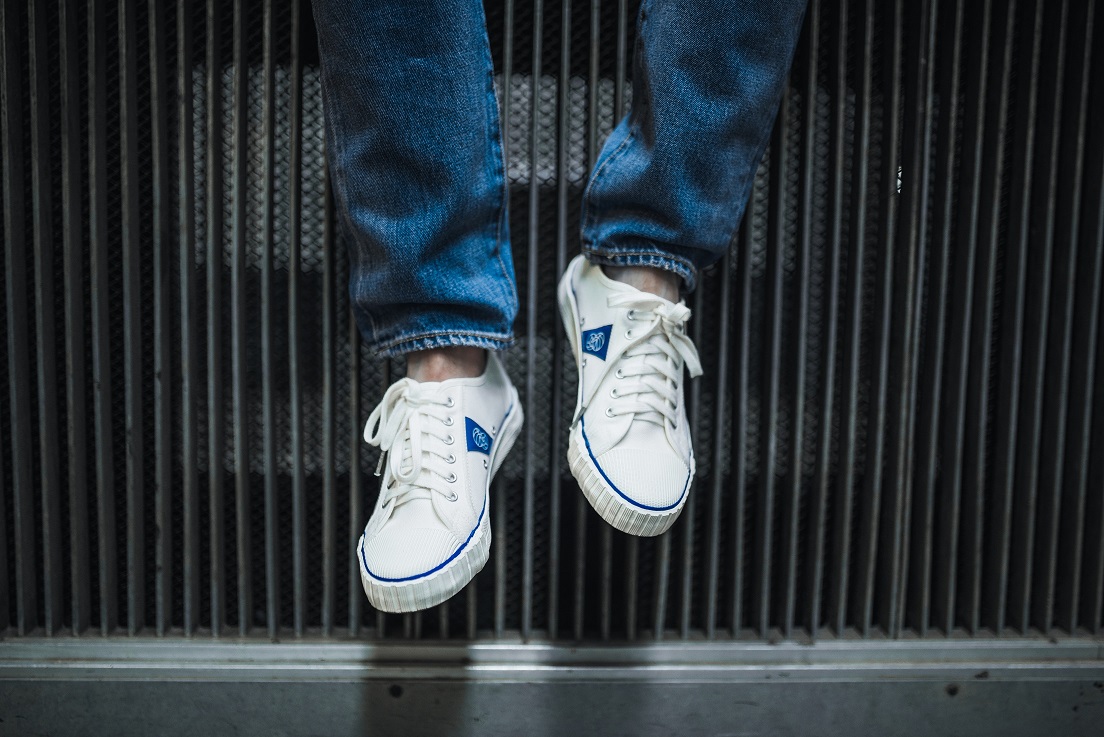 SHOES "TWO BALLS"
How come you got a shoe theme?
Before that, I was engaged in clothes, jeans, there were different projects. I always looked in the direction of our national identity, I wanted to broadcast our national style through the product. I'm not some kind of jingoistic patriot, but our country really has a cultural heritage that few people can use. Qualitatively implemented projects can be counted on the fingers - for example, they restored Gorky Park, and really did it very cool. But many write on their products "USSR" or "We have everything in accordance with GOST", add a bear with a balalaika - they all interfere in one heap, and it turns out lubok.
Style should be sustained, like constructivism. We could also say everywhere that Yuri Gagarin went in our sneakers. We do not hide this, but we are not trying to "leave" on this. The TWO BALL product itself is very strong, and we work in terms of marketing, involve people in the process to talk about our sneakers. We plan to participate in shoe exhibitions. And for companies that are more concerned about cost, they seek to optimize the price and increase volumes to the maximum, there's not even enough time for marketing, not to mention the budget.
Despite the fact that in two weeks after the start of sales we have already received about 45 offers of cooperation from retailers from all over Russia, we adhere to a rather conservative position in sales. Since we can keep the current price on condition that we ourselves sell a lot online. Now the price of a pair is 3900 rubles, if we worked according to the classical model, massively sold the product in retail, the price would be higher. Of course, we will also be on sale in offline retail. We are already on sale in Tsvetnoy department store, and by the end of the year we will have three or four more sales partners in traditional stores.
Maybe in the future you will release a genuine leather sneaker?
Maybe. But now we have eight classic models in our lineup, and for now we will focus on the classics. Even large brands often have only two or four models in their lineup. With our base you can work for a long time. In the future, add basic clothing - t-shirts and more.
I want to note that our sneakers are made under the Russian foot. The block standard is Soviet GOST, the step size to size is 0,5 cm, and the world standard is 0,67 cm, that is, we have more precisely. If one of the shoe manufacturers tells you what he is doing his shoe is really cool shoe makers. Because the mass approach is to take a prepared, spent middle block to suit everyone. For example, in China they say: we have three types of blocks and you can choose from the proposed one. With a block, rarely anyone is wise, because to make a small batch, you need to produce several thousand blocks, and all this, of course, will be included in the cost. It's easier to come to the factory and ask what kind of used blocks they have, and there they will certainly offer something. This approach is for many.
For two years in China we have been setting up all the business processes - the company, partners, we have learned to work there. At first, it was not clear to me at all what was going on, there is a different culture of communication, business - not fulfilling one's obligations, in our opinion, throwing it off is in the order of things. The attitude towards foreigners is wary. And if you have a small order and you are a beginner, then you cannot dictate the conditions, because you are not of particular interest to anyone.
SHOES "TWO BALLS"
Probably, you must constantly be present in China, so that everything is in order?
Now the process is already set up in such a way that I do not need to be constantly present. But sometimes you have to fly there and control.
Russian retailers placing their orders in China say that for normal interaction, the boss from Russia should periodically visit the Chinese factory.
Yes, this is a delicate moment of working with large Chinese factories. It is important for them that the big boss comes to the big boss himself. But usually this happens when a price is negotiated, if the Chinese partners want to raise the price. It's hard to do business on their territory; you are not protected in any way. But the larger your order, the wider their smile.
China is a complex partner, it fulfills its function, but step by step the price rises, and it is natural that large brands are leaving now, finding production sites in Indonesia and Vietnam.
I hope that in our country large companies, together with the federal authorities, will look towards light industry, including footwear, and take some steps to revive the industry. Now everything is in the hands of private players, and it is difficult to raise the industry with the efforts of only private investors, although it is cheaper to produce here, since the average salary is lower. At the macro level, salary is one of the most important factors. Why has China developed in this direction, attracted foreign investment? Because they had a very low cost of labor. People worked, relatively speaking, for food, for rice.
Now they don't work like that anymore?
Now if rice is not cooked so well, a strike is at the factory. I saw this once.
Do you want to sell your sneakers in China? Here French companies came there with their product and are developing retail ...
This is a difficult market, in the short term for us it is enough to master the Russian one. It seems to me that in the long run it will be very difficult to stay in the Chinese market. French companies entered, relatively speaking, in a cage with a tiger - while the beast is still full, but when it is hungry, they can be carried out very quickly. In China, it is very difficult to sell any brands. Because everything is immediately copied to Taobao (China's largest online store). Any housewife can see a blouse on someone and order the same for Taobao for ridiculous money - 20-30 yuan, and they will bring her the same day. We will also be so, but China in this matter is ahead of us by 5-7 years. It is there that you understand that the future lies in online trading. Due to the specifics of our country, traditional retail will not die for a long time, but with the example of China it is already possible to understand how everything will be arranged with us in the future.
Can you already say something by the results of the first sales of TWO BALLS?
We started on 6 of July. On the very first day, the server fell due to the influx of visitors to the online store, the partners helping us with contextual advertising were surprised: the performance was 4-5 times higher than usual successful ones. Our partner in Tsvetnoy sold everything we delivered to him in the first day. Based on his experience (more than 10 years), he formed an order, and as it turned out, he was very conservative, because on the first day they bought 70% of the ordered volume. And he hoped to sell this batch in a month.
Do you have a big team?
There are 5 people in the office, and about 20 help us on freelance, but constantly.
Who invested in your project?
As you know, I started this project in 2013, bought the brand and tried to raise money for its implementation through the crowdfunding platform on the Internet. On the first day, four private investors wrote to me, and subsequently over the year I held about 40 meetings. However, the conditions were "not very" for everyone, and I believed in this project from the very beginning. As a result, the process of finding a partner and investment dragged on for a year. Prior to that, I worked for a company that owns the clothing brand GRUNGE JOHN ORCHESTRA. EXPLOSION also invited the CEO of this company, Ilya Nafeev, to invest in the project. He is an experienced businessman, he has two businesses, as a result, after a year of communication, we became partners.
Do not disclose the amount of investment?
No, most of those who are interested in such information and so everything is clear.
And when will it pay off? During a year?
Faster, much faster.
In 2013, young enthusiastic Russians fell ill with the idea of ​​reviving the Soviet-Chinese brand "TWO BALLS" sneakers. The main ideologist Yevgeny Raikov bought the rights to the brand, began the search for an investor to realize ...