"Last year, sales of Turkish shoes in Russia amounted to 35%, according to forecasts in 2018, it can reach 20%," says Erkan Demir, director of the international shoe exhibition Eksposhoes in Istanbul.
Such an increase in sales of Turkish footwear on the Russian market can be called the restoration of the total volume of footwear imports from Turkey to the Russian Federation, which in 2016, according to statistics, decreased by more than two times. Improving the political climate between the two countries entails the development of economic ties. The February exhibition Euro Shoes Premiere Collection, which opened the national stand of Turkey, which introduced 35 shoe brands, is a clear evidence of this process.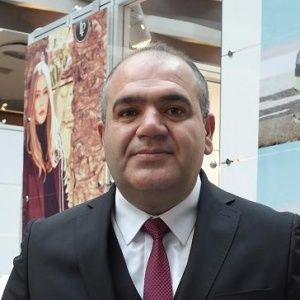 Ercan Demir
- Exhibition Director Eksposhoes
Mr. Demir, this fall in Istanbul your exhibition Eksposhoes Istambul was held, to which you invited Russian buyers, how successful was the event?

Ercan Demir: In autumn, the Eksposhoes Istambul was held for the fourth time and with great success. It was attended by companies from 52 countries, including brands from Russia and Ukraine. The exhibition was liked by both visitors and exhibitors. For visitors to the exhibition, we provide the opportunity to stay at the Hotel Pulmann, this is the largest hotel in Europe, it is a five-minute drive from Istanbul Ataturk Airport. An exhibition is also held in the same hotel, which is very convenient in itself - people can have breakfast and go down to work at the exhibition, and if they are tired, they can go up to the hotel again to relax a bit. Eksposhoes has been held for two years, and the number of exhibitors at it is increasing with each new event.

At the beginning of this year, we launched another project - the exhibition of accessories and components YF-2018, a month ago it was first held in Istanbul.

Is this a completely new project?

Yes, and an exhibition of such subjects was also very much in demand. On the last day of YF Istambul, representatives of 30 Turkish companies came up to me and expressed their willingness to participate in the next exhibition. Eksposhoes, which takes place at a very good time, at the end of the month of autumn (November 7-10) and attracts a large number of brands, gave impetus to the development of this new project, an exhibition of components and accessories.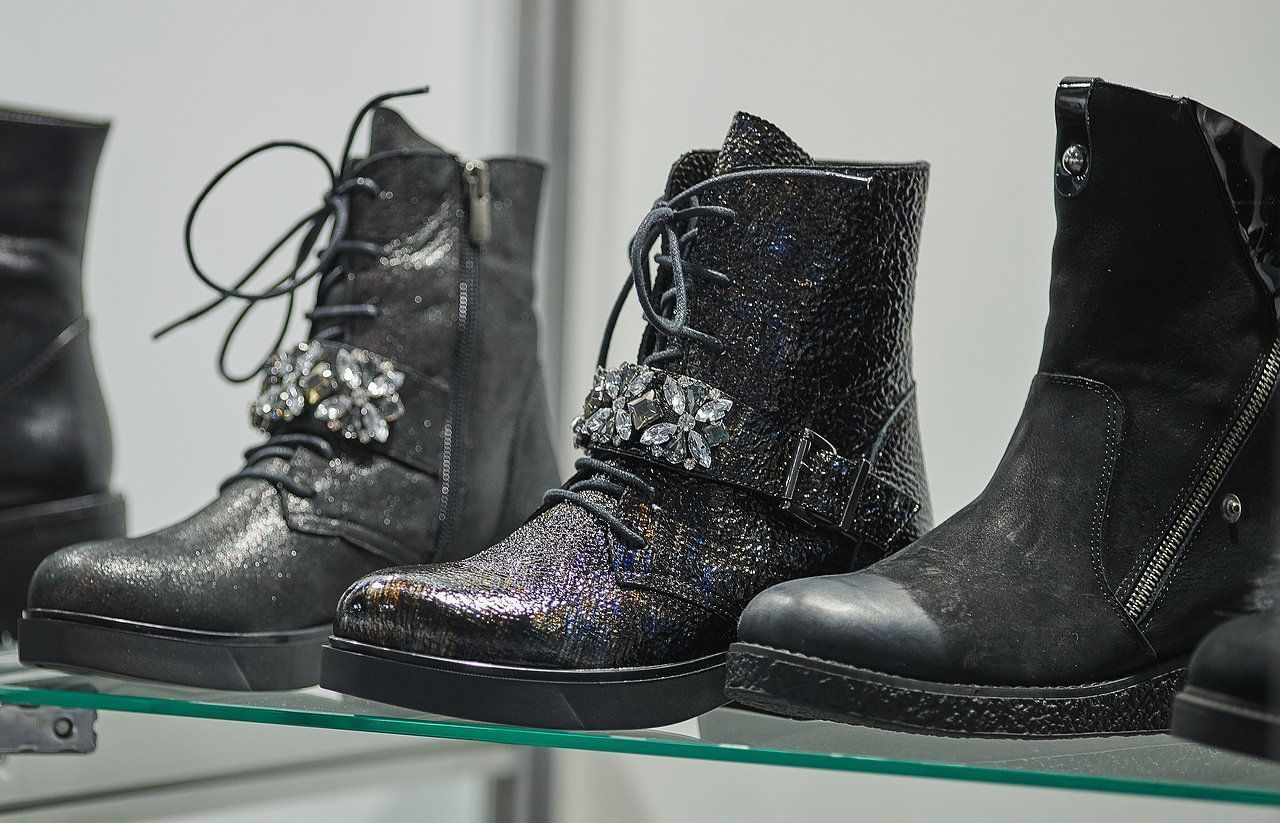 Turkish shoe stand at Euro Shoes Premiere Collection
Components are primarily interested in shoe manufacturers ...

And wholesalers are interested in accessories, they buy ready-made shoes, and independently add accessories to it, and thus diversify the models of their collection. Therefore, manufacturers and wholesalers come to YF. We also proposed the creation of a separate pavilion of components for Euro Shoes, suggesting that Turkish companies producing machines, leather, soles can also participate in the exhibition in Moscow in the future.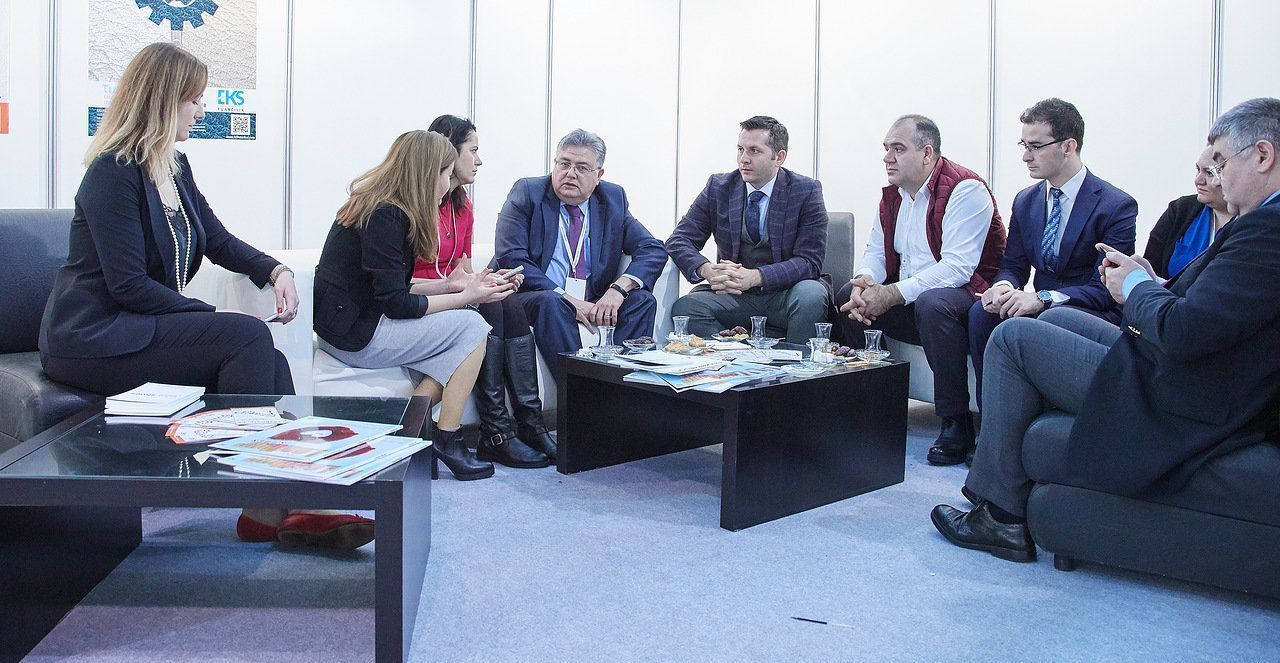 Turkish delegation at Euro Shoes Premiere Collection exhibition led by Turkish Ambassador to Russia Mr. Hussein Dirioz
At the February exhibition Euro Shoes a very large number of Turkish brands were presented, what caused such a great interest on the part of Turkish companies in the Russian market?
This is the result of the advertising campaign Euro Shoes, which we are actively conducting in Turkey. Previously, in Turkey, not everyone knew about this Moscow exhibition. We began to talk about it as an exhibition where European brands of shoes and high-quality shoes are represented, started to advertise it at our events, and as a result we brought exactly those brands that offer high-quality shoes to Euro Shoes.
These are the fruits of our collaboration with the management of the Euro Shoes exhibition. We advertise Euro Shoes at home, in turn, Euro Shoes provides very great support to our Eksposhoes exhibition in Russia. We really appreciate this and try, in turn, you see the results.
I believe that after the February Euro Shoes, Turkish companies will talk about it even more. So next time the number of Turkish brands on Euro Shoes may be even greater. Many Turkish manufacturers represented at the February Euro Shoes have long been working in the Russian market, however, participation in the exhibition allows maintaining closer relations between the seller and the client, this is very important for business.
There are also Turkish companies that did not dare to ride Euro Shoes in February, but are looking forward to the results of the exhibition in order to further decide on their participation. On the very first day of Euro Shoes, many Turkish exhibitors posted videos and photos from the exhibition in their accounts on social networks, launched online broadcasts, all this is a good advertisement of the event.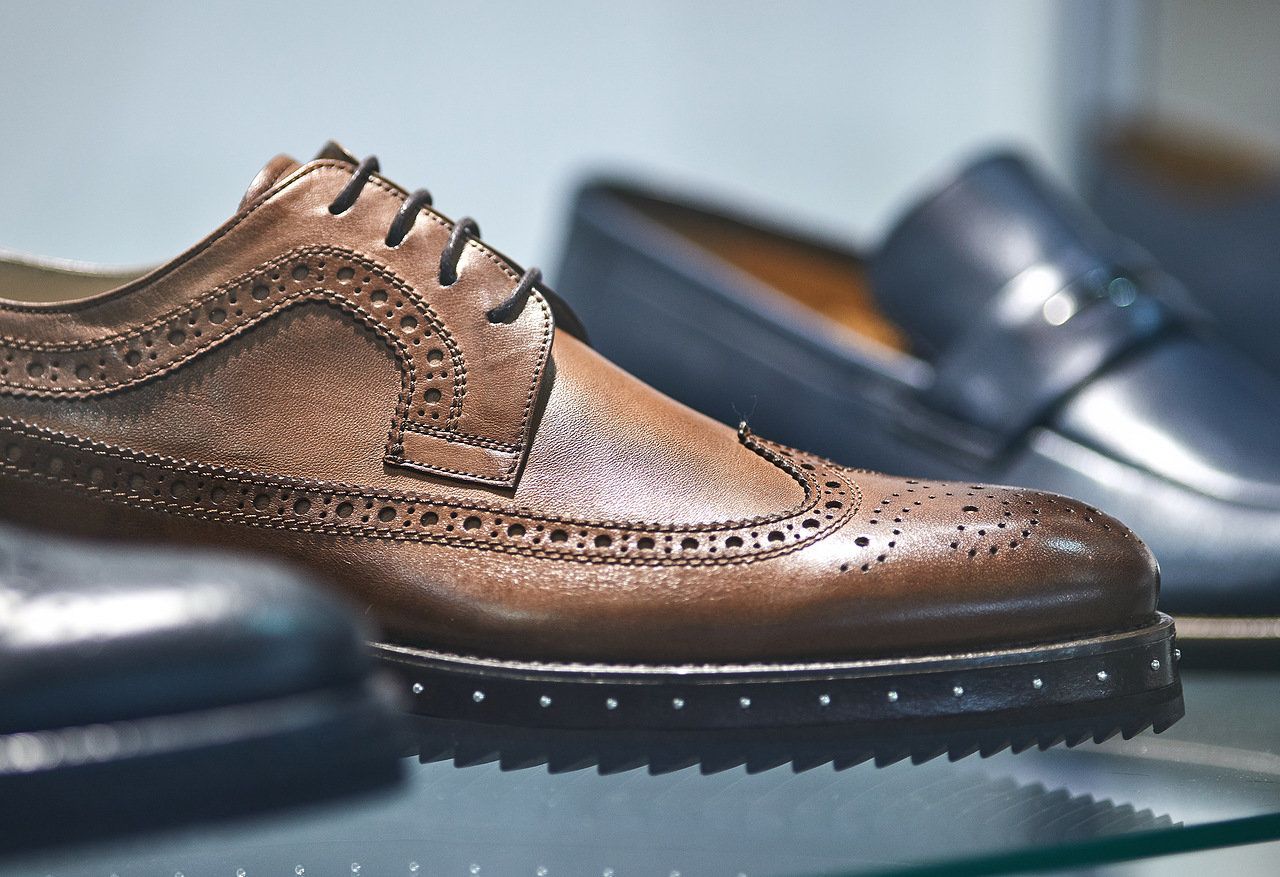 Turkish shoe stand at Euro Shoes Premiere Collection
Are there any brands from the exhibition that offer the development of stores under their own brand in Russia?

Of course, many brands dream of having their own stores in Russia. But while most of the Turkish companies participating in Euro Shoes are focused primarily on the development of wholesale sales. There are several brands that already have stores in Russia. For example, the Ascalini brand has its own retail, the Poletto brand has partners in Russia who develop branded retail on a franchise basis.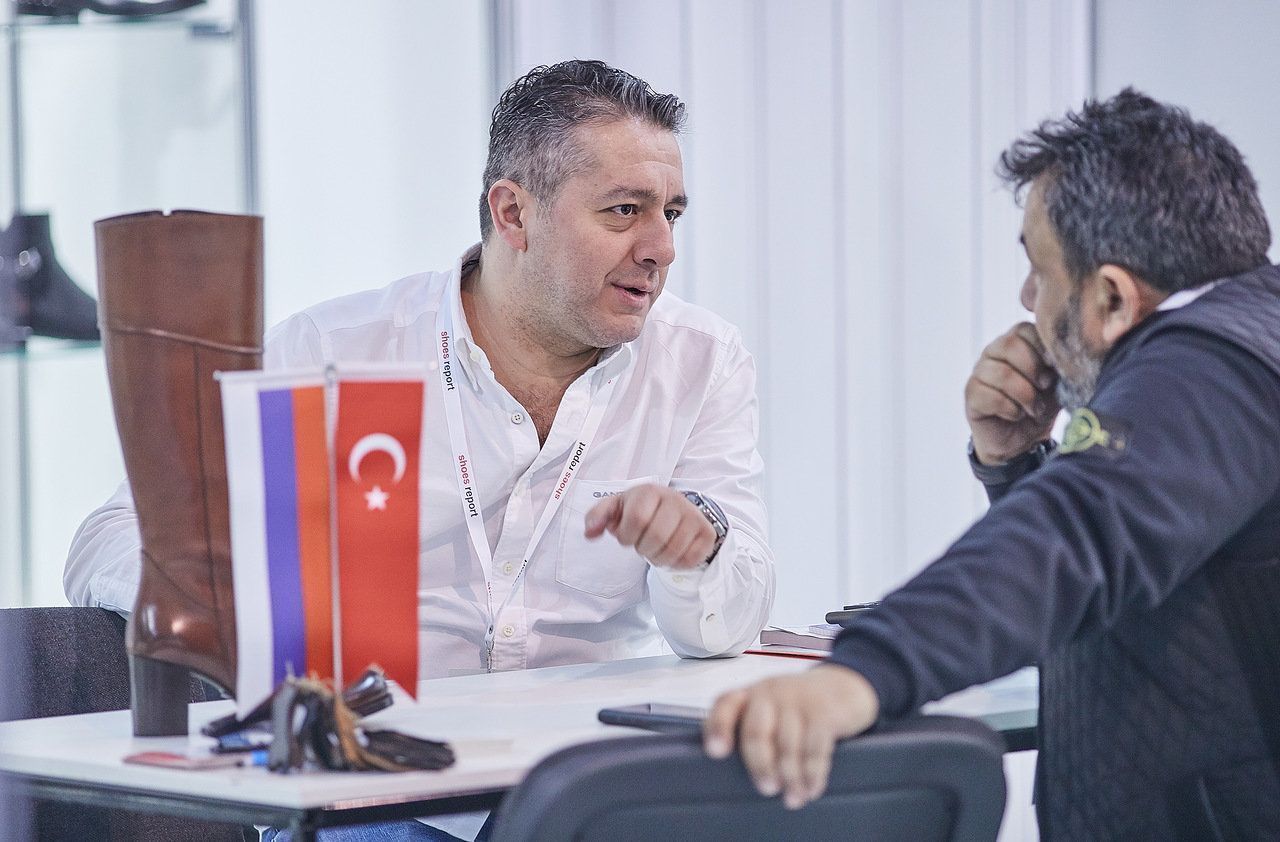 Turkish Ambassador Hussein Dirioz, who visited Euro Shoes on the first day of the exhibition, said that the Turkish government compensates for the participation of Turkish companies at foreign exhibitions, how much serious support is there?

Yes, our government provides support to companies if they participate in international exhibitions, and not only in Russia, but also in other countries.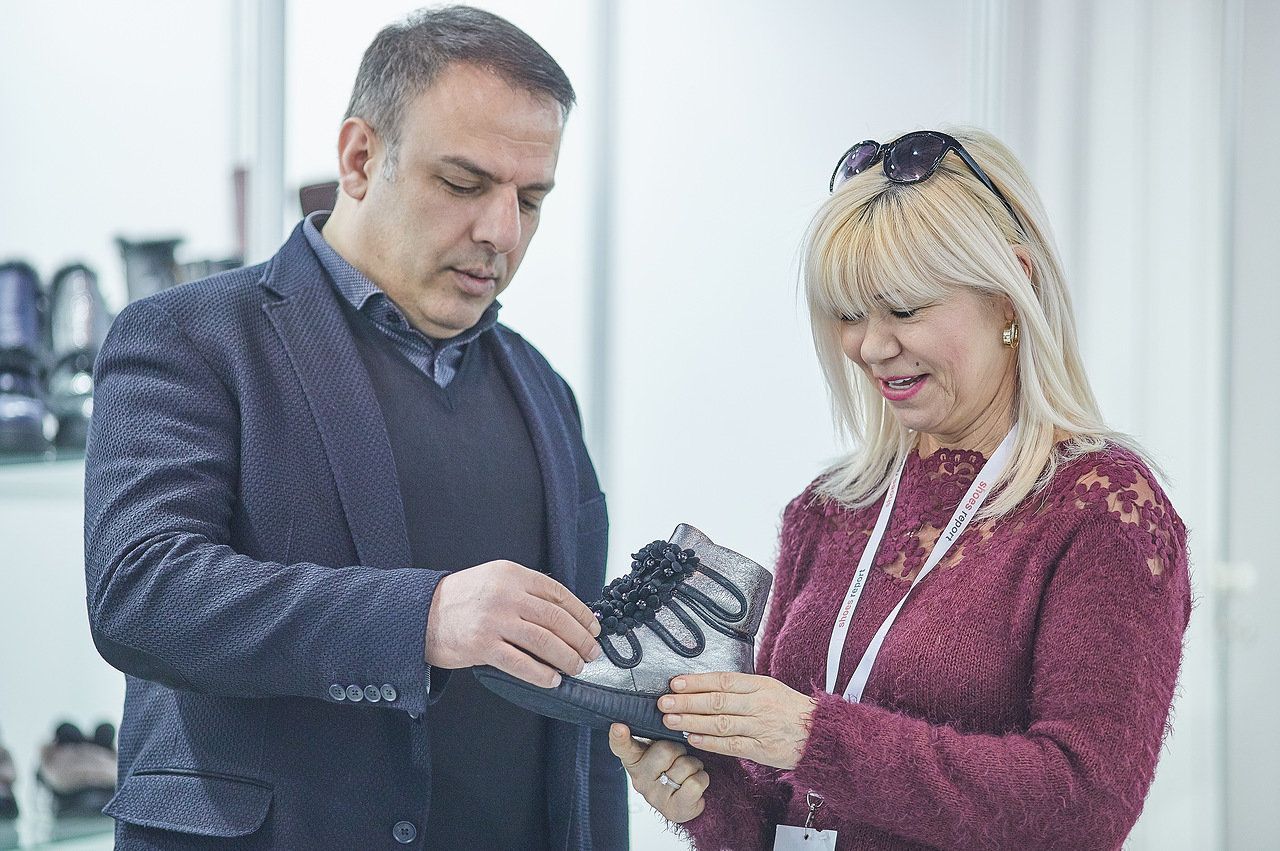 I heard that last year sales of Turkish shoes in Russia increased by 35%, is that true?

Indeed, last year sales growth was around 35%, due to the high demand for Turkish shoes. This year, we expect sales growth of 20%, that is, over two years, growth will be about 50%.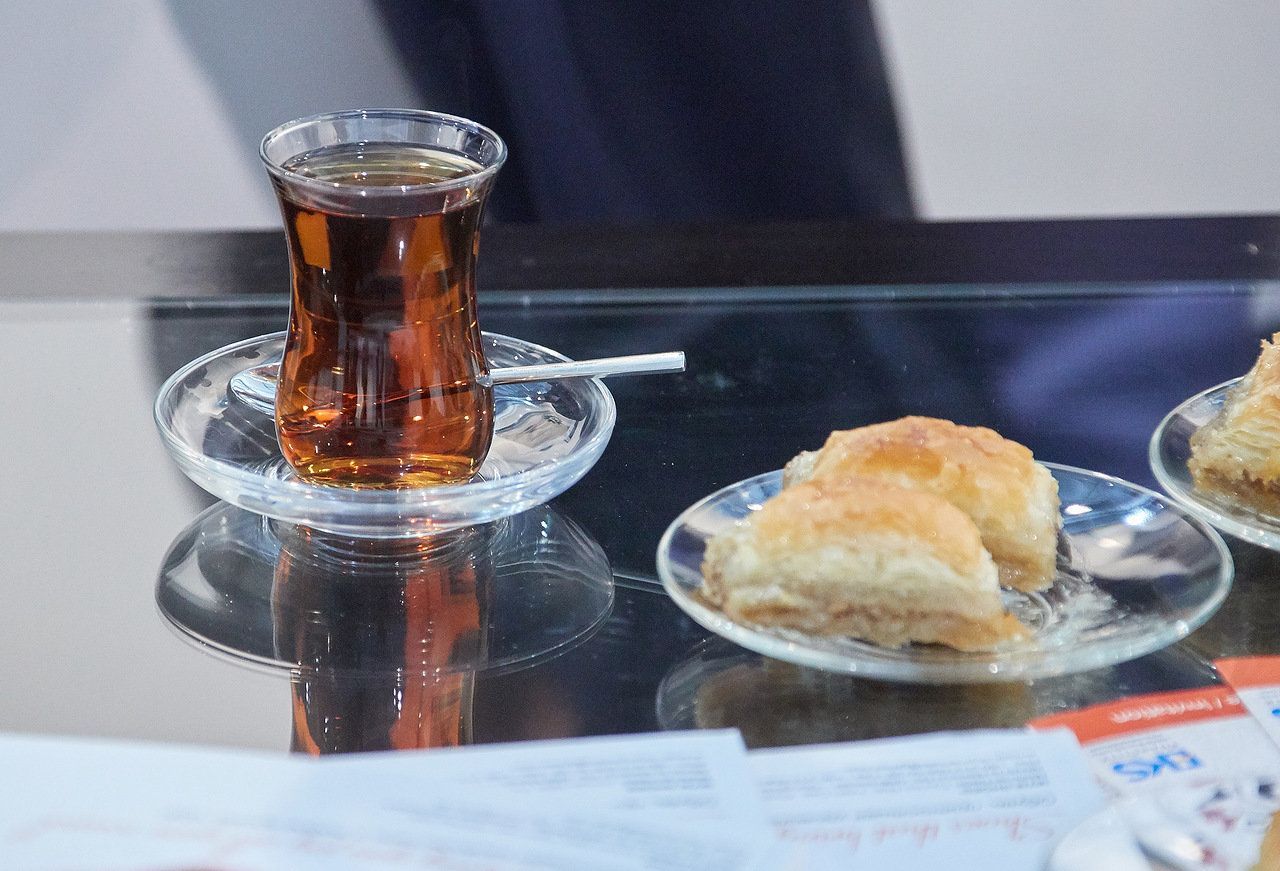 Turkish tea and baklava - catering of the national stand of Turkey at Euro Shoes Premiere Collection
"The growth in sales of Turkish footwear in Russia last year amounted to 35%, according to forecasts in 2018 it may reach 20%," says Ercan, director of the international shoe exhibition Eksposhoes in Istanbul ...