The autumn exhibition of shoes and accessories MICAM, which took place from September 20 to 23 at the Milan Fiera Milano Rho exhibition center, alas, did not gather the number of exhibitors and visitors. There is no need to explain the reasons to anyone. The 90th exhibition for the first time in the history of this industry event, which is most important for the shoemakers in Italy and the entire Old World, was held in a truncated format. Nevertheless, the organizers tried to preserve all exhibition events, including presentations of collections and fashion trends. Experts from the British trend bureau WGSN presented the trends that will define shoe fashion for the spring-summer 2021 season: Homespun - rustic minimalism combined with traditional values, TransForm - hopes beyond the crisis and harmonization of opposites and gamescape - a nostalgic journey back to the games of the 80s, and the union of the real and the virtual.

Collections for women and girls
HomeSpun trend based on a new form of rustic minimalism (rustic style - the European version of the famous and rather popular American country style) with a feminine design, which emphasizes "slowness", sustainability and handicraft.
It is based on a return to unhurried methodical skill (often meditative), without fuss and race, and craft as the art of making shoes, bags, clothes, where they are all art objects. The trend appeals to discerning minimalists who value slowness in an increasingly fast-paced, accelerating world. This will mean an increase in fashion repurposing as consumers start shopping more consciously.
The color palette is dominated by neutral and natural tones, inspired by the rich browns, cinnamon and grassy greens of nature, as well as the blues and washed-out purples of the changing sky that we gaze into with unwavering hope.
Workwear, both agricultural and traditional, inspires a new bucolic style. As for footwear, the emphasis is on natural materials and a high level of shoemaking. A special feature of the decor of summer models is leather trim and chains, large and small.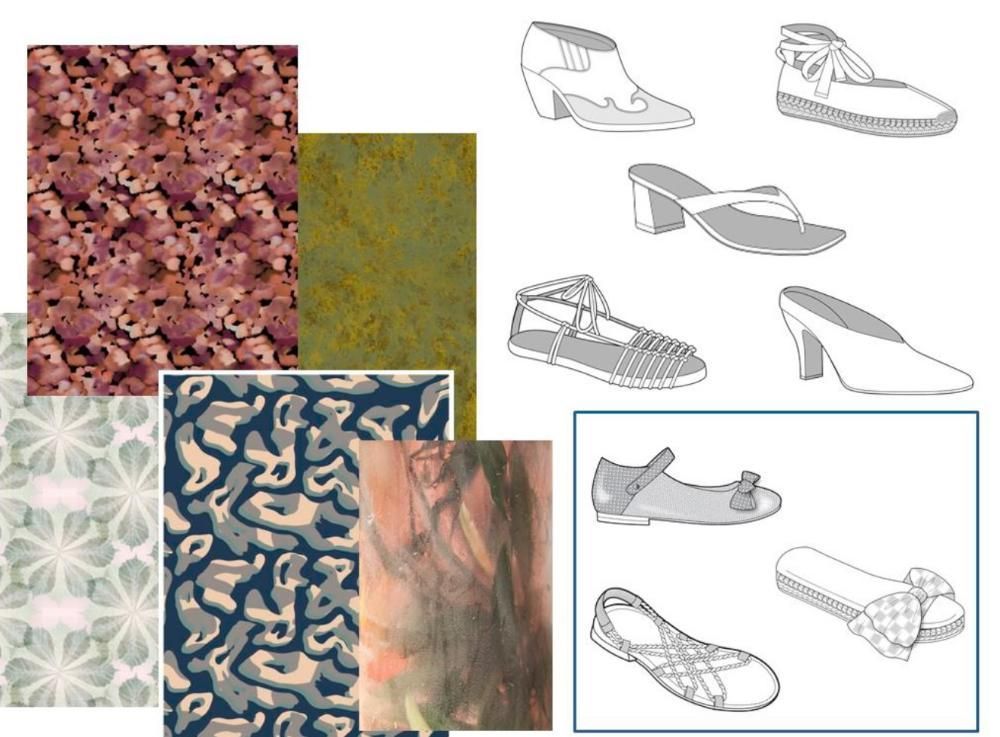 Collections for men and boys
HomeSpun trend takes a more meaningful approach to fashion and redefines our relationship with clothing, observing how the concepts of minimalism, vintage and resale are changing the life cycle of the products we consume.
The intricate materials of this theme, the relaxed fit, and helpful details offer many design possibilities for long-wearing shoes. The color scheme is a palette of soft natural tones, inspired by the imperfect appearance of organic dyes. There are many tonal and color combinations, but there is also room for contrast, with warm, bright and cool hues. Handcrafted elements such as carved metal parts, intricate weaves, embroidery and hand-painted motifs will be key in the next warm season and will give the design a unique quality.
The appliqués in the shoes have a wax finish that is in harmony with the minimalistic silhouettes.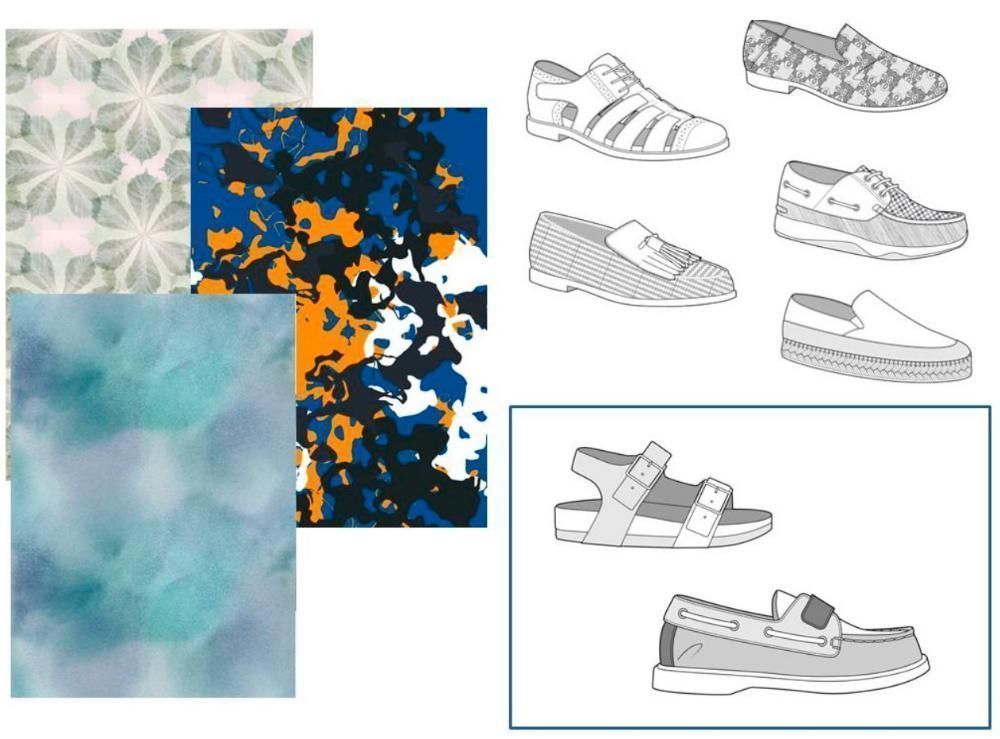 Collections for women and girls
TransForm trend explores design during the global crisis that swept our world in 2020, looking for light at the end of the tunnel, leading to a modernist trend that draws on both urban and maritime themes. The trend focuses on all-black styling, tough leather and a survival aesthetic. Darker subcultural narratives such as magic and witchcraft will pave their way in fashion, but with some romantic touch with touches of unease.
But even within this gloomy trend, contrasting accent on light sheer fabrics and ethereal metallization can be seen for a style with minimalist lines.
TransForm balances dark themes with a sense of optimism that is reflected in a palette of dark and light tones. The blues and greens are inspired by the ocean, while the shimmery silver tones are inspired by precious metals and can be used to give designs a higher quality flair.
The main theme in design and decor is contrast. It is necessary to play with layers, return to natural tones.
The shoe is characterized by a massive sole, like a sports shoe, and a pronounced utility. A strong bias towards functionality and convenience will continue to gain momentum in relevance and popularity.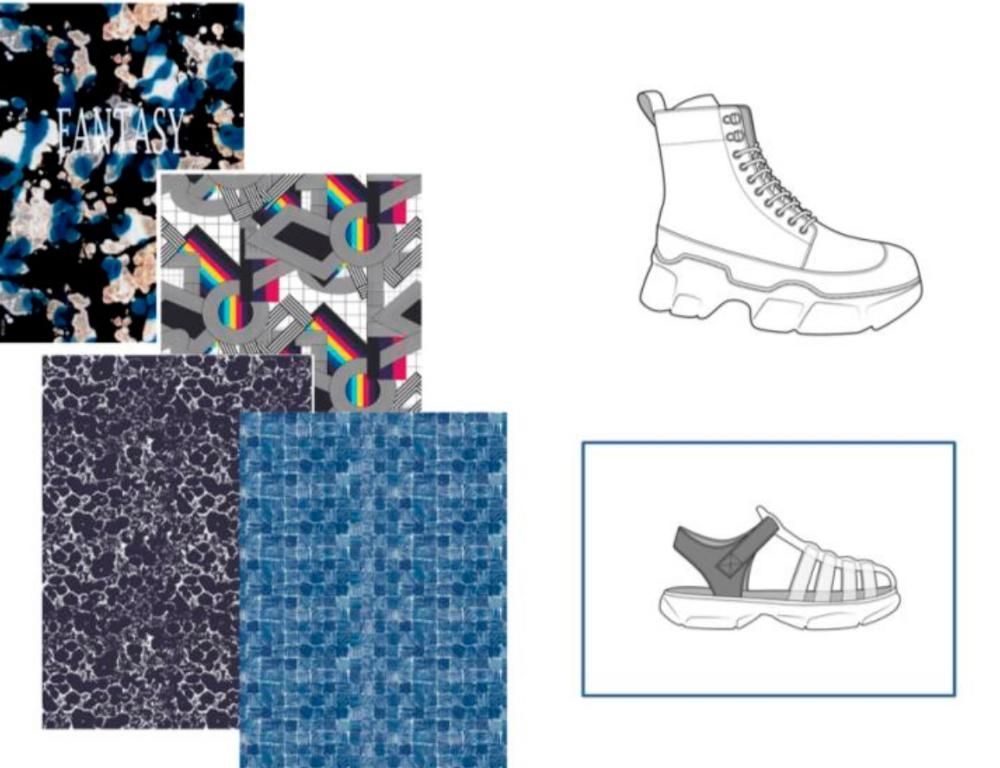 Collections for men and boys
Men's clothes and shoes TransForm trend contrasts are characteristic, just as our vision of the future oscillates between the good and bad achievements of humanity. In this direction, design is used that combines technology with nature. It balances the human need for light with the dark side of life and art.
This style uses materials from sportswear and footwear for office style, resulting in sophisticated and highly efficient products that are smart and casual at the same time. Ultra-lightweight materials and designs will be key next summer. So we will see a lot of sheer fabrics and photo collage clothes.
Colors transition from light to dark and from artificial to natural, creating a contrasting palette with a complex balance between color tones. The trend focuses on oceanic tones with an artificial edge, such as a quiet wave and calm blue, enriched with darker hues.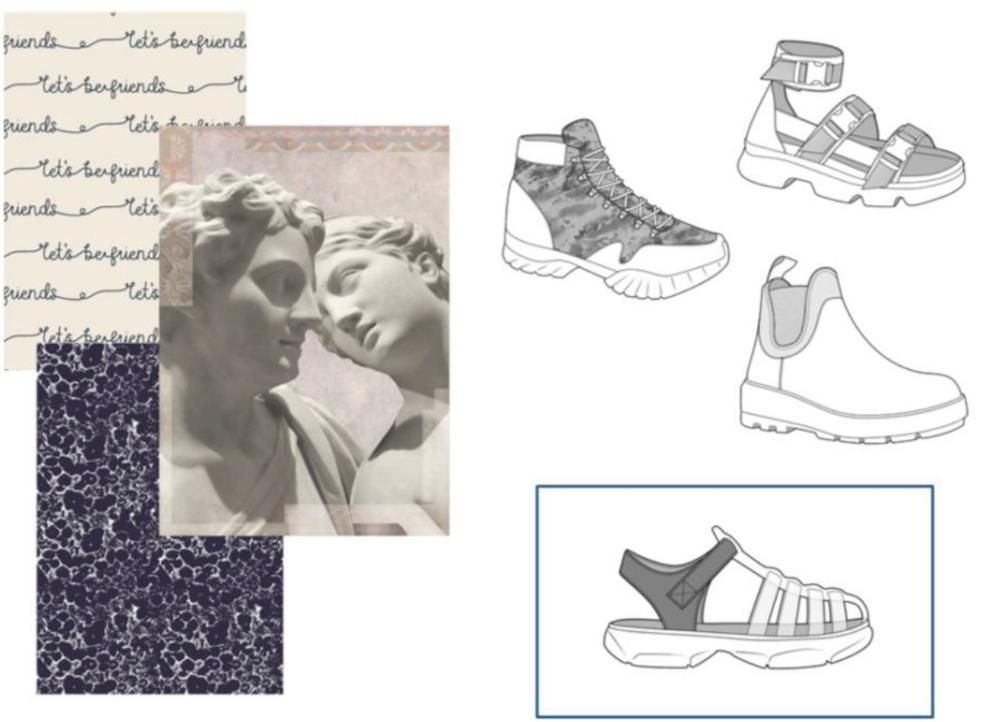 Collections for women and girls
GameScape trend blends elements from the past, present and future through a virtual lens and sees the importance of digital design, the way our online and offline realities become more intertwined and interconnected in our lives. The appeal to 1980s video games combined with sporty clothing creates a new hyper-digital uniform that can be used to update both smart and casual styles.
The clothing uses scenes taken from everyday life, the designers focus on the satirical and kitsch, which reinforces the newfemininity trend for ultra-loud, ultra-feminine designs.
Bold offset tones combine with a strict palette of grays and neutrals. Vivid greens, digital pastels, and vibrant colors are key.
A new look is created with digital hyperreal colors, in line with the resurgence of photographic prints.
Sneakers of this trend with fluorescent and projection prints.
Collections for men and boys
As our online and offline existence becomes more and more intertwined, we will see growing cross-influence between the two, with the digital becoming more important.
A virtual presence is established on the Internet through creative collaboration, leveraging the growing popularity of esports and gaming.
The 1980s are seen as the cultural and aesthetic dawn of digital culture and are used to connect with the hacker mindset.
The colors in this trend are very rich and artificial, designed to draw as much attention to themselves on screen as they would in real life. They are based on a selection of neutral spectral tones that provide a base layer of sophistication and provide optimal contrast with vibrant digital colors.
To get the gamergraphics message across to us is to add slogans and play with proportions. Glitch-themed digital prints update sneaker profiles.
The main thing in this trend is maximalism, expressed through shoes in optically bold colors.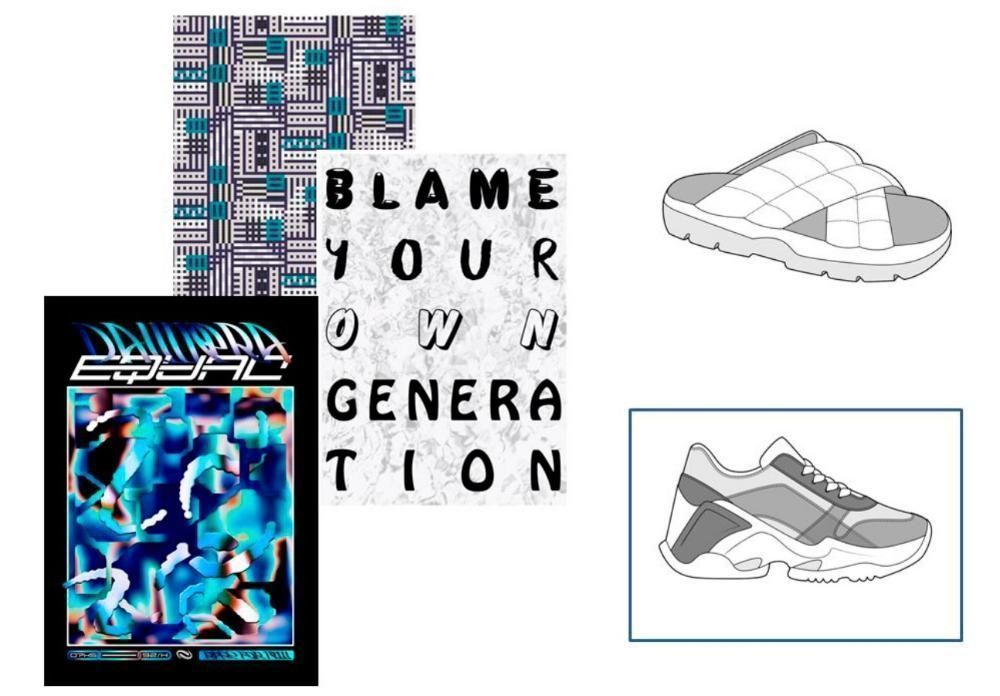 The autumn exhibition of shoes and accessories MICAM, which took place from September 20 to 23 at the Milan Fiera Milano Rho exhibition center, alas, did not gather the number of exhibitors and visitors. Reasons for anyone ...