In this article, expert SR, director of the Assortment department and head of the FCG representative office of the international trend bureau Fashionsnoops.com Galina Kravchenko talks about the most commercial color palettes and trendy topics that should be paid attention to in the season of SS 19: Bodhi, Santa Fe (Santa Fe), Summit, The Valley.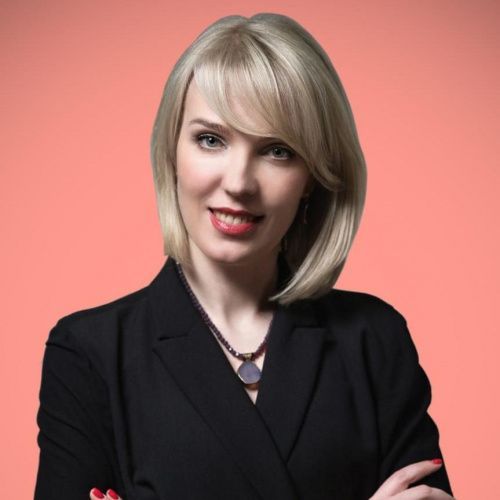 Galina Kravchenko
-
independent trend expert. Specializes in the development of commercial collections of clothing and footwear, assortment management in retail chains and wholesale companies. Introduces international experience in fashion product development into the practice of Russian companies. Successful consulting and training projects were implemented for companies in the Clothing and Footwear segments, including: Unichel, Econika, SALAMANDER, Kotofey, Lamoda, Otto Group, Gretta (ELEGANZZA retail chain), Leo Ventoni , Luxottica, Gloria Jeans, Holding Center, Oodji (ALMEO GROUP, Kazakhstan), Sportmaster, Shop&Show TV channel, 1001 DRESS, Sela, Wild Orchid, Conte and others. Author and presenter of a series of training workshops and a course of lectures on assortment management and fashion trends. He has numerous publications in b2b publications: Shoes Report, PROfashion, FashionUnited, Fashion Magazin, General Director, etc.
Bodhi Theme
Reflects the increased interest in ancient cultures, rites, food traditions and methods of treatment of the tribes of the Amazon, Australia and South America. This influence is noticeable in various areas of modern life and art.
examples:
So, the Peruvian chef Virgilio Martinez Veliz, the owner of the restaurant "Lima Floral", instilled in his clients an interest in traditional Peruvian cuisine using local ingredients. The traditions and secret knowledge of shamans and doctors are becoming a new popular area of ​​treatment and nutrition for modern man.

Lisa Ross, an artist and photographer from New York, in her works shows the sacred places in which there are idols and various significant relics.

In the provocative documentary "The Reality of Truth" by Michael "Zappi" Zapolina discusses the use of psychedelic botanical means to remove from the physical world and explore higher spiritual spheres.

Aboriginal art inspires a new sophisticated design. For example, the artist Lanita Numina Napanangka is known for her work, made from rhythmic abstract points of natural shades.
Such increased attention to ancient civilizations demonstrates the desire of modern man to be closer to nature, as well as appreciate the diversity of life that planet Earth gives. People became more interested in other nations, their traditions and culture, as well as studying their roots and genealogy.
The color palette of the Bodhi theme is muted and at the same time juicy shades of natural dyes. The main role is played by brown, burgundy, yellow and green shades.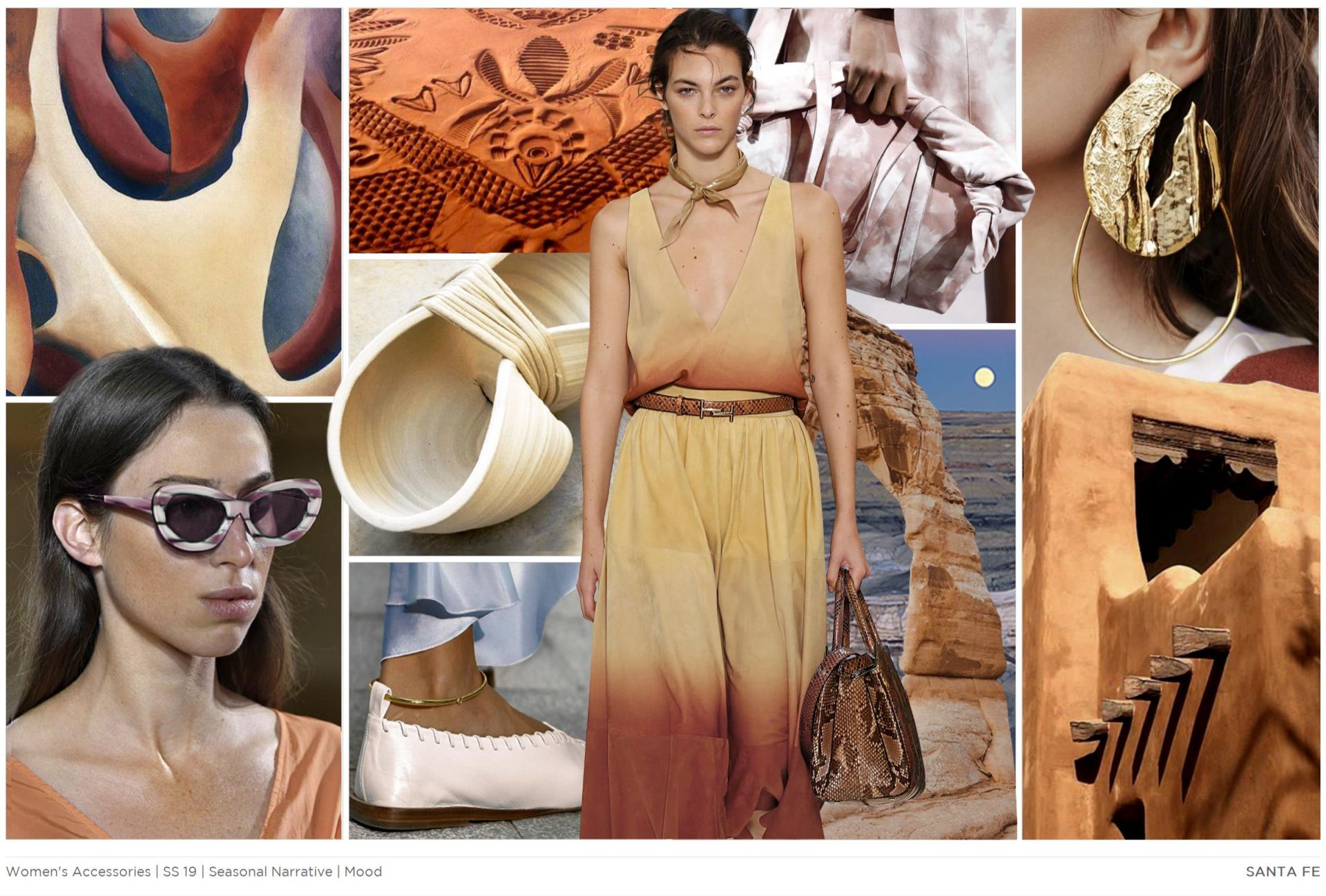 Santa Fe Theme
Dedicated to the desert valleys of America. The combination of dry sandy landscapes with flora and smooth rocky surfaces create a new complex beauty that makes you think about the eternal and penetrate spiritually. The theme is inspired by modern architecture, new furniture solutions and paintings by the American artist Georgia O'Keeffe.
examples:
Unusual desert landscapes have long been a refuge for soul seekers, as they have great spiritual strength. So, for example, the house Aerie, located in Arizona - an ideal example of how architecture can not stand out and become a continuation of the famous Red Stones Canyon. This is a complete unity with nature.

Interior and furniture designer Faye Toogood was inspired by the art of ancient tribes and repeated the curved shapes of stones in her work.

The distinctive beauty of places like Nevada, Utah, Arizona and New Mexico is the main inspiration for iconic American artist Georgia O'Keeffe. Her paintings are dedicated to desert valleys and canyons.
The Santa Fe trend color palette is sandy, golden, reddish shades of sunset in a deserted valley, and mustard shades of Red Stones Canyon. The warm blue color of the evening sky dilutes this warm palette.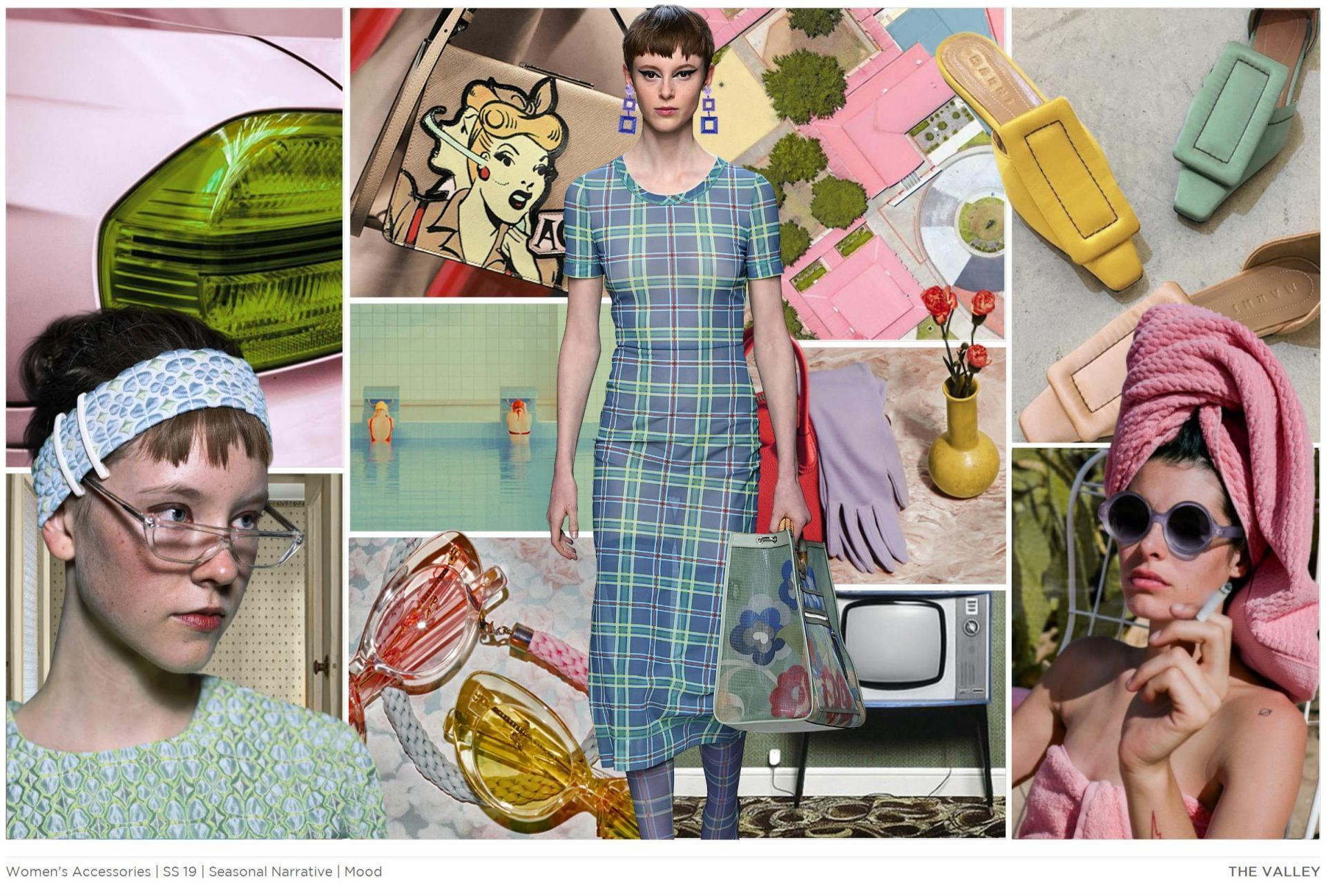 Theme "Valley"
Impregnated with retro nostalgia for one-story America during the Cold War. These are idealized memories of life in the suburbs. The theme is inspired by old photographs that urge us to look at life in the suburbs from a new perspective.
examples:
The works of photographer Karen Khachaturov are made in a surreal style. His photographs attract attention with their detachment and make them see society from a different angle. It conveys the mood of everyday life, using a palette of sweet pastel colors and surreal suburban images.

The famous photographer William Eggleston, a pioneer of color photography, showed the everyday life of the middle class in a "new color." Cars, homes, advertising, clothing, interiors have turned pink, orange, blue and lemon yellow. All these paints, which still did not exist forty years ago, appeared thanks to the chemical industry.

Bill Owens, a well-known American photographer, published the book Suburbia in 1972, which was accompanied not only by his pictures, but also by his stories about the life of the middle class living outside the city.

In cinema, the study of this topic was manifested, for example, in the work of director David Lynch, the author of the drama "Twin Peaks", which shows in detail the lives of strange residents of a provincial American town.
The color palette of the Valley theme is a combination of sweet, sugary pink, yellow, mint and soft blue with cardinally bright and rich red, blue, orange and light khaki.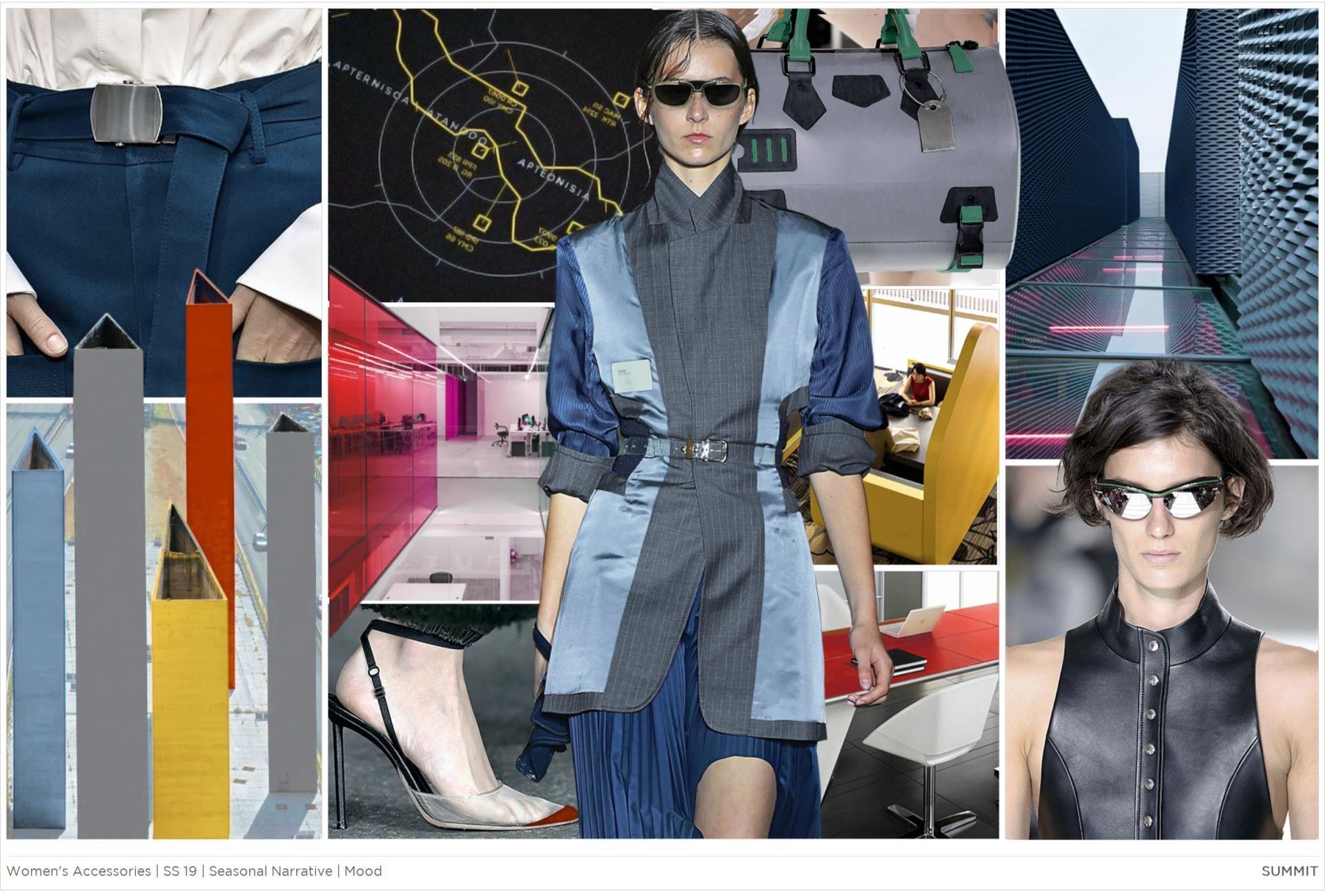 Top Fashion Theme - This is a new approach to the modern functional design of a fashion product, which must be not only intellectually minimalistic in appearance, but also high-tech in functionality. This trend is expressed in clothes, shoes and accessories due to the simple and perfect cut and design in cool or bright colors.
Modern minimalism is a requirement of a person's life today, his freedom of choice in work and the construction of life. Thus, according to forecasts, by 2020, more than 40% of the US workforce will be freelance workers who seek to diversify their professional lives and are ready for temporary work. Young ambitious managers choose their own startups instead of large corporations.
Also, due to the fact that we live in a very dynamic time, and people often do not have enough time to solve simple everyday tasks, a huge number of new technologies and services are created and implemented to make their implementation as easy as possible. Technology continues to penetrate our lives. Modern gadgets, vacuum cleaners, teapots "grow wiser" before our eyes and look perfect: soft, rounded shapes and calm shades.
The "Top" theme color palette is a combination of red, blue and green, as well as cold gray-blue shades with brown and powder.