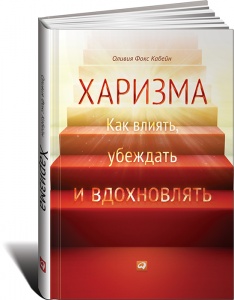 31.10.2013
11210
Charisma: How to Influence, Persuade, and Inspire

The book debunks one of the most ossified myths of modernity that charisma is a gift from the gods. Many believe that this is an innate quality, and perceive a charismatic person almost as a superman. But this is not at all the case.

Compare the recordings of Steve Jobs' early talks with his most recent public addresses and you will see how much more charismatic he has become. Olivia Fox Cabain proves that charisma is a skill that anyone can master.
Why the book "Charisma" is worth reading
The author is the world's leading charisma expert. The book covers three main aspects of charisma, you will learn how to develop and apply them. The book will give you the tools you can put into practice and get immediate results.
For whom is this book:
For those who want to be as attractive as Bill Clinton, or as charming as Steve Jobs was. This book is for those who believe that they already have some charisma and want to learn how to manage it better. But even if you think that you are not a charismatic type of person, read the book and see how your life will change.
Who is the author:
Olivia Fox Cabain is a renowned expert in charisma and leadership who lectures at Stanford, Yale, Harvard and Massachusetts Universities, as well as the United Nations. She often serves as the head coach of top executives in Fortune 500 companies and helps people convince, inspire and influence others. Olivia not only writes a column for Forbes, but also publishes her work in leading media such as The New York Times, Bloomberg and BusinessWeek, and not so long ago, the Wall Street Journal devoted an extensive article to her.
Key concepts:
charisma, the myth of charisma, self-development, self-improvement, persuasion, influence, power.
Find out the cost on the Alpina Publisher website