Everyone dreams of becoming successful. And only a few become them. Why? What sets these lucky few apart? Emotionality and energy. Practicality and iron logic. Flexibility and ability to solve specific issues. Sentimentality is alien to true leaders, they are not afraid of criticism. As a rule, they are indifferent to difficulties and have tremendous self-control. All these qualities are combined by Lyudmila Savenkova, director of the MONARCH shoe store in the Otradnoye district of Moscow. The image of Bagheera in a Skirt is complemented by a subtle sense of humor, a sincere smile, an open gaze, a classic black outfit and tastefully selected jewelry.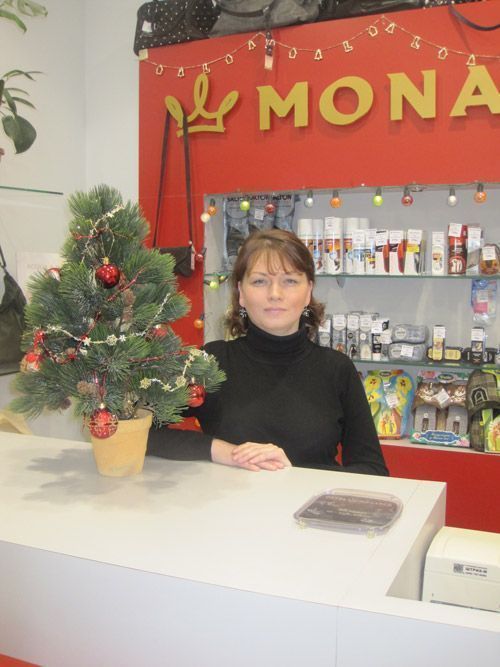 Leader! Get out of the dusk!
In the original, the image of Bagira is completely unambiguous - a warrior heroine with a halo of romance. Lyudmila is very reminiscent of this graceful character. The initiative of reconciliation of the warring parties (in our case, the seller with the buyer), and the relationship of real friendship (with the team), and the relationship of motherhood (with the family) organically fit into the model of her behavior.
Seeing me - a frozen and unhappy victim of capital traffic jams, Lyudmila immediately gave coffee to her. Then she introduced me to the sellers, walked through the sales area, showed the collection, and when we returned to her workplace, I moved on to tell about myself. It happens that it is difficult to conduct a conversation with a stranger, but Lyudmila immediately disposes to communication, answers honestly and benevolently, and her eyes glow with pride, because in such a short time she has achieved a lot. The result is a beautiful story of the transformation of an ordinary housewife into a successful lady.
- How did you come to trade?
- I graduated with honors from the technical school of light industry and for two years I studied at the institute with a degree in "Technologist-designer of women's clothing". But the military career of her husband, a border guard, required moving. Therefore, I was engaged in raising a child and at home. When we returned to Moscow, I realized that I could no longer be just a "homemaker" and decided to find a job. At that time, the MONARCH store was opening on Basmannaya Street (now it is Sretensky Boulevard). I was hired as a sales assistant. I will never forget the first day of work, it was very exciting, although the duties were the most common - to prepare the store for the opening, get acquainted with the assortment and other sellers. The lack of specialized education did not bother me, I learned everything in practice. Two months later, having passed all the assessment tests, I became an administrator, and six months later I was appointed director of a store in Otradnoye.
- Why did you decide to stay in the profession and in the company?
- I liked the company's policy, the motivation system, because material reward plays an important role. It's nice that I was appreciated and given the opportunity for career growth. Yes, and one more thing: I was very lucky with the teams. This is not surprising, because here I myself was engaged in the selection of the team, but with the girls from the previous place of work, we became good friends and still communicate.
- What new have you discovered in yourself while you work in the company?
- I realized that I can be a leader, I can lead, loyally set up and lead a team, convince, not force. My subordinates feel a fine line between carrot and stick in my behavior. And although the boss is forced to maintain a certain distance from his subordinates, I was able to create a friendly atmosphere in the team of my store - this can be seen even by the customers of our store.
- How do you solve work conflicts?
- I'm not afraid of conflicts, but I try to prevent them. Of course, it can be unpleasant when a customer, trying on shoes, deliberately throws them around the hall. Sometimes there are claims for consumer (in the process of using shoes) marriage. Once an overweight woman bought boots with a narrow bootleg from us. During the fitting, she could not even button them all the way. And then she brought it back with the zippers torn out. Another customer decided to return the winter boots with natural fur because they seemed too cold for the Moscow winter. There are difficult clients who require me to serve them. There are practically no problems with personnel. My team knows how to work in a team, everyone is focused on a common result, and not just everyone for himself.
- What achievements of your sales network are of the greatest importance to you?
- Recently, our company celebrated its 20th anniversary, this is a worthy period, by no means every company will live on the competitive Russian market for so long. I think that this is due to the correctly chosen ratio of price and quality, high level of service and competent brand positioning.
- What financial indicators are you planning for 2010? What do you expect from next year?
- At the moment we are already close to the planned goal. We have a plan for two seasons a year: autumn-winter and spring-summer. Each season, sales increase by at least 10%.
- Is your store somehow different from other stores in the chain?
- I, of course, will be subjective, but ours is the most comfortable! With the friendliest atmosphere! Buyers themselves say so!
- Do you and your loved ones wear MONARCH shoes? What are its advantages for you personally?
- We wear! - Lyudmila, her deputy and two saleswomen answer in chorus and readily demonstrate their shoes. MONARCH shoes, in their common opinion, are very comfortable and wear for a long time, be it stiletto heels or flat boots. They were convinced of this themselves and therefore, with a clear conscience and pride, recommend it to both customers and their loved ones.
- In the rating of criteria influencing the choice of footwear, consultations of sellers are in last place - 0,4%. Although 38% of women and 18% of men make a purchase decision while already in the store. What are the reasons for such a low importance of consultations? Whether it is our social attitude - not to reckon with the seller. Whether it is a lack of competence of the sellers themselves. Maybe there are other reasons?
- Not every store has a salesperson who knows how to find an approach to a client. Often there are "supervisors" who follow on the heels and defiantly put things in order after the client, placing the goods. Buyers perceive such a seller as a direct threat to their wallet. Questions "Can I help you?", "Suggest anything?", "What interests you?" they do not evoke a clear desire to continue the conversation. First you have to watch. Noticing that some product has attracted attention, you can say something like: "This is a model from a new collection. How do you like this style? "," Do you look after yourself? This is just your size "," These boots, despite the high heel, have a very comfortable last. Would you like to try it on?" The buyer's fear of the seller is deep in our subconsciousness and is rooted in the distant past, because the word "seller" appeared in ancient Rome and came from the word "swindler". Therefore, the best way to deal with customers is to stop being a salesperson for them. You need to become a consultant, assistant, friend, anyone, but not a salesman.
- Do sellers need professional education or not?
- In principle, no. In educational institutions, more attention is paid to theory. But the most important thing in sales is practice! In our company, training of sales personnel does not imply external trainings and seminars, it is so complete. Each new seller receives methodological material, which describes the techniques and psychology of sales, personnel policy, which tells about the values ​​of the company. This is the first step. Further, shop directors become mentors for newcomers, they teach them on the job. The next step is independent study of the product and professional development through internal trainings with the help of a training manager.
- On the question of values. Are they spelled out only in training manuals? It's just that not so long ago, at one of the seminars, we just talked about the fact that the seller must go through three stages of adaptation: understanding (to know what goals the company sets), education (to understand and share its values) and training (sales techniques). And, as a rule, in our shoe networks, at best, there is understanding and training, at worst, only training. How do you understand that salespeople not only read the manual, but also share the company's values?
- The main element of education is the availability of any manager to the seller, democracy and an example of the work of a store director - his dedication to achieve the general goals of the company. There are many store directors in our network who have been with the company for more than two years, and they are also bearers of corporate culture, along with training managers passing it on to new sellers.
- It is believed that there are two types of sellers: those who can sell only a specific product, and those who can sell anything, regardless of their own attitude to the product. Which of the types can you consider yourself?
- It's hard to say, it depends on the product and on the specific buyer. It is easier and more enjoyable to sell what you "tried" yourself and what you liked. For example, when a new batch of shoes arrives, sellers must try on the shoes in order to assess their merits firsthand and tell the buyer about them as an expert.
- With the development of online commerce, does the role of the seller somehow change or not?
"It is not becoming less important, I assure you. You can look at shoes on the site, decide on a model, come to the store from the other end of the city, buy and enjoy. And you can go the same way and be disappointed in the shade, texture, block. And here the seller comes to the rescue! Our store has many regular customers. They come to us not only for shoes, they bring gifts from the dacha, souvenirs from trips, talk about the events of their lives. Many older people are extremely lonely. They get the missing attention from us. Sometimes they just come in to chat.
- Which customers are easier for you to work with?
- For me, a lot depends on the manner of communication, I love talkative customers. It is much easier to work with an emotionally open person. I don't really like fussy and harsh people. One of our employees found it difficult to work with male customers, the other, on the contrary, considered them to be the best customers, because they clearly know what they want to buy.
- What doubts of buyers now have to face most often?
- Oh, buyers always doubt: the model, the color, and the very need to buy. It often happens that a person needs a "winter without a heel," and the choice falls on stiletto heels, or they come for boots and choose shoes. And I will note - several pairs.
- Do funny situations arise?
- From the last: grandmother bought shoes for her grandson. After some time, when accounting for the goods, we find that there was a confusion: the left shoe was sold to her in black, and the right one was also black, but with a thin white stripe on the heel. And only a month later she returned, and then only after colleagues at work pointed out to her grandson about his "fashionable" new thing. Grandma exchanged goods and laughed for a long time.
- What hobbies do you have enough time after work?
- There is not much time left as we would like. I love going to the movies, meeting friends, dancing in the club. Recently I succumbed to the influence of my son - I liked the modern music he listens to. Dancing to the rhythms of hip-hop, r'n'b and sets of fashionable DJs, I catch myself thinking that I have not yet been released and I can do something!
- Your greatest achievement in recent years?
- My son entered the RSSU! Himself! No connections! On a budget! This, of course, has nothing to do with my work, but I'm very proud!
- How do you see your future?
- I would like to advance. Do you need to work even better for this? Excellent! I'm not afraid of difficulties!
For your information:
According to a study by the Corporate Management Agency, only 21% of men and 23% of women go to the store knowing what the purpose of spending money is. Directly in the store, 38% of women and 18% of men make a purchase decision. At the same time, according to the MarketMasters research, in the rating of criteria influencing the choice of footwear, consultations of sellers are in last place - 0,4%.
Everyone dreams of becoming successful. And only a few become them. Why? What sets these lucky few apart? Emotionality and energy. Practicality and iron logic. Flexibility and skill ...