Fashion industry professionals, including employees and shoe business owners, find themselves on opposite sides of the barricades daily. They visit their stores, think about what can be improved so that customers are loyal, buy more often and more. And at the same time, they themselves regularly become buyers and every day they get new customer experience. We subtly feel what other sellers are not finalizing, where one could act differently, say different words, or vice versa, having received an attentive attitude and pleasant emotions - we go out inspired, share our impressions with others and plan our next visit to the same store.

"Turning" into buyers, we understand that we expect attention and a pleasant attitude from the seller, returning to our store more often we think about the notorious "price-quality" ratio and are perplexed why customers pass by.
All the salt is that customers have long stopped buying only goods. Similar shoes / boots / boots can be bought a little cheaper or more expensive from many of your competitors. There are no winners in price wars. The quality of the goods is also always relative.

How can you show off and stand out from your competitors? What trends are prevailing now?

To begin with, initially, when opening a store, we don't think about the concept, format, about who we open this store for and what customers expect from it. We just create another store, which is similar to those that are already working. There are cases when owners of outlets even buy the same brands that their competitors work with. Relying on this, as a rule, at a lower margin and victory in a price war.
And at this time, entrepreneurs who want to get ahead of the market, study their customers, identify a narrow target audience, analyze its desires and needs. This is how such store concepts appear as "the best friend's house", "store - podium", "light and timeless store" created by well-known brands.
In addition, mixes of formats are now more and more common. Recreation areas, cafes, consultations of stylists, orthopedic specialists, areas with clothes, accessories and much more appear in stores. The store has ceased to be a place where only the process of "purchase-sale". It has become part of the consumer lifestyle.
The behavior of staff in such stores has also changed. From routine work and cliché phrases, these stores moved to a whole new level of service - emotional service. Now it's not enough to know only the psychology of sales. It is necessary to change your attitude towards yourself, work and clients. That is, to create such an atmosphere of communication in which the client feels that the seller is really interested in the client, his feelings, and seeks to sincerely help in choosing a new pair of shoes. Without extra obsession.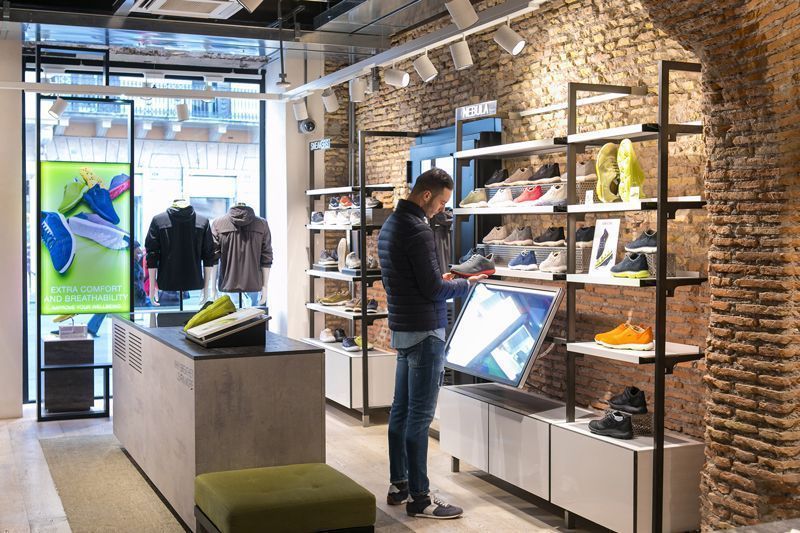 As you already understood, the seller is now not only the seller. He is a stylist, brand ambassador, psychologist, friend, assistant, barista and much, much more.

This should be every store seller. It is important to notice customer-oriented employees at the interview stage, and then stimulate them with personnel management tools. Without the proper motivation program, corporate culture and the concept of customer focus, it is almost impossible to create, grow such an employee. This is a voluminous and important topic, to which we will certainly devote more than one article.
In addition to staff, it is important to remember communication with the client. That is, how he "communicates" with your brand. Here it is important to understand "where, when and how much." Today we have many channels through which you can communicate with the client. E-commerce, social networks, special mobile applications and blogs are gaining more and more popularity. All the same, we are left with us the good old SMS-mailings (which increasingly began to go to Whatsapp, Viber and Telegram) and calls to the gold fund of customers.
We recommend entrusting the promotion policy on social networks to professionals. The right choice of target audience, content, frequency of publications and advertising channels is an important direction in which one cannot make a mistake. Otherwise, all efforts to promote SMM will come to naught.
It is impossible not to touch on the topic of customers of closing stores. Now we are in a difficult economic situation and many stores (especially small and medium-sized businesses) are forced to leave the market. So what are we waiting for? We need to attract this audience and make them regular customers.

How else to get customers from other shoe stores?
1. Organize a coalition loyalty program.
Coalition loyalty programs bring together partners from several business areas that are not competitors, for example:
shoe store

women's clothing store

beauty salon

dry-cleaning

supermarket

coffee house.
Participants in a coalition loyalty program should have similar company volumes and locations (located in one shopping center, on neighboring streets, in the same area). The target audience of the program participants is the same, and, accordingly, the client will be interested in going to these companies due to their accumulated points and continue to earn bonuses.

This type of program to stimulate consumer activity allows you to take into account client preferences in different aspects of consumption and, thereby, create a holistic portrait of it. The main effect of the program is attracting new customers, exchanging a client base with other partner enterprises.

It is important to note: the actions of all participants in the program should be coordinated, all participants must be equipped with technologies for accounting and issuing bonuses to customers. The simplest and fastest format for implementing a coalition program is the exchange of flyers and booklets. Information about the loyalty program should also come from sales consultants, in advertising and POS materials.

2. Make an exchange of discount cards of other shoe stores to yours.

Already familiar to many, the marketing ploy of cosmetic stores and household appliance stores also works well in shoe stores. You can stimulate customers to "hand over" discount cards of other stores in exchange for yours using the "Double (triple) discount on a discount card of any shoe store" promotion. You can also combine it with a stock designed to buy with a girlfriend. Use every opportunity to communicate with customers of other shoe stores.
Often, store managers object to these methods: "It's illogical to start communication with a client at a discount." Or: "We are not ready to make such discounts to new customers." With simple mathematical calculations, the cost of attracting new customers in this way will not be more expensive than 500 - 900 rubles per client. If you shift this to future purchases, subject to lifetime customer loyalty (CLV - customer lifetime value), this will amount to a negligible percentage of future purchases. Not to mention comparing this method with expensive types of advertising.

3. Carry out campaigns stimulating the growth of new customers.

Pay attention to stocks. Only not in the format of "urgently need money - you need to run the action! - 30% for everything! We are launching it! " These are old tricks that no longer apply to your customers. Develop an annual stock plan, in increments of 1 times in 2 weeks, and carry out promotions from the very beginning of the season. Stocks must be for different purposes. (categorical, to increase the average check, to increase conversion, to attract new customers, to strengthen the loyalty of regular customers, etc.), unpredictable, strictly limited in time (3 +/- 2 days) and interesting for your customers.
If the action is carried out without notifying customers - there is no point in it. It is necessary to notify at least by SMS, newsletters and social networks. The newsletter must be done on the day the campaign starts, in no case should customers be informed about future promotions, not announce the schedule and not be invited in advance.

4. Use sales and promotion on social media.

Your customers are changing. Even if you have been in the shoe business for 20 years and have been working quietly all this time without social networks and the Internet, you should understand that your customers and their needs do not stand still. It looks like a conveyor belt: customers are growing up, getting older and are being replaced by a new generation. It is extremely important for the new solvent generation to replace your regular customers to find information about your company on the Internet: website, online store, reviews, lookbooks, recommendations of popular bloggers, photos, the possibility of remote ordering. Do you have an online store? If not, and your company does not have investments for its development, focus on social networks. You can sell through Instagram, Vkontakte and Facebook. Use these channels for the good of your business. Among our customers there are many cases where the revenue of one regional Instagram page is higher than with two or three retail stores.

5. Develop Event Marketing.
What does the people want? Meal'n'Real! Events held in stores often encourage shoppers to come with a friend, attract people passing by and increase the loyalty of regular customers. However, few stores are ready to make a presentation of the new collection, a light buffet or consultation with a stylist on the selection of shoes. It will be useful to invite partners from the coalition loyalty program to participate in the event - this will allow you to share the costs for all participants, make the program more interesting, rich and win the hearts of your customers. The event can be held in a store (especially if it is a specialist consultation or a closed sale), a shopping center, on an external site (rent a room, equipment, make a large-scale announcement).

6. Correctly window dressing.
The best advertisement for your store is a properly designed showcase. The showcase should attract attention, reflect the concept of your store, and most importantly - customers like it. Perhaps your showcase will even cause a desire to take a picture with her and upload this photo to social networks. Use professional and current POS materials (banners, decorations, stickers) for window dressing. When window dressing, try to avoid small-sized decoration elements, photos of past collections, images from open access on the Internet and low-resolution graphic files.

7. Design a uniform for sellers.
Some lingerie stores attract attention with custom uniforms. By the way, few in retail can boast a unique uniform that attracts the attention of buyers. And when the seller, in an interesting uniform, also knows the assortment well, knows how to provide the right service and is customer-oriented - this attracts the customer to your store like a magnet.