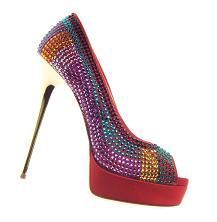 23.12.2010
3036
2010-12-23
The stores began selling Christmas evening shoe collections. The Italian Footwear Manufacturers Association (ANCI) recalls the key trends of the season in Made in Italy.

Christmas mood is reflected in literally all models: shoes are abundantly studded with rhinestones and embroidered with silver thread, ankle boots and boots are sewn of spruce-colored suede.

Winter collections of Italian masters are distinguished by an abundance of patent leather and luxurious fittings, in the decor - satin, bows and rhinestones. In the new season, designers pay almost more attention to ankle boots than to winter boots, which are classically considered the basis of the wardrobe of the fall-winter season. Gerardina di Maggio and Dibrera suggest wearing suede ankle boots with a rounded toe and elegant slim heels.

Concise, but at the same time elegant ruffles will give the image coquetry and emphasize the festive mood. Vic Matie designers offer to celebrate the year of the white rabbit in white boots, reaching the middle of the thigh, combining a small evening dress with rude shapes and a steady high heel. The main trend of the season, Italian designers consider fur trim - as, for example, in comfortable Nebuloni booties.
The stores began selling Christmas collections of evening shoes. The Italian Association of Shoe Manufacturers (ANCI) recalls the key trends of the season in the Made style ...