July 13 is the release date for the new Dior men's sneakers. The model was first seen at the French luxury label's Fall/Winter 2023 menswear show in Egypt late last year.
Designed by Dior menswear creative director Kim Jones, the B33 will be available in three designs. One pair will be adorned with colorful mohair details, the top of the second will be covered in the brand's signature Dior Oblique pattern, and the third will be topped with denim. The latter will be released as part of the upcoming Dior Dior Tears capsule collection in collaboration with Tremaine Emory of Denim Tears. On the heel of the shoes of the collection there will be an inscription "Dior 30 Avenue Montaigne".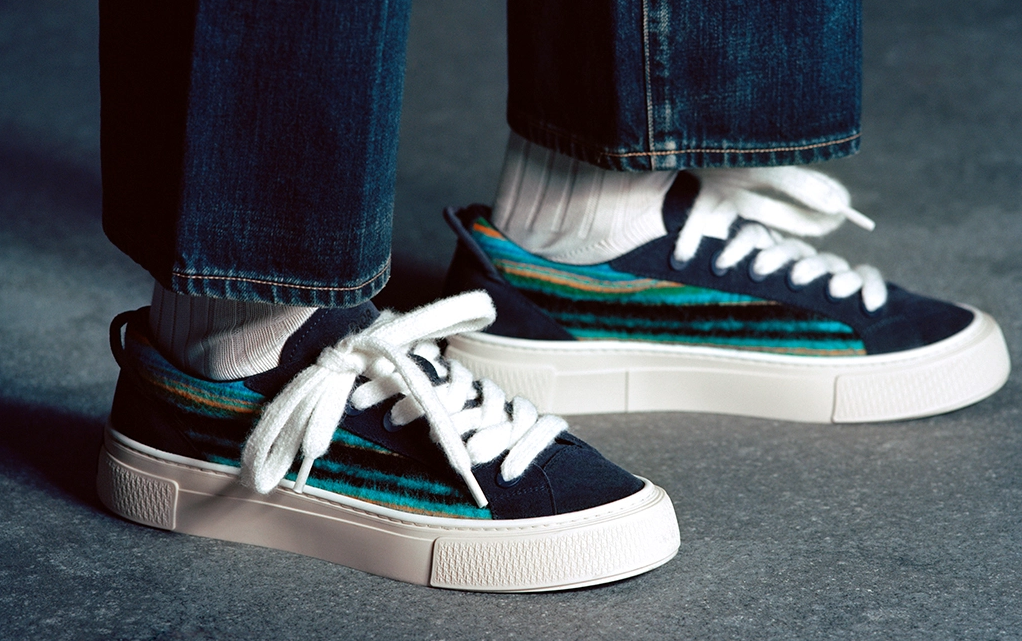 Dior, B33, photo: Footwearnews.com
In addition to design, the brand warms up consumer interest with the presence of built-in NFC data transfer technology in sneakers. The corresponding chip was placed in the right half-pair "to act as an encrypted digital shoe key." When activated, the chip leads to a personal secure platform offering specialized services. On this platform, sneaker owners can access the shoe's certificate of authenticity (based on the Aura Blockchain consortium technology), additional information about the various stages of the production process, as well as shoe announcements from the French fashion house.
The retail price of the Dior B33 sneaker will range from $1000 to $1100.
As a start, a limited and numbered edition of 6 pairs of B470s in turquoise mohair Dior Oblique and brown suede will appear on the Dior website on July 33th, and will be offered along with a collectible digital twin of the shoes on the Ethereum blockchain. These sneakers will be priced at $1350.
July 13 is the release date for the new Dior men's sneakers. The model was first seen at the French luxury brand's Fall/Winter 2023 menswear show in Egypt late last…