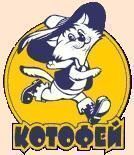 17.04.2012
2466
2012-04-17
In Ekaterinburg the largest store "Kotofey" was opened
In the Urals the largest "Kotofey" opens. The new store will be located in the shopping center "Fan-fan" in southwest parts of Yekaterinburg. This is the fourth brand "Kotofey" in the Ural capital, its area is 135 square. m., at the same time more than 1000 pairs of children's shoes will be presented to customers.
The official opening will take place on April 21, 2012. Brand "Kotofey" became the first specialized store of children's shoes in TC "Fan-fan"that provides him with powerful competitiveness. In addition, the results of the latest marketing research conducted in the second half year 2011 of the year on the initiative "Mila", the results of which showed that Yekaterinburg residents prefer to make purchases in large shopping centers.
The largest Kotofey store opened in Yekaterinburg In the Urals, the largest Kotofey store opens. The new store will be located in the Fan-Fan shopping center in the southwestern part of Yekaterinburg. It…