In honor of the release of the debut men's collection of Virgil Ablo for Louis Vuitton, pop-up stores opened in London and Shanghai, writes WWD.
The brand's pop-up store in Shanghai opened in the historic Columbia Circle 19 complex on October and worked until Monday. A temporary store in London opened on Bruton Street on Friday and will be open until October 25.
As in Shanghai, access to the London pop-up store, which is located on an area of ​​about 600 square. meters (previously it was occupied by the Stella McCartney boutique), it is possible only by appointment on the ticketing.louisvuitton.com website.
The store is based on two main themes of the debut show Ablo, which took place in June - the classic Hollywood musical "The Wizard of Oz" and the concept of white light that hits a prism and breaks into many rays of iridescent shades.
Visitors enter the town house and head up the stairs across the yellow brick road. The walls are covered with a print depicting the main character of the fairy tale "The Wizard of Oz" by Dorothy, performed by Judy Garland, who dreams in the middle of a poppy field.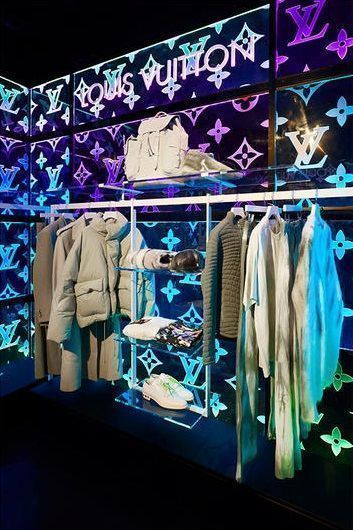 Clothing and other items of the collection are placed in a transparent glass box, the walls of which are covered with a print with the LV monogram in different color options. Boxing recalls the color catwalk on which the Virgil Abloh show in the Royal Garden in Paris took place in June.
Abloh, who for four years has gone from launching an Off-White street fashion brand to being the male brand director of a global luxury brand, compares her journey with the fabulous journey of a farm girl from the Midwest to the magical land of Oz, where she sees things she never could even imagine.
The pop-up store presents items from hand-made clothes to hoodies, shoes and colorful accessories. Among leather goods - a new version of the Christopher backpack, as well as new models of handbags.
Some items can be bought directly at the store, others can only be purchased upon reservation.
Following Shanghai and London, pop-up stores will open in New York and Tokyo in mid-January, and the full Louis Vuitton collection will appear in brand stores worldwide on January 18.
To celebrate the release of Virgil Abloh's debut men's collection for Louis Vuitton, pop-up stores have opened in London and Shanghai. Access to shops is possible only by appointment, - writes ...