В Екатеринбурге открылись первые магазины детской обуви сети «Сороконожка». Юных покупателей развлекали артисты и клоуны, а их родителей радовали специальные скидки на детскую обувь торговых марок «Котофей», «Антилопа», «Зебра», «Топ-топ» и многих других. Приятным дополнением стали веселые конкурсы, зажигательные игры и обилие воздушных шаров, оформленных в фирменном стиле «Сороконожки», которые вручались каждому посетителю.
"In the days of festive openings, branded stores enjoy increased attention from buyers. The new brand is interesting to the audience, especially since its popularity is growing every day thanks to powerful advertising support. Our pioneers have already noted the prevailing positive attitude of customers towards branded outlets. We are confident that the result will not be long in coming, "commented the manager of Mila, shoes wholesale, Alexander Borodin.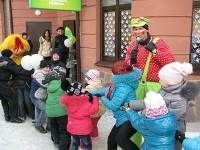 On March 24 and 25, two more "Centipedes" will open the doors, located in the Pionersky settlement (TC "Parus", Sulimova, 26) and the Verkh-Isetsky district (Frolova, 5).
В Екатеринбурге открылись первые магазины детской обуви сети «Сороконожка». Юных покупателей развлекали артисты и клоуны, а их родителей радовали специальные скидки на детскую обувь…