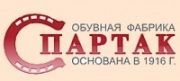 16.04.2012
1527
2012-04-16
The largest Russian manufacturer of shoes began the presentation of a new collection
The presentation has begun autumn-winter collections of TM "Spartak". The exhibition will last with 16 by 27 April in the office Mila - shoes wholesale. " In the new the Spartak collection presents many children's and 100 the best female shoe models. Samples that are exhibited in the office Ural wholesaler, in high demand and collected good pre-orders at presentations in other regions as well as at the exhibition MOSSHOES.
It is worth noting that the Spartak company is included in the top ten the largest Russian manufacturers of shoes. Each season, the factory offers its customers new products made taking into account recent trends in the world fashion. Traditionally in production Spartak ТМ shoes use natural materials, special attention is paid to comfort and reliability produced models.
The largest Russian shoe manufacturer has begun the presentation of a new collection. Presentation of the Spartak TM autumn-winter collection has begun. The exhibition will run from 16 to 27 in April at Mila's office - shoes ...