In the 2019 fiscal year, Ralph Lauren increased its marketing investment by 18%. 52-year-old fashion house decided to choose the tactics of attracting shoppers who are placed on the so-called hype brands, BoF writes.
Ralph Lauren takes a cue from brands that are launching a massive wave of advertising to attract a new audience of buyers like Apple fans who camp out for a new iPhone or line up for the latest Supreme sneaker release.
"We are building the brand," says Patrice Louvet, head of the Ralph Lauren fashion house. It is expensive. In fiscal year 2019, the company increased marketing investments by 18% over the previous year. Louve plans to increase the marketing budget to 5% of sales, which will be more than $ 300 million, to win a young audience of customers. The money will be directed to widespread advertising in social networks and digital channels, the brand decided to get away from traditional print advertising.
The brand is betting on a new cohort of young celebrities, such as the face of its fragrance Romance Taylor Hill. This 22-year-old super-model participates in all high-profile fashion shows, and has 12,3 million Instagram followers. In another of his campaigns during the holidays, Hollywood stylist Rachel Zoe, American singer, model and video blogger Cameron Dallas and 33-year-old American style icon and popular blogger Instagram Olivia were involved Palermo).
Since 2015, the company has noticed a decrease in sales in its stores. However, on Tuesday, the brand's management made a statement on the receipt of revenues that exceeded analysts' estimates, the company said that its marketing actions that were taken during the holiday season paid off.
In recent years, European luxury brands have decided for themselves that it is impossible to ignore street style fashion if they want to see millennials and representatives of the Z generation among their consumers.
For example, in May last year, Louis Vuitton hired the founder of Off-White street fashion brand Virgil Abloh as the creative director of his male direction.
In November, Ralph Lauren launched a collaboration with the British street brand Palace. Clothing came out in limited quantities and was sold in several Ralph Lauren boutiques, and such iconic stores as Dover Street Market, in Comme des Garcons boutiques in South Korea and online, through the Polo app. And all this was carried out according to the classic Hype strategy - create a deficit and gain support for celebrity.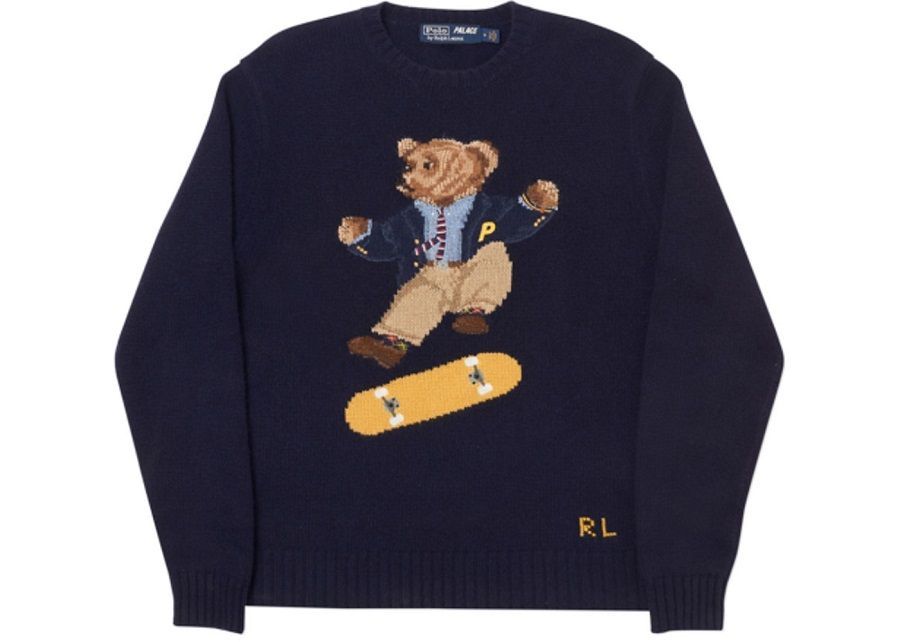 Palace x Ralph Lauren Skate Polo Bear Sweater Aviator Navy
After the release of this release, Ralph Lauren is struggling to maintain the level of demand, and things collaborating with Palace are selling much more expensive in the secondary market, a strategy often resorted to when releasing limited collections. For example, a Palace x Ralph Lauren sweater featuring a bear on a skateboard priced at $ 475 is sold on the StockX street clothing resale website for $ 1280.
According to Louvet, 75% of those who bought the items of the collaboration were new customers of the brand. According to the company, on average, these customers are 10 years younger than regular Ralph Lauren customers.
Louve also believes that the brand should be very careful in issuing such collections, so as not to overdo it and not lose the "hype".
In fiscal 2019, Ralph Lauren increased its marketing investment by 18%. The 52-year-old fashion house decided to choose the tactic of attracting shoppers who are obsessed with the so-called HYIP brands - ...