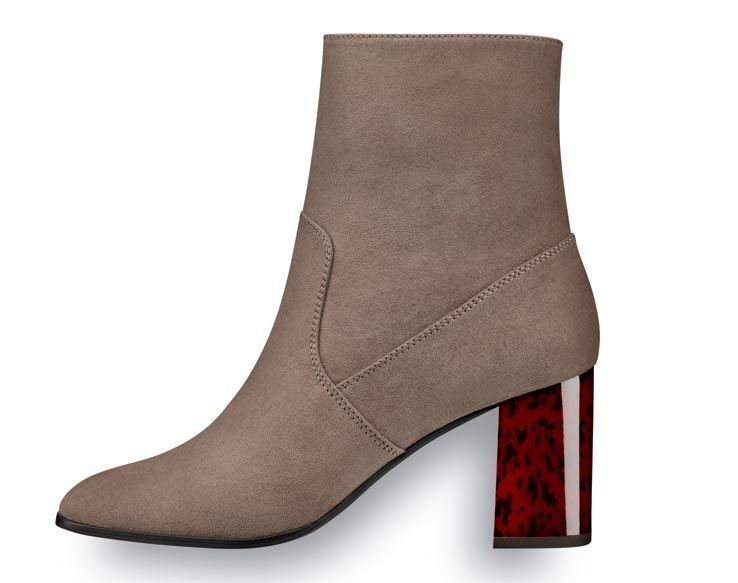 25.02.2016
10891
2016-02-25
This year Tamaris again presents a collection in which knowledge of fashion trends and wearing comfort form a single whole.
Quality, innovation and knowledge of fashion trends are intertwined in the Tamaris fall / winter 2016 / 2017 collection, leaving plenty of room for creativity. The key moments of this collection are the desire to follow the latest fashion trends and its absolute versatility: every woman will find shoes to her taste and will be able to best show all the facets of her personality.


Tamaris uses high-quality materials for the manufacture of shoes. More than 80% of the collection is made from natural materials. We use modern technologies: "ANTISchokk" - heel technology patented in Europe, which by 50% reduces the force of the push when walking, unloads the spine and joints. Technology "TOUCH IT" and "Ergonomical Insole" are used to create soft insoles that reduce fatigue when walking. Of course, the Russian climate is different from most European countries, so we have developed special models that include wool, fur and special technologies. PrimaLoft and Duotex are water-repellent and at the same time breathable membranes.

70 nostalgia, androgynous style and futuristic design.

Choosing the right shoes has never been more important than in the fall-winter season 2016 / 17. Brogues with sturdy crepe rubber soles, square-toe high boots or traditional futuristic sneakers - all this not only perfectly complements your style, but also gives it completeness.

Bright soles

Classic men's shoes remain in women's collections, androgynous style is a perfect symbiosis of men's and women's. Brogues, loafers and shoes were borrowed from the men's collection, which after restyling became the basis for women's models, decorated with fringed tongues, "animal" prints or short wool in the upper part. Tamaris makes the outsole one of its hallmarks. The crepe rubber sole is literally the platform of the collection, thanks to which our footwear occupies an important place in the segment of low shoes. Ideal for confident women!

Promising Sneakers

Sneakers and sneakers will be in great demand this season. The main distinguishing features: functional, futuristic, fashionable. The creators of sneakers are experimenting with elements of sports and street style. Nothing superfluous, but always effective and stylish. Compared to previous seasons, the new models have few decorative elements: no shine, downtime, thick sole and innovative materials. High-tech fabrics (neoprene, lycra, scuba) are combined with leather and felt. The voluminous white platform, 3D effects and structural elements provide the shoe with a memorable appearance!

Soon very soon

We are talking about the toes of the boots - they take on a square shape. The angular toe perfectly refreshes the look of chunky boots and ankle boots, giving them a retro touch. The seventies, the decade of the fashion revolution, bring us back colors, shapes and freedom in the choice of fabric. Ankle boots made of velor, leather, with "snake" prints, lengthen, get taller to effectively hide under the legs. The focus is on the Chelsea's square last, vibrant, colorful fabrics and patterns. Blocky wood heels and lustrous acrylic make retro shoes a trendy piece.

City trekking

Classic climbing boots look different this season with the women's high-rise Chelsea boots, sophisticated silhouettes and sculpted Caramato soles. Urban hikers pair stylishly with any denim outfit. New combinations of colors and materials take this classic outdoor shoe with a throw-up lacing to a different height: the used knurled leather in natural colors - beige, cognac, brown - is complemented by burgundy inserts with a black profile or gold trim. A real conqueror of heights: spectacular black boots for active girls of the big city.

This year Tamaris again presents a collection in which knowledge of fashion trends and wearing comfort form a single whole. Quality, innovation and knowledge of fashion trends are intertwined in a collection ...