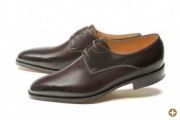 04.04.2012
1440
2012-04-04
With 13 by 22 April in the shop John Lobb in GUM will be an exhibition John Lobb By Request Fair On display The most famous John Lobb shoe models will be presented for all brand lifetime.
During the Exhibitions everyone has shop guests will have the opportunity to create a unique pair of shoes in his own way to taste. Choosing a model from current or the John Lobb Archival Collection, you can refine it by specifying your preferences by colorleather type and type soles. The most interesting elements and detailssubmitted by in serial John Lobb lines can be combined one models. In 4 months, when the order is ready, in the world a pair of shoes will appear not having analogues.
As part of John Lobb By Request Fair has a special offer that allows you to make an individual pair at the price of base model. During exhibition price pair tailor-made equal to the cost of shoes from finished collection.
From 13 to 22 on April, the John Lobb By Request Fair will be held at the John Lobb store in GUM. The exposition will feature the most famous John Lobb shoe models for the entire existence ...