Very soon, New Year's bustle and pleasant chores will capture shopping centers and city streets. It's time to expand the range with related products and increase the average bill. One of the most popular goods in shoe stores at this time of the year is socks, because this knitted item is one of the most popular New Year's presents. Perhaps because a pair of warm socks is a symbol of comfort, a hearth, and gifts from Santa Claus are usually hidden in a large colorful sock. Of course, first of all, customers buy socks with winter, Christmas symbols, red, green, but you can present the basic collections in a festive way - correctly packed and presented in the retail space. And in the end, in December-January you can get a good profit from the sale of socks. We asked our author and expert, Kristina Morozova, to find out how this business was delivered to US stores. We give a selection of "smart" tips from representatives of American sock brands.

Sock sales can be very uneven throughout the year. Take the weather, for example, which greatly influences what your consumers choose from their clothing, including socks. And in order for hosiery to be constantly in demand, a unique product is needed, the qualities of which will exceed the expectations of the consumer.
"The new market rules of the game are such that if we want to meet the needs of retailers, we must have production capabilities to timely regulate production and follow seasonal regional retail trends," say representatives of the hosiery industry.
"The socks sales stand should be one of the most profitable per square meter in the store, and many of your bills should be paid with revenue from selling socks," said Mark Komkovich, Sales and Marketing Director of FootZen. To achieve this, you need to carefully approach the choice of the sock assortment and take into account a number of important characteristics. What qualities should stocking socks have to help a shoe store sell more?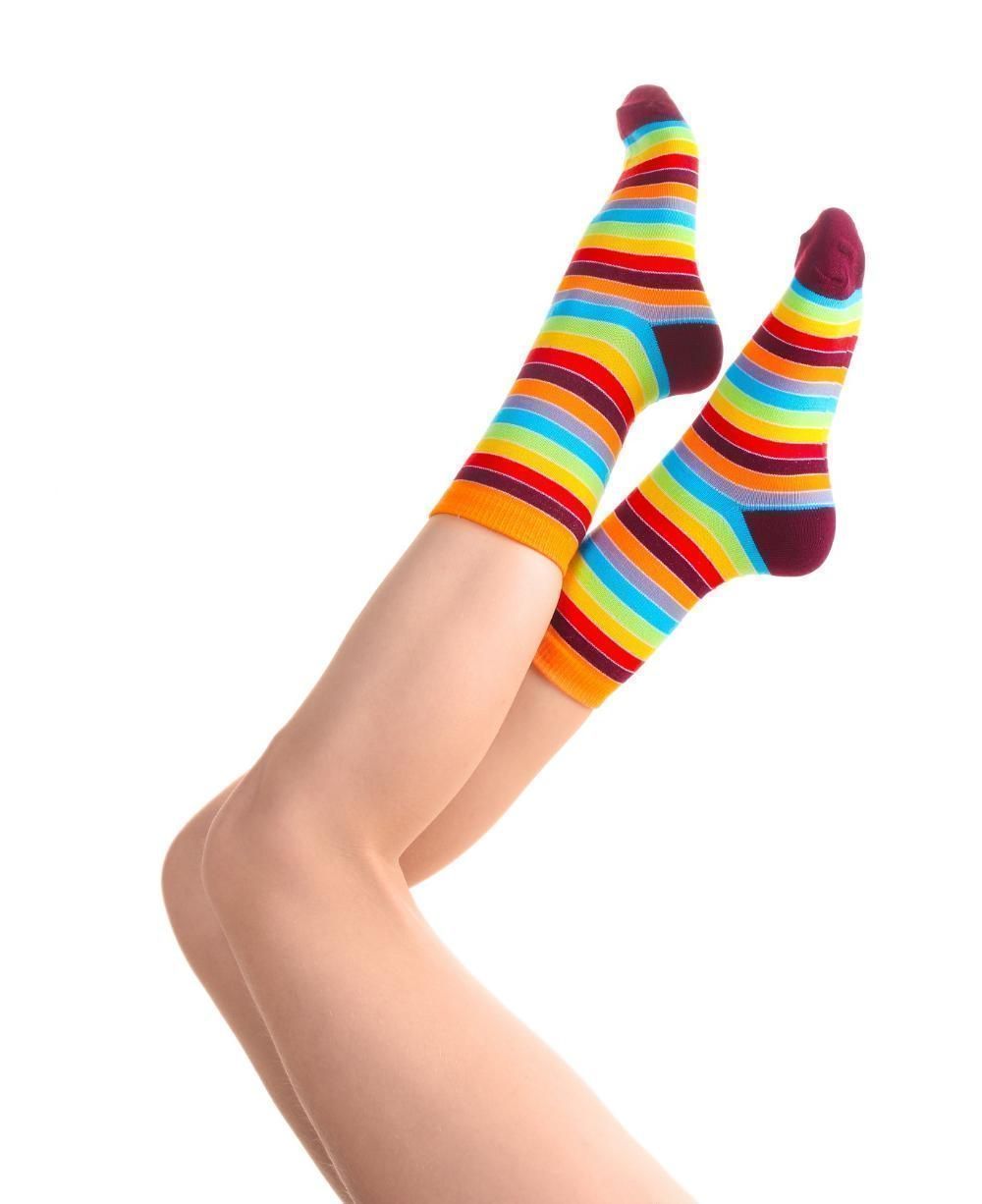 1. A leather-friendly material that should be innovative.
Consumers around the world began to make more informed purchases, choosing their basic wardrobe items.
"By giving preference to our brand, they judge not only by the quality of workmanship, but also by the interesting print and softness of the material, because it is about their feet," said Sarah Bailey, marketing director at Sockwell.
The American company Merino produces socks made of natural wool with bamboo and focuses on the fact that its products provide humidity control, thermoregulation, they say that "we sell peace of mind for those who want to feel great with their purchase."
"The texture and feel for the legs is very important - it's a great natural indicator of sock quality. Socks should not be thick or bulky and must have the ability to "fit both sneakers and work boots," said Kim Gross, strategic director of sales and marketing for Lily Trotters.
Brand Feetures! also focuses on the high quality of materials, their softness and ability to fit snugly to the foot, not to slip. "If you want to use material convenient for you in production, but at the same time sacrifice softness and a pleasant texture, you will lose retailers. People will not buy your products, "says Joy Gauthier, VP-Marketing Director of Feetures !.
Innovative technologies for knitting knitwear today allow you to produce real miraculous socks that allow the foot to breathe, do not rub, remove excess moisture, maintain a temperature comfortable for the legs, and have antimicrobial properties. Therefore, when choosing a supplier, carefully study the materials and fabrics from which the socks are made.

2. The target product that really meets the requirements of the consumer.

Since consumer requests for compliance with lifestyle and comfort today often intersect, the product must meet several characteristics at once. "Now we receive much more than ever before, requests for goods that are focused specifically on compliance with lifestyle. This is especially important for young consumers who want a quality product to be fashionable as well, "say American sock manufacturers.
QSD Marketing Representative Karin Villeneuve adds that "consumers want products that help soothe and heal their feet." Others are looking for compression socks that help relieve pain, fatigue and tension. That is, consumers also have medical criteria, so both manufacturers and retailers should be prepared for such non-standard wishes. Buyers want to buy socks that address specific concerns. Fox River's Barrows explains that the client "wants to know what exactly the product will" do for me ", and this should be visible, but just a list of some illusory benefits no longer suits anyone."
A wide variety of socks can be found in sports stores in America today: cross-training socks, designed to improve the stability of the foot during movement, especially when moving sideways; nano-fiber socks that prevent foot slippage in shoes that keep the foot dry; high socks that provide extra support around the ankle ... The same goes for regular socks - more and more individual requirements and characteristics.

3. Attractive, vibrant design that will help in solving the problems of visual merchandising.
The stand with hosiery in the trading floor of your store should be placed at the most successful place and be easily visible to your buyer. This is the principle of "one stop", which narrows the number of options, but at the same time generates stable sales.
On the other hand, the distribution of the sock assortment across the trading floor in the form of several small zones with fewer positions allows the buyer to get to know the brand better, and the seller is given the opportunity to start a conversation and establish contact with the person. And the retailer gets a good return on this.
"Socks selling stands should be the most profitable in relation to the turnover of goods per square meter," says Mark Komkovich.
"Retailers spend so much time on the process of placing shoes, on their layout, and knitwear is not particularly favored. But if you have socks on hand and competently integrate them into shoe merchandising, you can achieve a very good effect. This partnership always brings more benefits than a clear separation of shoe and hosiery zones as two different business areas, "the expert is sure.
Tom Weber, Wrightsock's Sales and Marketing Director, says it's very important to show the action of the sock while talking to the customer before the fitting process begins. "Ask the shoe buyer:" Do you need socks for these shoes? "After such an offer, your chance to increase your purchase receipt will increase significantly," he said.
Attractive design socks immediately catch your eye and work on the counter or counter, regardless of the activity of sellers, the product itself perfectly reminds customers of a stylish accessory, which are socks. "Retail stores have asked us for models in brighter colors and more fun designs that work well in the checkout area like impulse buying," said Michael Foley, president of SockGuy. "We noticed an interesting detail: socks with" edible "prints - whether it be a donut or a blot of ketchup on a hot dog - are in great demand among consumers."
"Socks that have a story of their own may require additional, alternative places to present, for example, on clothing racks or near the box office," says James Jesser, Thorlos vice president of sales.
So, a retro-style collection, a line dedicated to some kind of world sporting event, must be presented separately so that they attract attention and can be seen from the entrance. And, of course, Christmas, New Year's collections should always be placed in the most prominent place. Although diluting shoes on shelves, catwalks and display cases with socks with snowflakes, deers and snowmen is also possible and necessary - so you will create a festive mood for buyers, and then they definitely will not leave empty-handed from your store on the eve of New Year and Christmas.