Permanent contributor to Shoes Report. Elena Vinogradova, an expert in sales and purchases in the fashion business, prepared an overview of the trends for the autumn-winter 2023/24 season especially for us.
Elena Vinogradova
- an expert in sales and purchases in the fashion business. Author of a business blog for clothing, footwear and accessories stores.
https://t.me/fashionbusinessblog
https://youtu.be/ITZYQCURGGs
In the fashion of the coming season, there is an interesting and, at first glance, controversial focus on the wardrobe, which gives a sense of balance and additional impetus and energy. This applies to both shoes and clothes. On the one hand, we see models "for life", real positions are becoming much more important than accented viral things. Simple things and detailed styling are the main guidelines. The pronounced price orientation of the consumer in all segments, the potential focus on understandable, practical, long-term models, a profitable functional choice, and the rejection of excesses affect.
On the other hand, designers offer experiments with style, a bright accent choice and a rethinking of the usual base.
And some consumers, who have been in the field of rational shopping for the past few years, are starting to include an emotional component in making a purchase decision.
Along with the popularity of sneakers, the demand for heels is growing, in response to the turn of fashion towards femininity and elegance, the share of boots in collections has noticeably increased.
At the junction of this multi-layered choice, a noticeable trend of the coming season has formed - VARIOUS WEARABLE SHOE WARDROBE. Not the dominance of one trend, but variability. This is the main trend in itself. In the collections we see more and more shoes that are versatile both in use and in style, for all occasions.

The color palette
The main color of 2023 is Viva Magenta 18-750.
Pantone says that it is rooted in nature, and unity with it is exactly what humanity needs now, against the backdrop of climate change, movement towards sustainability and the general desire to find a balance between digital and real life. Literally speaking, Viva Magenta is the result of the activity of the cochineal beetle: this insect produces carmine dye, one of the most valuable and brightest in nature.
"Daring and witty" Viva Magenta, as Pantone promises, will charge us all year with fearlessness and the desire for life, encourage experimentation and self-expression, push for rebellion, but at the same time, for the manifestation of humanity. Viva Magenta is our fist in a velvet glove.
Among other relevant shades of the season:
1. The color of red lipstick is for shoes! Especially in red sparkling lacquer, uncompromising and eye-catching.
2. Metallics are the new neutrals. Silver goes with everything and is the color of the year 2023 according to Premiere Vision. A metallic accent adds the right portion of fashion to the image, pumps and upgrades it.
3. 50 shades of gray in both shoes and clothes
4. Traditional seasonal commercial palettes in shades of wine and chocolate, caramel-cognac and traditional black.
5. Olive and khaki.
6. Classic base palette: deep dark blue evening sky, milky and beige tones.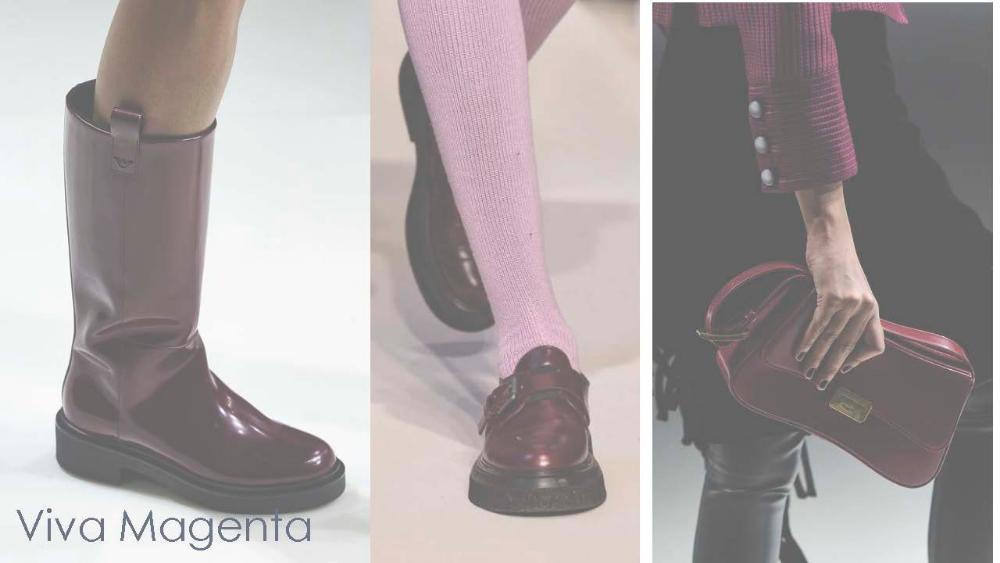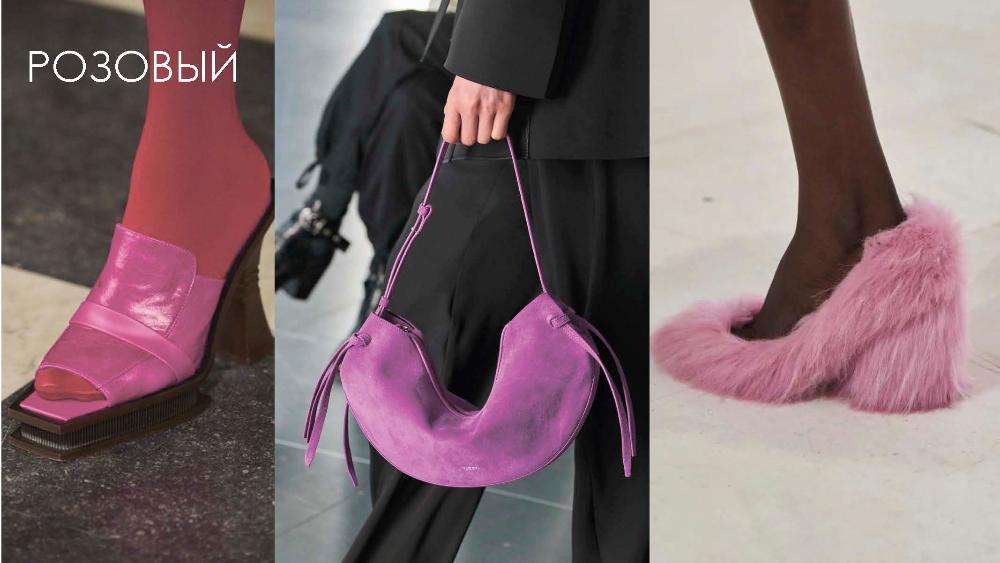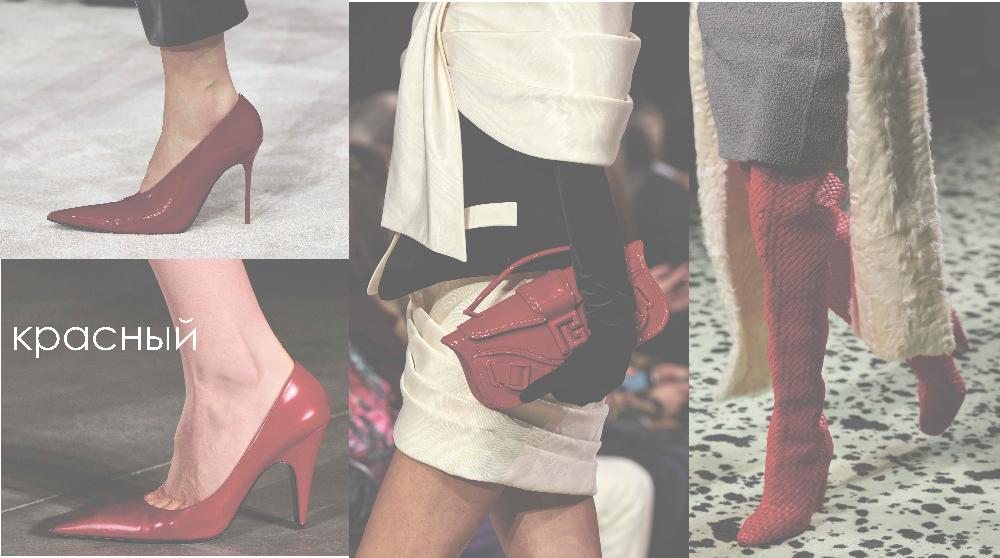 Materials
Smooth and pile leathers (velor, nubuck, split leather) - both natural and artificial, glossy materials (varnish, naplak), metallized leathers and leathers with reptile embossing, textiles (tweed, denim, velvet and nylon), traditional for autumn - winter season fur and less familiar wicker materials.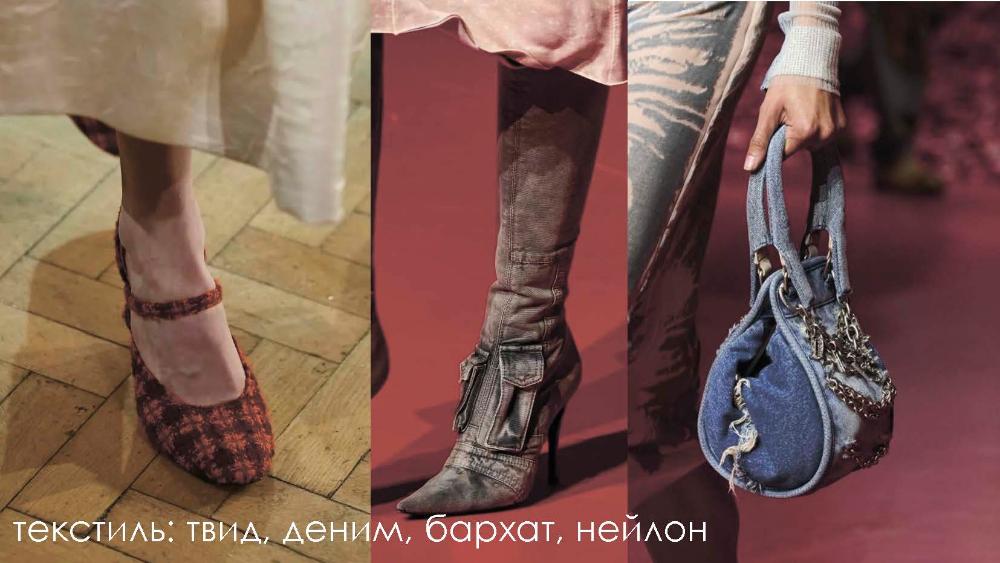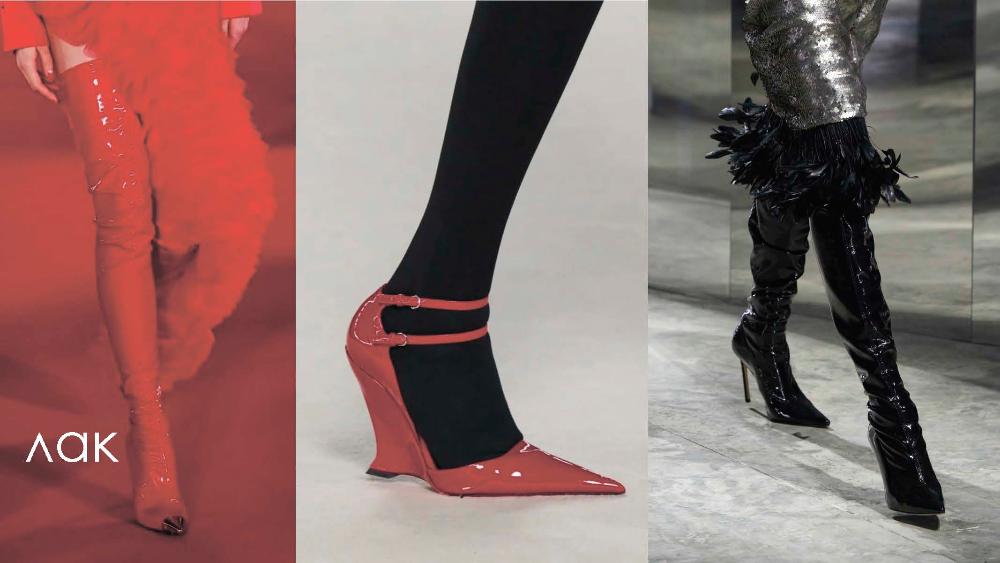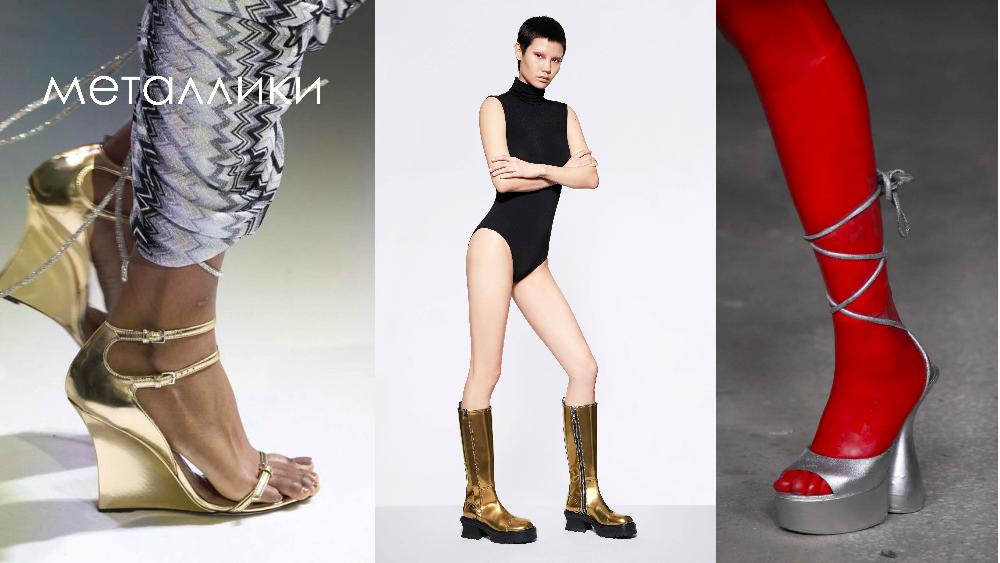 Cape and heel shapes
The pointed and pointed cape is in the first place, as a symbol of the return of elegance and femininity, classics that crowd out streetwear.
Kare, trapezoid and round shape are also presented in the collections for next season.
High massive soles and platforms under the forefoot continue to be relevant. The latter are experiencing their bright return to the fashion top, especially when combined with high heels.
In heels, neat kitten heels, high thin stiletto heels, understandable "columns" of different heights, architectural stable heels and trapezoidal heels with an extended base are relevant.
In shoes and boots, wedges with an elegant narrow profile are back.
As a variety - ironic fantasy heels of any geometry and creativity.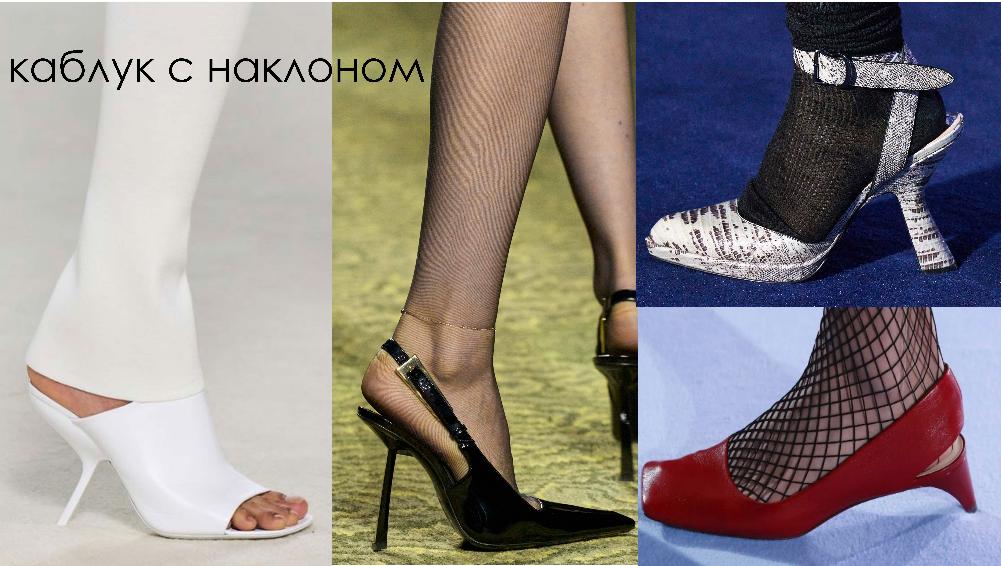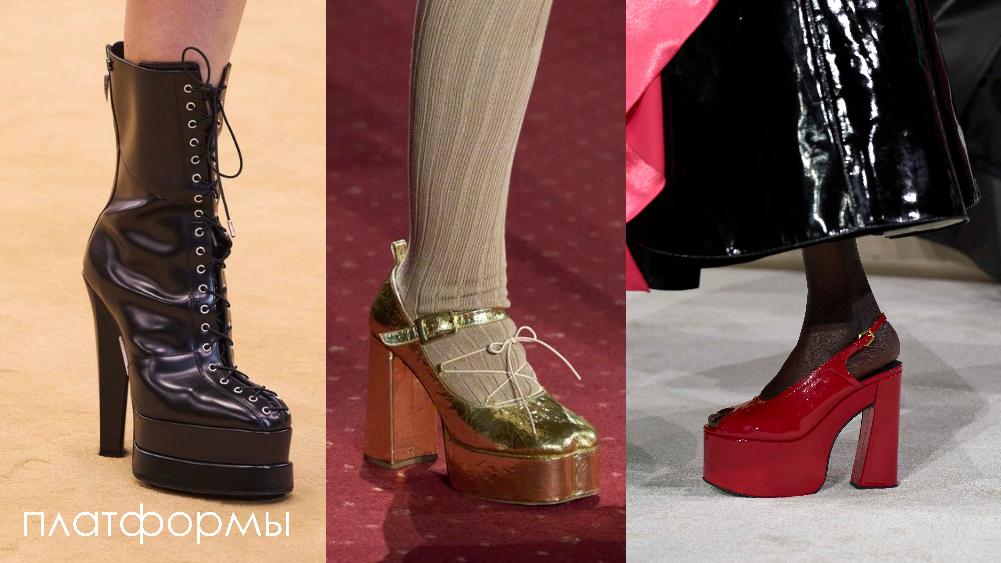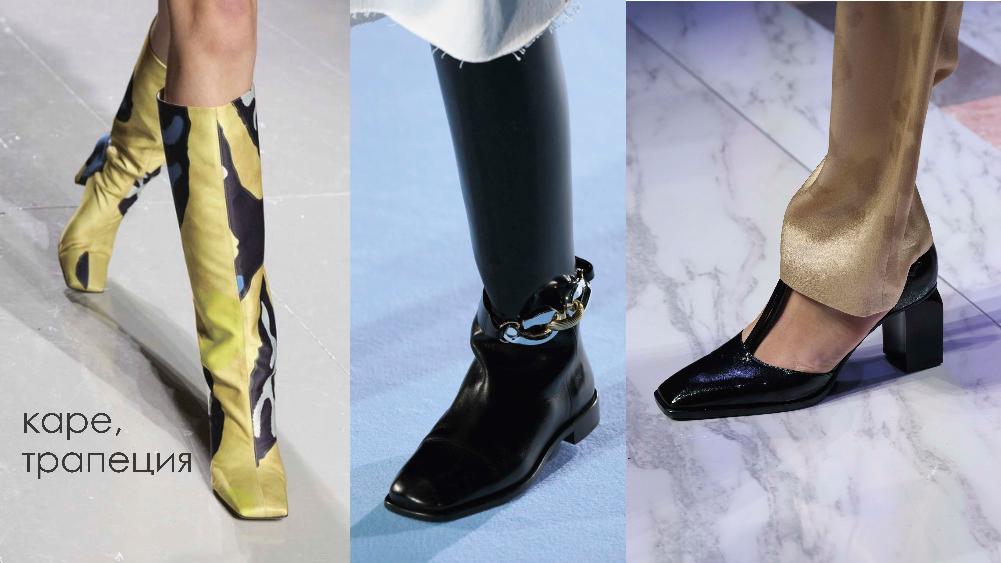 Current shoe models
In terms of form, long trends now rule the ball, unlike clothing. Emphasis on conscious shopping, the choice of understandable, long-term options.
Growth in the share of shoes at the junction of formal and casual style: loafers, mules, clogs as opposed to sneakers. The latter, of course, are also relevant, but they are no longer a panacea.
Key species:
- uggs, especially on the platform. They can be shortened and standard length, in different colors, except for the usual natural basic shades;
- uggs 2.0: "dutiks". Boots and munbuts, voluminous "cushion" boots are still relevant. The most fashionable models are monophonic, as simple as possible, minimalistic in fittings;
- combat boots: army boots and biker boots with confident soles, high, as a rule, with lacing in front;
- outdoor shoes: boots, boots and hiking shoes inspired by travel and long walks on rough terrain;
- over the knee boots "second leather", ideally fitting the leg;
- boots-pipes on a high and medium height hairpin or "column";
- Tight-fitting knee-length boots with a pointed toe in the style of "zero";
- Cossacks and Chelsea;
- elegant alternatives to sneakers: loafers, chelsea, brogues;
- tennis shoes and sneakers of a calm volume in retro style. Most popular models: Adidas Samba, New Balance 550, Nike Air Force 1;
- ballet shoes;
- classic Mary Jane pumps and shoes;
- slingbacks and mules for evening outings and warm autumn;
- "naked" minimalist sandals;
- all-weather slippers: clogs, clogs, birkenstocks, which in cool weather are important to wear with thick textured socks, as well as insulated models with a fur insole.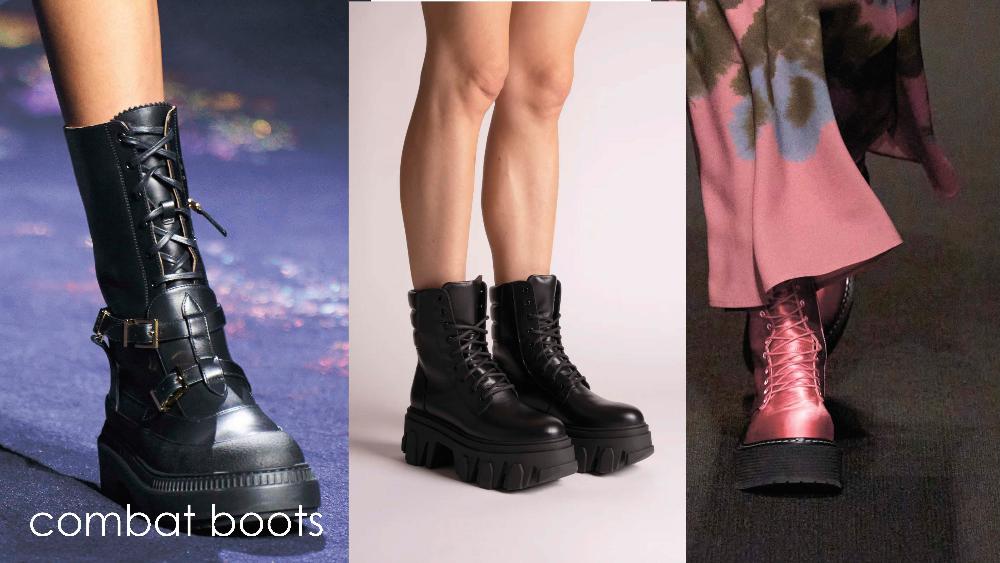 Decor and details
The emphasis is still more on the shape, texture of the material and color than on fittings and "special effects". Of the interesting, I note:
- decoration of the cape of metals, returned from the past;
- crystals and rhinestones, including total cover, densely scattered over the surface;
- prints, flowers and bows;
- large buckles;
- voluminous accessories-ball.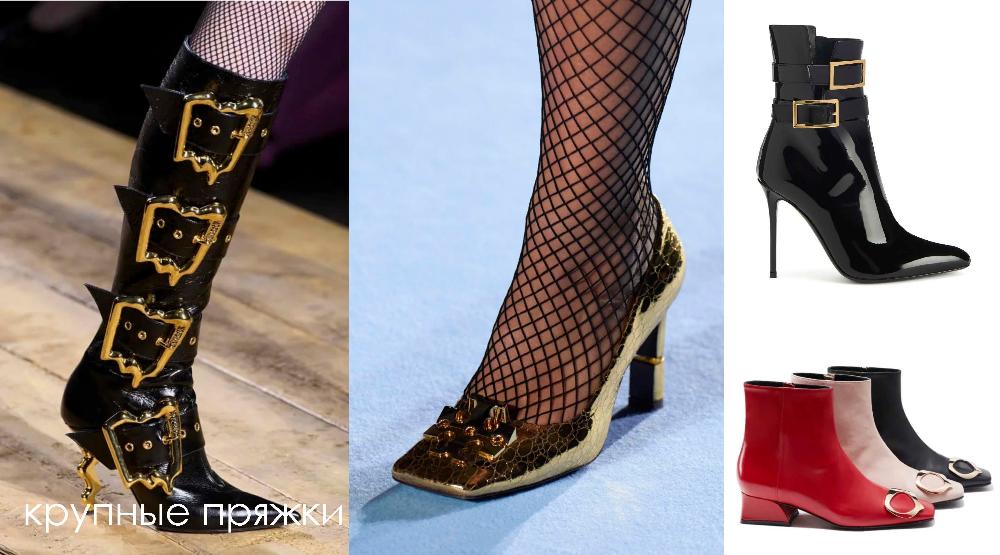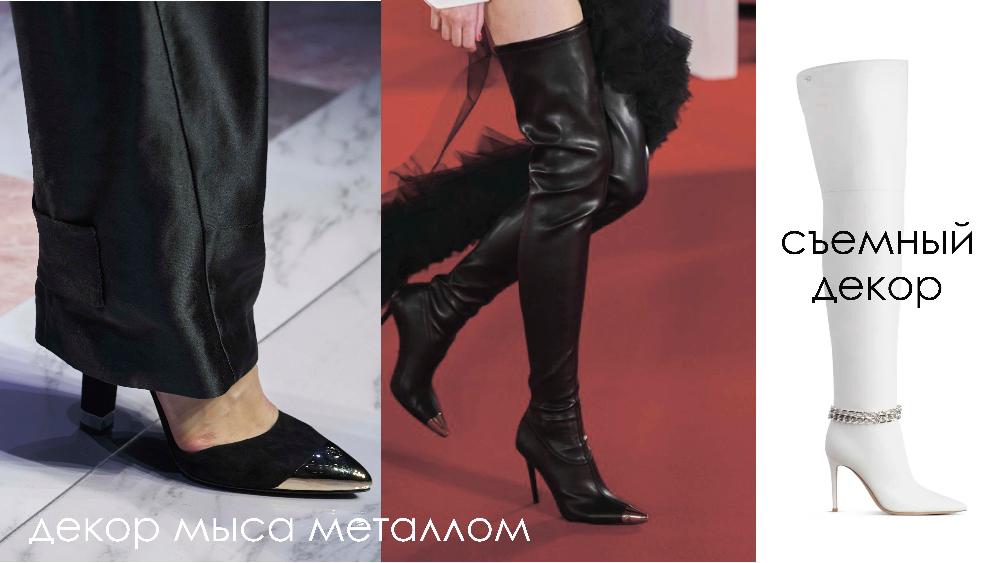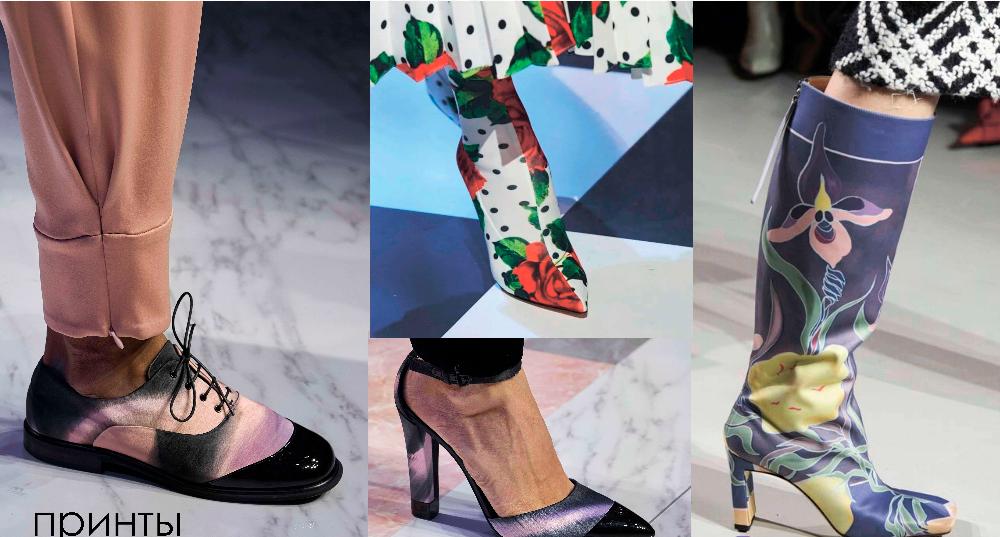 Current styling techniques
The "friendship" of shoes and socks (or golf) continues, complementing any model - from clogs and sandals to loafers and boots. The most fashionable and unusual accessory in this group is leggings, which are also worn literally with everything, lowered over shoes and mules, or combined in contrast with biker boots and high boots.
Other styling tips:
Shoes and bag in the same material/color/print;
Bright shoes and a calm bag and vice versa;
There are no hard and fast rules for style combinations: you can wear biker boots with an evening dress, an elegant suit with retro sneakers, clogs with socks and leggings;
Colored and textured tights;
Several bags together;
Diverse output: the same models, but in different colors on different legs. For example, black and white pumps together as a pair.
The full version of the video about the trends of the autumn-winter 2023/24 season, which also includes an overview of trends in bags, accessories and clothing - on Elena Vinogradova's Fashion Business Blog YouTube channel you will find the full version of the video about the trends of the autumn-winter 2023-2024 season, including detailed trends in bags, clothing and accessories.
Permanent contributor to Shoes Report. Elena Vinogradova, an expert in sales and purchases in the fashion business, prepared a review of the autumn-winter season trends especially for us…