The modern business environment poses serious challenges to businessmen. How to adequately answer them? How to ensure not only current, but also strategic profitability of your business? We looked for answers to these questions from the co-owner and head of the German company CAPRICE, Jürgen Kelsch.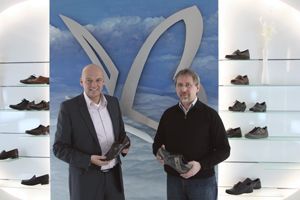 - Manufacturers call the rejection of long-term projects, a change in priorities, the closure of unprofitable projects, an increase in the fast-moving assortment, and a reduction in costs by changing the quality of materials as the most effective actions in this situation. How have you adapted your company's strategy to the changed conditions?
"Thanks to our rare success and growth over the past five years, CAPRICE is still able to invest in brand development. We will continue to optimize the quality of the materials used, the Walking on Air wellness technology and the promotion of the CAPRICE brand. I will dwell on each of the three points in more detail.
Quality of materials used: CAPRICE has always been uncompromising in the choice of materials, during the crisis it will not make any concessions in terms of quality. On the contrary, right now we will use the positive dynamics of prices in the international leather market in order to purchase even higher quality and softer leather for our shoes. The buyer will certainly punish the one who during the crisis begins to save on the quality of raw materials. During a crisis, the customer wants to buy profitably - but not cheap. And in this regard, he can fully rely on CAPRICE!
Wellness technology: one smart person once said: "Complaints about increased competition are actually complaints about a lack of ideas." Our technologists are constantly working to make shoes even lighter, softer, more flexible and even more innovative. "Walking on Air" is the common name for our many patents, designed to make walking in our shoes as comfortable as possible. CAPRICE will never stop working in this direction.
Brand promotion: we adhere to the principle: "Bad times are good times for strong enterprises" and we are starting now, during the crisis, a new strategic campaign for brand development. Providing brand recognition and brand loyalty, CAPRICE is going to achieve a stable growth in consumer demand and attract not only the target consumer group, but also buyers of all age categories, so that with the help of design and functionality they will convince them of the advantages of our shoes. With our shoes we want to wake up feelings that arouse the desire to make a purchase. First, the customer's look should stop at the model. We hope to achieve this thanks to the design of shoes and a new attractive decoration - a pendant in the shape of a butterfly, which is a symbol of the brand. A pendant will be on every pair of our shoes. Caught in the hands of an interested buyer, shoes should certainly convince them with their ease and flexibility of the need for an immediate purchase. Optimal pad and Walking on Air technology provide a feeling of lightness and relaxation - true wellness for the legs. And since CAPRICE shoes also have a very attractive price, the decision to purchase is made very easily!
- Many companies, starting a program to reduce costs and change strategies, face staff resistance. What actions do you think are most effective to overcome this resistance?
- Employees must identify with the firm's philosophy. Everyone should feel like an important part of the company and be responsible for both success and failure of the enterprise. Big changes need to be explained to employees so that they understand them. This is possible only with good relationships within the company, their maintenance is a task of paramount importance for management.
- You sent your designers to study fashion trends in Antwerp, Amsterdam, Paris, London, Milan. Now have these routes changed or not? Some experts say that global fashion trends are now emerging in Los Angeles, Tokyo and Rio de Janeiro. Do you agree with this?
- European shoe trends will continue to "emerge" in Europe. Our designers are still looking for inspiration primarily in European fashion centers. However, we have previously focused on the latest fashion centers of other continents. For example, among the designers of CAPRICE there are employees from Latin America and Asia.
- On a global scale - in which regions, in which countries are Caprice shoes now selling best? And due to what, in your opinion? What proportion of total production is exported?
- Due to the fact that our fashionable and high-quality shoes with patents guaranteeing foot comfort have an excellent price-quality ratio, CAPRICE products have been occupying one of the best retail sales indicators in all European markets for many years. Best of all, our shoes are sold in the European Community and in Russia. At CAPRICE, about 65% of shoes are exported.
- How do you support your retail partners: through an increase in the marketing budget, by providing a commodity loan, through joint promotions in specific stores, through training?
- So that CAPRICE shoes are always well presented in stores, we provide specialized trade support in equipping points of sale. Our retail advertising catalog contains everything you need for a beautiful presentation of shoes in stores - from display stands for display cases, shelves and furniture for the sales area to comprehensive solutions for equipping the store. We also plan to educate sellers on the specifics of selling our shoes — at our subsidiary in Moscow and at our customers 'stores. To support our partners in retail, we prepare new brochures, posters and videos about models and their production every season.
- In 2007, you started an environmental program to control the content of chromium in the leather. How is this project developing now?
"We only work with suppliers and tanneries that have contracted themselves to comply with CAPRICE's health and environmental guidelines." Before being shipped from production or from warehouses, CAPRICE products are systematically tested by official testing laboratories.
- Your main advantage was and remains innovative shoes. What are laboratory specialists working on now? Does your collaboration with the University of Tübingen continue?
"Currently, our technologists are working on the further development of our Walking on Air comfort patents, that is, on excellent cushioning in combination with climate control. We tested these technologies together with the staff of the University of Tübingen, where we got excellent results. We continue these tests now.
- How do you rate the launch of the men's shoe line? How do expectations and plans coincide with reality?
- Our men's collection was well received in the market. We realized that in the market of men's shoes price pressure is very pronounced. But the favorable conditions for the purchase of materials give us the opportunity to offer the new men's collection of the Spring-Summer 2010 season at very attractive prices, and this is when it is fully made of leather and with Walking on Air patents.
- Is it planned to have a children's shoe line in the future? "I'm sure that no later than five years later children's shoes with Walking on Air patents will appear.
The modern business environment poses serious challenges to businessmen. How to adequately answer them? How to ensure not only current, but also strategic profitability of your business? The answers to these questions we ...