The hero of our story is a person with progressive views, one of those who found their true place in the stone jungle of the metropolis. Vladimir Zhovtonog. For two years now, he has been happy to shoe the residents of the capital in comfortable models from Rockport. He likes the job of a salesperson, so every working day is unique for him in its own way. But everything in his life could have turned out differently ...
Text: Liliana Berger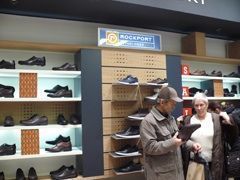 Vladimir Zhovtonog is from Arkhangelsk. In 1999, he moved with his parents to the city of Sochi. And nine years later he moved to Moscow to find himself - new and independent.
In his 23 years, Vladimir managed to graduate from the Faculty of Economics and Law of the Black Sea Humanitarian Academy, try himself as a private entrepreneur, work as a sales assistant in a household appliance store and as an administrator of an elite alcohol boutique.
With the onset of the crisis, he decided to open a new page in his life and try his hand at the well-known and stable company Adidas, of which the Rockport brand and chain of stores are part.
Today Vladimir has a working day. So, our communication will take place in the usual store atmosphere for him.
I go to Rockport. Vladimir noticed me and made a swift step toward me.
- I immediately realized that you are not a buyer, by the way you entered the store. The buyer's eyes from the threshold begin to slide through the windows, and yours was initially aimed at finding a seller.
At the right time at the right place
On the 13.00 watch. 3 January. Weekday post-holiday day, that is, full calm in stores. And Vladimir has already sold three pairs of winter boots. A new entry has again appeared in the electronic cash register database, and Vladimir thanks another client for the purchase ...
Finally, there was a brief "shopping lull" in the trading floor. And Vladimir can pay attention to me. The first question is how he came to Rockport.
- It all happened almost by accident. We arrived at the Mega shopping center. I saw a store. The sign was stopped by attention - bright orange letters on a black background. He went in, asked about the vacancies ...
Good luck smiled at him. To become part of Rockport, Vladimir did not have to go through several stages of interviews, as is usually the case with people who want to work in companies of this level. He was just assigned a three-day probationary period in order to prove himself. And it all worked out.
- The manager watched the state of the trading floor during my shift, how I meet customers, communicate with them, and offer them goods.
Vladimir still remembers his first sold pair of shoes:
- These were summer loafers with Machine Washable technology. They retain their color and shape when machine washed. And my first customer has since become a regular customer of the Rockport store. As soon as a new collection appears on sale, it immediately appears in the store.
- Vladimir, why did you decide to become a seller? After all, did you have experience in administrative work? I asked.
- This is a good start. A solid foundation, without which it is impossible to build your future career. Now I am already a cashier. I am sure that, knowing all the intricacies of the work, starting from the first step, I can become a worthy manager.
Is logical. Following Vladimir's thoughts on his career, I thought that his choice was not accidental. Rockport is one of the companies that continues to successfully develop in the shoe market in the post-crisis period.
His working day
His life motto "Yes, I can, and I will" helps Vladimir in his work. Energetic and friendly, he calmly and patiently treats any quirks of buyers.
- Previously, I could not work with demanding customers, but when I started wearing Rockport shoes myself, it became easier for me to understand what they want. A demanding client is a person leading an active lifestyle who not only does not want to part with comfort, but also wants to maintain the health of his legs. And the creators of Rockport models understand that comfort is not technology, it's a feeling!
- Yes, I agree. Who are your customers?
- Hmm, it's hard to determine clearly. People come completely different - from grandmothers-pensioners to deputies of the State Duma. Rockport shoes will suit everyone, but it will be possible to use all its advantages best of all to a modern energetic resident of the metropolis, who is a professional at work and a keen experimenter and traveler in his spare time ...
We were interrupted again. As soon as the shadow of the potential buyer flashed on the threshold of the store, he apologized and returned to his element.
"Figaro is here, Figaro is there ..." This thought arises when you observe how Vladimir works. On the one hand, he is absolutely calm, communicates with everyone exactly, without fuss and importunity. On the other hand, he simultaneously works with several clients. He helps one buyer to tie the shoelaces due to his corpulent complexion, another tells about the manufacturability of the brand, the third only appeared in his field of attention.
- Adidas Torsion is a technology with an ultra-light element in the middle of the sole. It provides a natural movement of the legs. Dynamic Suspension is another technology. With its help, the blows of the foot to the ground are mitigated thanks to the active air cushion inside the sole, "says Vladimir, and after a few minutes another customer leaves the store in a good mood and with a purchase.
Vladimir is smiling. Is he always in a good mood?
- I always come to work in a positive way - the mood affects sales very much. If it is not there, a charge of positive emotions can be found in a cup of hot coffee, a delicious breakfast or the morning sun, - Vladimir shares, - and it is also very important to find a common language with colleagues. Because unity, mutual support, activity, determination and dedication to the common cause - this is 70% of success in business. Largely thanks to Rockport employees and has become a stable company, confident in the future.
- Did you say confidence? Is it appropriate to speak on this topic today if in the 2009 year the shoe market fell by 30%?
Vladimir was surprised:
- Honestly, I did not feel a global decline in demand. Rockport shoes have always sold well, are on sale, and I am sure they will continue to be sold. This is not a myth. If on weekdays I sell about 10 pairs of shoes, then on the weekend I try to sell at least 35 pairs. I am a patriot of the brand. And I know for sure that you can always come up with something to increase sales.
Their technology is one step ahead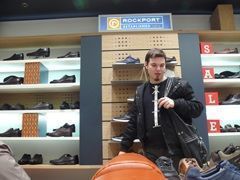 Looking at the windows, I noticed that the shoes are beautiful and neat. Trying on. Shoes are very comfortable, soft and almost weightless. New collections appear twice a year, each with 400 models.
Rockport draws all the advanced technology from Adidas. This season's novelty is special insoles containing Adiprene and Adiprene +. They absorb shock and repel the effect of the floor, resulting in a feeling of flying.
- For production, the company uses only natural materials: leather, suede, nubuck. The winter collection uses natural sheep wool and special Thinsulate insulation microfibre. For over 20 years it has remained the most famous heat insulator. Insulation fibers practically do not absorb moisture, therefore, heat-insulating properties are maintained for a long time.
Rockport XCS technology is used in the line of hiking shoes. Its feature is a special coating that protects shoes from scratches and repels moisture. And Walk-Dry protects your feet from moisture during rain thanks to its water-repellent surface and maintains an optimal internal microclimate.
But what if you play the role of the buyer?
- Vladimir, imagine that I am your client. Which model do you recommend me?
- I recommend stylish boots made using Sole Innovation technology. This is a unique design of women's shoes with heels. The design of the heel, by the way, provides comfortable cushioning, and a multilayer sole will help relieve the stress of the foot. They are suitable for a stylish girl leading an active lifestyle.
"Yes, I can, and I will."
Vladimir's long-term goals are to grow and develop, to be stable, self-confident, self-sufficient, well-to-do person, in front of whom more and more peaks arise to achieve them.
- I'm used to being a leader. In the profession, I try to take into account all the little things, since they make up the whole thing - the professional employee that I want to be.
The seller is the face of the company. Judging by Vladimir's attitude towards work and customers, it can be said that Rockport found in him a piece of his success. It is great that we are surrounded by people who support the common cause with their whole being and thereby bring joy to those around us.
For your information:
From the history of Rockport
The company has existed since 1971 year. Rockport was the first in the world to use sports technology in the production of casual shoes.
In 1985, the first ProWalker boots appeared, designed taking into account the laws of biomechanics as a universal model for training and everyday use.
In 1989, the Walking Pump model opened the first line of women's shoes with heels, which subsequently received the right to use the quality mark of the United States Medical Orthopedics Association.
In 1990, Rockport's vice president of marketing ran the New York City Marathon (42 km 195 m) in classic Dresports shoes to prove their excellent cushioning properties.
By 2006, Rockport shoes were already in demand in 66 countries around the world.
The hero of our story is a person with progressive views, one of those who found their true place in the stone jungle of the metropolis. Vladimir Zhovtonog. For two years now he has been wearing shoes with pleasure ...