Zalim Tohov is one of the few whose sales style is a worthy example to follow. He is an unusual sales assistant at the Carlo Pazolini shoe store. Acquaintance with him among buyers leaves the most pleasant memories. His courtesy and generosity in compliments makes women look at themselves with different eyes. And respectable men always rely on his recommendations and impeccable taste when choosing shoes.
Text: Liliana Berger
The beginning of a long way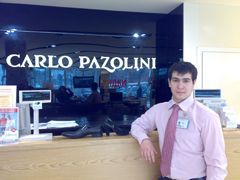 The lights of Moscow have a magnetic property for everyone who wants to change their life, fulfill their potential and gain financial stability.
Our hero came to conquer the capital in 2003 year.
Zalim comes from Nalchik, this is in Kabardino-Balkaria. He is only 24 years old. He began his career seven years ago in the TsentrObuv chain. Interest in trade helped Zalim take the position of commodity expert.
The next stage of development was the Two Boots of Steam store, already as a sales assistant.
Having decided to make a gap in his career for the sake of study, Zalim graduated from the accounting department of the Belgorod University of Consumer Cooperatives.
When the crisis began, internal strength and life goals prevented Zalim from losing heart.
"In difficult times, I remembered the parting words of my father, who always said that courage and perseverance give strength, and complexity forms a man's nature. I could not let him down, because I felt responsible to my family and myself, "says Zalim.
And faith in himself helped him find a place in the sun. Zalim posted his resume on the classifieds site, and in December 2008 he was invited for an interview at Carlo Pazolini ...
About Us
Carlo Pazolini has been on the market since 1990.
Today it is one of the most famous chains selling medium and medium-high class shoes. She owns the trademarks Carlo Pazolini, Carlo Pazolini Couture, Adami. The company has manufacturing facilities in Italy, Spain and China.
Carlo Pazolini sees its goal in shaping the tastes of its customers, providing them with fashionable and high-quality shoes that bring true aesthetic pleasure to their owners.
The company has an extensive network of retail stores in Moscow and in Russia. In the near future, the company plans to enter the international market.
The name of Zalima is consonant with the name of the company. Esotericists say this is a great sign for career advancement.
In the memories of the past
At the entrance to the store, a charming brown-eyed young man meets me. This is the Bay. Even at the door I drew attention to the working uniform of all employees: a pink stylish shirt, classic-cut trousers and a tie with the Carlo Pazolini logo, decorated with miniature boots ... Stylish.
"You like! This is the brand name for Carlo Pazolini store employees, "explains Zalim.
Our conversation went face-to-face. In the calm atmosphere of the office, Zalim was able to relax and be himself.
I wonder if he remembers his first day at the company.
"Still would! The first day of work on the trading floor is unforgettable. It was before the New Year holidays. The company announced big discounts, so a lot of people came. Everyone was in a great mood. And I experienced double joy and enthusiasm - on the occasion of the holiday and new work, "he recalls with joy.
In the early days, Zalim worked with a mentor. Before entering the hall, he completed an internship at the company's training center.
"It was very interesting. I learned a lot about the company, shoes and how to sell it, communicate with visitors. They showed me those types of leather that I have never seen. "Ostrich leather, bright yellow python, anaconda and stingray leather made me completely delighted."
- Do you remember your first couple Carlo Pazolini? Not sold, but bought.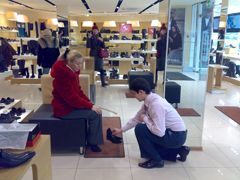 - It was a special occasion. I bought my best friend's wedding shoes. I chose a model on the Classic series - a pair of black velor on a leather sole. I danced in them all evening. Now I share with customers my personal experience about the quality, comfort and endurance of shoes.
We were interrupted for a short while. Zalima urgently summoned to the trading floor. His regular customer came, who, when choosing shoes, trusts only his taste ...
Everything for the buyer
According to store director Elena Ablova, Zalim is an extremely charming and well-mannered person. Its aesthetic taste allows you to choose beautiful and custom models. "He always clearly knows what the client needs, guesses his mood and desire," says Elena. - Buyers listen to his opinion and do not leave without a purchase. Zalim is the best sales consultant. I have high hopes for him. "
Watching the work of Zalim, you can understand that he is thoughtful, loves to consider shoes and find something unique in it. For example, an intricate heel or an original strap. He pays attention to these details when he offers the model to the client.
Finally he freed himself. And we continue the conversation we have begun.
Zalim often has to work with wealthy people. In Carlo Pazolini come movie stars, show business, employees of large corporations.
According to Zalima, the company's customers are divided into three categories. The first is demanding customers who value comfort and impeccable style. The second category includes regular customers who just want to share their thoughts, have a heart-to-heart talk and refresh the wardrobe between conversations. And the last ones are novice customers, who often go to the store only once and then become their regular customers.
"Among our customers, 60% are wealthy women from the age of 25 to 47 who dress well. 40% of buyers are men on average from 27 to 55 years. By the way, attendance depends on sales. They buy several pairs at the same time at discounts, "says Zalim.
- We'll flood, how many pairs a day are sold?
- Minimum 12 pairs per day. And if holiday discounts, weekends or a special offer, then for 30-40 pairs per day.
- And what is most in demand today?
- In stores on the central streets of the city, the popularity belongs to the men's classic series - under the suit, and casual shoes suitable for jeans. In women's shoes, it's difficult to single out something special, since fashion is democratic today: someone prefers high heel ankle boots, and short boots with solid soles are suitable for someone. Both are relevant.
One day of life
Zalima's working morning begins with a mandatory morning meeting where sellers are told about new arrivals, future collections and plans for the whole day.
Then he, along with the other sales consultants, enters the hall, where he checks the layout, cleanliness and order.
- Merchandising shoes in our stores helps not only buyers find their pair of shoes without difficulty, but also the sellers themselves to clearly navigate the hall. We know where the shoes are with and without heels, boots with fur or lining ... This helps to quickly work with the client. We value their time.
- And if in the morning you're in a bad mood and don't want to work at all?
- I'm professional. I leave a bad mood outside the store. I try to think that I will rest after work, or remember pleasant moments from my life, about a carefree childhood, for example ...
- What is interesting about the work?
- The most interesting is the arrival of the new collection. It is always a holiday. With her appearance, we are exploring new trends in world fashion in order to offer the customer something that suits his style and fashionable clothes. We try on new models, so to speak, test them to make sure they are comfortable. The client trusts us, and we do not have the right to deceive him.
The most important qualities for the seller are the ability to find a common language with the client, stress resistance and the desire for new knowledge. To convey useful information to customers and provide a high level of service, Carlo Pazolini employees have to constantly study.
To buyers too. If earlier visitors avoided sellers who greeted them at the entrance, now now finally this European standard of service has come into use and has become familiar.
"We continue to strive for the ideal. We say compliments to the customers, congratulate them on the holiday, sincerely smile at them so that they have a good mood. This is our rule, coinciding with an emotional outburst, "says Zalim.
Family affairs
It may sound corny, but all the employees of the company have friendly relations. At work, they spend most of their time. And Carlo Pazolini became their second day home.
"We are one big family and support each other even outside the store," our hero says, "we celebrate holidays, birthdays, go to the cinema, normal human relations."
I want more ...
In the family of Zalim Tokhov, it so happened that he, as an average brother, should bear a double responsibility - to become an example for the younger and not to live worse than the older brother.
Zalim has life goals. In perspectives are career growth, a second higher education and own business.
- I want to become an excellent manager. I'm used to being a leader. Therefore, I achieve everything I want. My motto, "Want more than you have," helps advancement. I always demand more from myself than I can fulfill. Sometimes overfulfillment of the plan succeeds ...
I admire the perfect shoes that I have ever seen: clear lines reflected in a classic form, radically black on a hidden platform ... I could not resist buying because I fell in love with them at first sight.
Nevertheless, the buyers were right - it is impossible to resist the charm of Zalim and the shoes from Carlo Pazolini.
Zalim Tohov is one of the few whose sales style is a worthy example to follow.