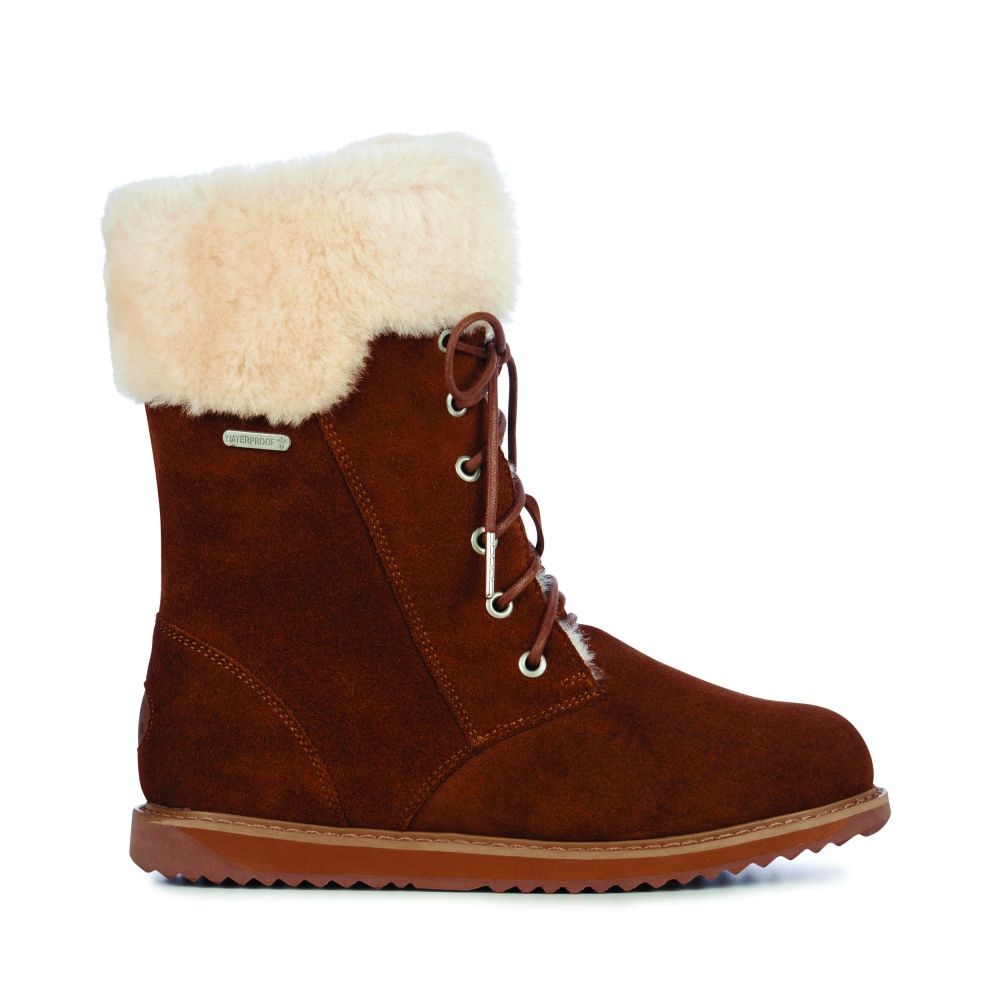 20.02.2018
5240
EMU Australia. Legs warm
In those days, when boots were considered the warmest winter shoes in Russia, Australian farmers warmed their feet in sheepleather boots. At the end of the last century, Australian shoe manufacturers brought these boots to the world market and gradually turned them into the sales leader in the winter season. After all, the uniqueness of this shoe lies in the fact that it maintains the necessary temperature of the feet, despite the weather conditions - from the hot Australian summer to the harsh winter of our open spaces.
EMU Australia has perfected the technology of manufacturing traditional Australian sheepleather boots. Today, EMU Australia shoes have a number of exceptional advantages that distinguish the brand's collection from competitors. First of all, all models of the collection have a water-repellent effect, which is extremely important for our unpredictable weather. EMU Australia is also developing a special line of Waterproof, shoes with this marking are waterproof: only specially treated suede and a waterproof membrane are used in production. The seams on the outside are additionally finished with waterproof material to prevent moisture penetration. These qualities, as well as the heat resistance of brand shoes, are confirmed by the international organization SATRA (UK). Secondly, the sole of EMU Australia footwear is protected from deformation, since in its manufacture an additional inner layer of EVA material is used, which provides additional elasticity. Thirdly, the sole has an anatomical shape that guarantees the safety of prolonged wearing of this shoe without harm to health.
EMU Australia sheepleather boots are not only a high-quality product, but also an important item of fashionable clothes. Therefore, brand designers in every new season surprise the audience with a variety of shades, prints and textures.
Effective production practices allow the brand to expand its range annually. For many years now, the Russian public, familiar with the EMU Australia brand, in the autumn-winter season 2018 / 19, in addition to classic Australian boots, expects a wide range of shoes: boots, ankle boots, boots, ankle boots, chelsea shoes. Moreover, the collection includes slippers that have become favorites of foreign trendsetters and have been praised by Oprah Winfrey and Kim Kardashian. The AW18 EMU Australia collection is naturally supplemented with winter accessories - gloves and mittens made from natural sheepleather, as well as warm headphones - an edgy piece of the new season.
In those distant times, when felt boots were considered the warmest winter shoes in Russia, Australian farmers warmed their feet in ...
Editorial Office Shoes Report