High-quality footwear should be not only outdoor, but also home. Eduard Orlov, Deputy General Director of Stalker-Consulting, talks about the specifics of working in the shoe niche. In 2008, his company became the exclusive distributor of French ISOTONER slippers in Russia.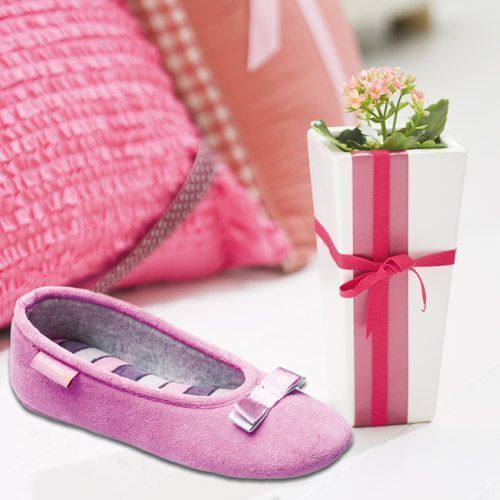 - Eduard Borisovich, we are talking with you at the exhibition, where entrepreneurs come to order seasonal collections. Are there seasonality in home shoes too?
- ISOTONER has a division into summer and winter collections. Every six months, the brand releases new items, and we bring them to Russia. But, of course, in home shoes there is no such strong difference between models of different seasons, as, for example, in street shoes. They mainly vary in color, materials, designs and details.
- What are the advantages of ISOTONER home shoes?
- The key advantage of ISOTONER footwear is the manufacturability of the models. The ergonomic slippers fully conform to the shape of the foot for maximum comfort. And ballerinas are not only comfortable, but literally weightless. To keep the feet healthy in home shoes, ISOTONER minimized the presence of artificial materials in the fabrics, uses mostly natural, sometimes even such unique materials as bamboo viscose. And in the soles of some models, to ensure comfort and therapeutic effect, the lining contains microcapsules with aloe vera for hydration. These models must be worn on bare feet. These are proven, sophisticated technologies embedded in slippers. In addition, all shoes are beautiful, stylish and comfortable. That is, we can say that our priorities are comfort and health. The same applies to children's slippers - they are created practically without glue and are safe for a child, so children can stay in them for 24 hours. These are not orthopedic shoes, they are designed for the comfort of babies.
- What is bamboo viscose, what part of the plant is it made from, in what form does it exist in shoes - is it fabric, impregnation, filler, and what effect does it provide, and why cannot it be achieved using other materials?
- Making viscose bamboo - it is a complex technological process. The raw material for this material is bamboo. Depending on the yield and additives used in the manufacture of the material, the fabric can vary in thickness and finish. Like cotton, it can be used to make T-shirts and pajamas as well as sweaters. But unlike cotton, viscose bamboo is "airier". In addition, this fabric has antibacterial properties. If bacteria get on a growing bamboo, then in 70% of cases they die. After processing the plant into material, the percentage of dead bacteria decreases, but the properties remain.
- And what other patents related to footwear does ISOTONER have?
- As for patents, ISOTONER has a lot of them. The most famous ISOTONER patented technologies are ergonomic shoes and adaptive insole. In the first case, the sole of the slipper is made so as to fully match the shape of the foot. In the second case, the insole adapts to the shape of the foot while the foot is in the slipper, after which it returns to its original state. This is achieved due to the microcapsules of a special gel, which is impregnated with the insole.
- What is the business development model?
- We started sales development with cooperation with shoe stores. And we came to an amazing discovery: many shoe chains simply do not sell home shoes. Those who sell expensive shoes do not want to get involved with cheap home shoes, as it is economically unprofitable, and there was no brand that could offer beautiful quality shoes. But we were able to change the situation. Our slippers belong to the middle price segment. At the same time, ISOTONER offers models that combine maximum comfort and quality, and in a price-quality ratio, quality is higher than the price. In a global sense, we see our task also in inculcating a culture of using home shoes among consumers.
- What distribution channels do you use?
- As I said, the first channel was shoe stores and such chains as Tervolina, M.Shoes, EuroTop. Many of them did not sell house shoes. We were the first to prove to them that this makes sense. We are constantly expanding the circle of partners and negotiating with them. Basically, the issue of the development of this channel rests on the mentality of buyers. They are not accustomed to the fact that slippers can cost more than 500 rubles, while our retail pair costs about one and a half thousand. We tell, show, provide test sales - the business is moving off the ground.
The second distribution channel is department stores and bed linen stores. By the way, since this year we are participating not only in shoe exhibitions. The first participation in the Heimtextil Russia exhibition provided very good sales. Nowadays, shoppers come to a department store and prefer to buy bathrobes, towels, slippers and other bathroom accessories in the same style. It is convenient for them to purchase all this in one place, because they can immediately pick up a set of home accessories.
But just like the owners of shoe stores, they did not think that slippers could sell well in their stores. In such stores there is not much cross-country ability, but as a complement to other bathroom accessories, slippers are bought very well.
The third retail channel is lingerie stores. Their directors, as a rule, order more glamorous models - ballerinas. There, slippers are most often offered and bought as gifts.
- In fact, good sales in department stores are very logical. When home slippers costing one and a half thousand rubles are next to leather shoes for 5-6 thousand - this is one psychological effect. When the same slippers stand next to furniture and mattresses for 15-20 thousand rubles, this is a completely different psychological effect. And what is your shoe retail customer? With whom and under what conditions do you want to work?
- I can't completely agree here. We do not try to reduce the price due to the high cost of other products in the store. You yourself say that 5-6 thousand worth a pair of leather shoes for the street, so why leather slippers can not cost 2-3 thousand rubles? No less physical, mental and material costs are invested in the development of models of home shoes made of fabric or leather than in the creation of shoes or boots. So why should they be sold ten times cheaper?
We represent a world leader who comes "for a long time and in earnest." Therefore, every partner is important for us - both chains and large and small shops. Our ideology is that we want to work with the customer "for a long time and fruitfully". And if an entrepreneur who is just starting cooperation with us doubts, we are ready to help him with the choice of models and their colors so that he can test the demand for a new brand. At first, we are talking about a small assortment, then most often this entrepreneur comes and orders a complete collection. Since ISOTONER has a large assortment, everything is in stock, there is no need to wait for an order, you can immediately increase the volume.
- If we imagine the most common version of a Russian shoe store: 50 square meters, 70% of women's shoes, 30% of men's shoes, a certain amount of shoe cosmetics and accessories, then what share, in your opinion, should house shoes occupy in this store?
- Offhand, home shoes can go up to 10% in the range, in sales. Of course, this depends on the breadth of the range of slippers, their lineup and layout.
- What is the return on sales of indoor shoes? What retail markup do you recommend? How is the issue of balances being resolved?
- The average margin is 100-120%. We try to offer stores the same conditions as for classic shoes, so that the store is interested in cooperating with us. Here, perhaps, it is worth returning to the issue of seasonality. A shoe model can sell well both in winter and summer. Therefore, stores do not have a question of leftovers, there is no need for sales. In addition, everything is usually sold, since stores do not immediately purchase the entire collection, but constantly order popular models from the warehouse. This is the advantage we give as distributors.
- What can you call your bestseller?
- Black basic model of ballerinas with natural leather soles - these are slippers from the category "it is impossible to improve, it is impossible to refuse", were sold, are on sale and will be on sale. In a word - a classic.
- What other new items will appear in your assortment?
- The plans of the brand are to expand the boundaries of shoe use so that it can be worn on the street. With the basic ISOTONER models with soft soles, you won't go outside. But the brand's specialists are working on new models. Now we are talking, among other things, about expanding the range of men in all age groups. Not so long ago, ISOTONER has developed moccasins for men that can be worn in a country house, home office or office. And for children, there are more sports models that you can take with you as replaceable shoes to kindergarten and school. For boys - moccasins, for girls - ballerinas with rubber soles.
An absolutely new direction for Russia - ECO ballerinas made of recycled material, technological slippers, created on the basis of own developments of the ISOTONER scientific and technical laboratories. Their upper and lining are made from recycled polyester yarns, while the insole is made from 80% viscose bamboo and 20% polyester. It is very important that the foot is in contact with the natural material that allows it to breathe. Elastic rubber was used to make the outsole. In Europe, products from recycled materials are already a stable trend, but we do not have it yet in principle. But we believe that, from the point of view of a long-term perspective, this area should be started, and now.
- Speaking in general about the development of ISOTONER's business in Europe, what is happening now?
- I would characterize the overall ISOTONER business as constantly developing. In 1997, the European company ISOTONER merged with the American Totes (it is the world leader in the production of umbrellas, the company that at one time became the inventor of the "full automatic" mechanism). The merger gave a synergistic effect - both companies are focused on innovative development, both have production distributed all over the world, both have a powerful distribution network, therefore, having merged, they doubled their power.
Every year, the company introduces new product categories into the market: sunglasses, reading glasses, pajamas for children from bamboo viscose, special gloves for the garden and repair. The company actively collaborates with world leaders in the field of know-how of various materials. For example, technological additives for ISOTONER are developed by Tefal.
We received another confirmation of the brand's development during the crisis. Then, without exception, sales were falling, while ISOTONER had an increase of 20%. This suggests that the brand has great potential. And now our main task is to achieve the same level of popularity that the brand has all over the world.
- What are your plans in Russia? Maybe you are planning to enter the CIS market?
- At one time, discussing plans for working with the ISOTONER office in our country, we set ourselves the task of developing the brand, dividing it into several stages: 200 stores, 1000, 3000. We have already passed the first stage. Now we are on the second. And our global goal is to become a leader in our segment. We believe that there are no analogues of our home shoes in terms of quality and manufacturability in Russia. In the next few years, we also plan to bring other positions to the Russian market.
For your information:
ISOTONER was founded in 1880 in Saint-Martin Valmero (France). Her first line of work was the production of leather gloves. By the middle of the 1990th century, the brand became widely known on both sides of the Atlantic - John F. Kennedy and Queen Elizabeth of Great Britain became its fans. In 1997, a decision was made to expand the product line: slippers, umbrellas and other accessories. In 7500, a merger agreement was signed with the leading American umbrella manufacturer Totes. Now in the USA and Europe ISOTONER is one of the most recognizable brands. In Western Europe alone, the company works with 1000 contractors. In total, the firm provides over XNUMX jobs worldwide. The Stalker-Consulting company is the exclusive distributor of the ISOTONER trademark in Russia.
High-quality footwear should be not only outdoor, but also home. The deputy general director of Stalker-Consulting tells about the peculiarities of working in the niche of home shoes ...