The first test demonstrations of MBT anti-footwear caused two opposite reactions among Russian consumers: "God, what is this?" and "Wow! Is it for sale in Russia? When it will be?" We answer in order. "It" is a product of engineering biomechanics. "Will" will be available very soon in stores, and the exclusive Russian distributor in Russia and the CIS countries "MVT-RUS" already has it. From the head of the Russian representative office, Evgeny Goldin, SR found out the details of the production technology and design of this unusual shoe.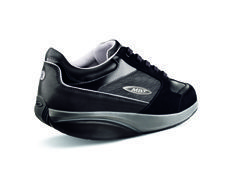 - Why anti-shoes and what is taken from biomechanics for the MBT product?
- Nature did not create concrete and asphalt, and the human body is not adapted to walking on such hard surfaces. Figuratively speaking, for our spine, every step on the asphalt is like driving a city car on broken cobblestones.
In 1998, the Swiss company Masai Barefoot Technology (MBT) was puzzled by this problem, conducted a huge amount of research with doctors, university professors, orthopedists and found a way to compensate for the consequences of life in the asphalt jungle. Each step in the MBT simulates the movement on the sand, provides a natural rolling from heel to toe.
We call our product "Anti-shoes" because ordinary shoes, in our opinion, destroy the muscular system of the body and cause pain in the joints and back.
- MBT has a very unusual outsole ...
- Indeed, the basis of MBT is a revolutionary sole design. It is unusual both externally and internally. The sole is not flat, but rounded - this provides all models with a recognizable characteristic design. Its "filling" is a combination of soft (the so-called Masai Sensor) and hard (balancing area) elements, which ensures a "natural disequilibrium" for the body.
The curved sole stimulates "swinging" movements, even when a person is standing. The whole body also reacts automatically - the spine straightens, muscle activity increases. That is, even when you just stand, it's like you are swinging. By the way, every buyer of MBT receives as a gift a disc with instructions on how to wear this product.
If we draw an analogy with the evolution of computer technology, then MBT has four generations of soles. Each of them is designed for different conditions of use and for a different degree of load. The sole design allows you to increase the load on the muscles, heart, regulates pressure, burns calories. Many women use it as a great way to lose weight. We conducted an experiment in Salzburg together with specialists from the university of this city. Two-thirds of women who had MVT as part of the experiment noticed that cellulite began to disappear, and weight decreased by an average of 1,3 kg per month. 63% of participants in the experiment recommended MVT shoes to their friends as an effective means of weight loss. The same experiment confirmed that light balancing in MBT shoes burns much more calories than a long walk in regular shoes.
- What other research centers do you work with?
- We constantly cooperate with the University of Calgary in Canada and the University of Sheffield in the UK. These are the most famous centers of biomechanical research in the world. Our shoes were tested by specialists from Stanford University from the USA, they proved that the tension in the knee joints when wearing MBT shoes decreases by 63% compared to ordinary shoes. Researchers from the Danish University of Jorgensen have found that constant wear of these shoes reduces back pain and corrects posture.
- Have scientific research turned into any significant commercial results?
- Suffice it to say that MBT has created its own niche in the world market - the niche of physiological shoes. According to The NPD Group, an American marketing agency, the capacity of this niche in the United States alone is $ 76 million.
- How is MBT sold globally?
- In the USA, physiological shoes generate 25% of the total sales of outdoor shoes. And despite the economic recession, its sales in 2009 doubled. Over 10 years, 30 million MBT pairs have been sold in 5 countries through five different distribution channels.
- What are these channels?
- MBT is very careful about its distribution, using a systematic approach to build it. Now the elements of this system are four types of stores: monobrands MBT, regular shoe multi-brands, sports shoe stores and orthopedic shoe stores; the distribution channel through the premium fitness centers stands apart.
- Do you offer your customers the same assortment?
- Traditionally, the company's assortment included three lines Athletic, Casual and Professional.
Casual line is suitable for active people, for whom it is important to work on their body. In MBT, every step becomes a mini-workout. The casual lineup includes lightweight leather shoes, clogs, sneakers and shoes without laces. The main colors of the Casual line are dark red, denim blue, various shades of brown and black.
MBT Athletic has already become an integral part of the life of many athletes who try to always keep their muscles in good shape. MBT strengthens muscles, improves coordination and reduces stress on the spine and joints. MBT Athletic is recommended for rehabilitation after high loads and sports injuries.
For those whose work is associated with constant walking or long standing on their feet, MBT has developed a special line of Professional shoes that does not allow problems with joints or back, and the sole has been made slightly less curved. This outsole allows for more fashionable designs to be brought to life, matching them with the company's orthopedic advances. Since last season, the collection has included models using GORE-TEX® material, which maintains a comfortable temperature for the feet. The design of the MBT Professional models is more classic than sporty. Models go well with men's and women's suits.
- What should you pay attention to in the new collection?
- In January 2010, new models appeared in the Athletic line, which are 20% lighter than traditional ones due to the use of innovative materials. This means that athletes who wear these shoes will be able to increase the intensity of physical activity.
In the spring-summer 2010 collection of the year, a new Dress line first appeared. These are more elegant models that can be worn even with a "little black dress." For ten years, MBT managed to develop an image of shoes for outdoor activities, for those who are close to a sporty lifestyle - with the help of the Dress line MBT is ready to change the idea of ​​office classics. In the autumn collection there will be new options for business models for both women and men. Men are offered a wide selection of classic shoes without laces, and for women - high boots.
- What are your plans in Russia?
- We begin our work in Russia with the presentation of EURO SHOES PREMIERE COLLECTION. The Fall-Winter 2010 / 2011 collection will be presented here. In addition, an experiment will be organized at the presentation that will show the difference between regular shoes and MBT. First, a person's walk in ordinary shoes will be removed to a special video camera. Then he will be converted to MBT and his gait will again be fixed to the camera. By comparing the two footage, the "subject" will be able to see with his own eyes what is happening to his body, how it changes after he puts on the MBT. Do not believe what is written in advertising booklets - make sure from your own experience.
Why will buyers come to you for anti-shoes?
Nine out of ten women constantly wear shoes that are small to them.
Nine out of ten women have foot deformities caused by narrow shoes.
Eight out of ten women report that shoes sometimes hurt them when worn.
Seven out of ten women develop foot deformity.
According to a study by the Boston University School of Health, which ran from 2002 to 2008, only 2% of men complain about uncomfortable shoes. After 50 years, the risk of varicose veins increases sharply, so they begin to pay more attention to health.
In men, the ligaments are stronger and more elastic, and the feet are deformed, as a rule, only due to injuries. MBT buyers will be those men who want to combine an energetic business life and active leisure, value their health and treat it with due attention.
5 Important Benefits of MBT
1. MBT is an innovative company that has created a special niche in physiological shoes
2. MBT functionality proven by many academic studies
3. MBT not only improves the figure, but also changes the lifestyle and attitude
4. MBT manufacturing technology protected by patents
5. MBT has a selective approach to distribution. The company does not seek to sell as much as possible. She seeks to sell as much as needed to qualified dealers who are ready to provide customers with premium service. MBT invests not only in an international advertising campaign, but also in sales training.
The first test demonstrations of MBT anti-footwear caused two opposite reactions among Russian consumers: "God, what is this?" and…