Clothes for MBT feet sometimes cause bewilderment among strangers with it - what kind of overseas miracle Yudo is this? Those who once put on the MBT have a steady and unequivocal reaction - it's magical. The Editorial Office Shoes Report with the support and assistance of the Russian distributor of the brand, MBT-Rus, conducted a test drive of this shoe in order to, as they say, be convinced of its unusual properties with our own feet. For several months, journalists and editorial managers wound kilometers in MBT, recording their feelings. Now we are ready to share with you.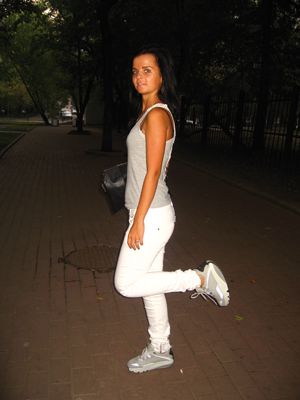 Evgenia Bubnova, Shoes Report columnist:
- My first acquaintance with MBT was indirectly picture-based. I could not estimate the scale of what happened at that moment. Cool, weird and ... vintage! These are the first words that came to mind when looking at this shoe.
However, it wasn't limited to acquaintance. Fate had a chance to try on and test these shoes on themselves. Sneakers really turned out to be a bit vintage: it was these bots that we, girls and boys, carried around at school with backpacks over our shoulders and Scooter hoodies. It was nice to feel fashionable again with sooooo big crosses on a massive platform. The fact that the platform in its depths hides several membranes developed by doctors was no longer a secret for me at the time of fitting. Immediately after the first lacing and two uncertain steps, I felt, to put it mildly, strange: in these sneakers I did not want to go, but I wanted to run and jump. The sloping rounded platform has a lot to do with it. Therefore, I go to MBT exceptionally fast. Frankly, moving in them slowly is simply uncomfortable for me. And the type of surface (asphalt, linoleum, sand, dried up foliage by the Moscow tropical climate) does not matter here.
These sneakers really affect the spine. They have to be constantly balanced, and you will not be able to stoop with all your will. About standing on one leg, I generally keep quiet. For a person with my level of physical fitness, this task is commensurate with the victory in a regional sports competition. Moreover, the task is complicated by the weight of the miracle shoes: sneakers are still heavy.
After changing your MBT to your home slippers, you keep walking for a while, crouching slightly. I have the effect of "viscosity and elasticity" lasts another ten minutes. In the same way, as a child, I tried to walk barefoot on a trampoline smoothly.
Lyudmila Soldatova, Advertising Manager, Kids Report: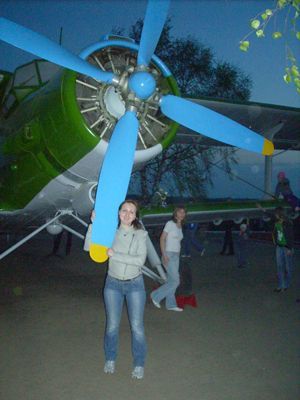 - The first steps were difficult. The legs seemed to not understand what they were wearing. The roll during the step was so peculiar that at times there was a feeling of loss of balance. At first it wasn't very comfortable walking, as I got used to flat shoes and without heels. However, the more I "got accustomed" to MBT, the more comfortable my legs became. After taking a few walks to the nearest store, I decided to put on MBT sneakers for work. The sensations are very different. Before the metro - 15 minutes on foot, and at first there was a feeling that my legs were swinging in time with the walk, there was even a moment when I thought that they just become a wheel. Several times I twisted them. It was unusual to climb the stairs: I was afraid that my foot would slip, so I put my feet not entirely, but only socks. When walking in these shoes, the back is kept straight, and the gait changes automatically. The body is not used to such loads, so the next day the calves of the legs, shoulders, aching lower back ached. But these were only the first impressions, gradually, daily wearing MBT sneakers, I learned how to walk in them correctly, rolling from heel to toe. My legs stopped hurting after the fourth or fifth time. I became faster, one might say, "flying gait", getting to the metro, now I needed only 10 minutes to do this. I began to notice the surprised and interested glances of passers-by. Learned to climb stairs, jump, run. It was most convenient to walk on asphalt and flat ground. Somewhat harder - on the sand, especially on wet. But in the rain, the shoes never got wet. Good posture and saving time were my most valuable assets.
Anna Komissarova, editor of the FASHION report: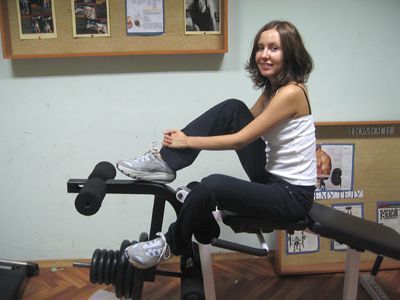 - The first fear of the outwardly monstrous-like MBT sneakers was overcome as soon as I put them on. Surprisingly, the leg in them feels great - it is securely fixed, inside it is comfortable and soft. But as soon as you get out of your chair, you realize that MBTs have nothing to do with regular sneakers. The feeling of the first fitting is strange and unusual - it seems that you are even more attracted to the ground, but at the same time it ceases to be round: you might think that you are standing on mini-wheels. I so wanted to properly accelerate and jerk, as if on a hundred meters, that I preferred to give in to the impulse, of course, for the purposes of the experiment. But, unfortunately, it turned out that you could not get far in them - because of the significant weight, the body gets tired faster, and more muscle is involved than when running in ordinary sneakers. Going a step, I found out another oddity of MBT sneakers: the more you step in them, the more it seems that you walk on springs. Out of habit, it was impossible to lean on the heel, so I involuntarily began to bounce like a ball. Admittedly, not the most pleasant experience. But the posture automatically straightened - it's simply impossible to hunch your back, because there was a constant fear of falling. In general, I felt like a real Japanese woman - they, too, should not relax on their "little benches". Nevertheless, it was very funny to walk in the MBT on sand and loose earth. Perhaps this is akin to the sensations of an astronaut walking in moon rovers on a strange and unknown surface. All this, however, did not stop me from falling in love with these light and comfortable sneakers.
Tatyana Malikova, brand manager, Shoes Report, FASHION report, Kids Report: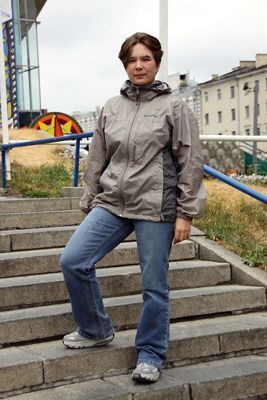 - For the first time, I saw MBT shoes in the catalog. Sneakers on a strange convex sole made a smile. The first association: in such boots only clowns perform. First thought: I'll never wear this, my legs are not breech, and with such a sole a fracture or at least a dislocation is provided ...
In reality, the shoes did not seem so eccentric, but still raised doubts about stability. Curiosity, however, overpowered, and the fitting took place. It was difficult to stand, it was difficult to balance, it was necessary to roll all the time from heel to toe. In addition, the shoes turned out to be rather heavy, although after winter trekking boots according to 400 each one could ignore this.
The first walks in MBT shoes were extremely careful. I was afraid to tuck or rub my leg, or get some other injury. In general, getting used to the unusual design of the sole was not easy. And yet I'm used to it! Moreover, I liked the shoes. If you wear MBT every day, then very soon you just stop paying attention to its non-standard: walking on uneven surfaces, going up and down stairs and even a light run on a bus do not cause the slightest problems. Just like driving a car. Simply push the seat back.
In general, MBT shoes are a good option for every day, but you need to wear them correctly: keep your posture, put your foot directly. For non-compliance with the "rules of operation" you can pay with calluses and pain in the muscles and joints. But this is not an excessive payment for a proudly raised head, straightened shoulders and a straight back!
Galina Kuznetsova, editor-in-chief of the Shoes Report: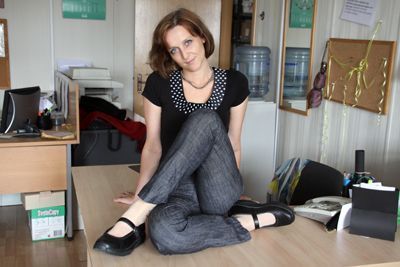 - For the very, very first time about MBT, I heard about four years ago from the director of the orthopedic center Tatyana Loginova: "Galina, you have such a good magazine, with such the right approach to comfortable shoes. Why aren't you writing about MBT? This is the standard of comfort. " Really - why don't we write about MBT? I tried to find on sale - no. There is no Russian distributor. Europeans reacted to the proposal to talk about the delights of MBT shoes rather cool. In a word, the acquaintance did not take place. But the memory of the conversation remains - it must be something ... And suddenly one day a mysterious male voice is heard in the telephone receiver: "We represent the interests of a large European shoe company, which is not yet in Russia. Let's meet tomorrow ... "Mark was not mentioned even once during the conversation. Burning with curiosity, I rummaged through all the filings and the Network in order to find out what a large company in Russia is not yet and about whom we have not yet written. And when the MBT was finally in the hands, or rather, on its feet, it was no longer possible to see and be surprised: after two sleepless nights, I was late to the airport. And here black station wagons, without a run in Russia, with climate control and molded soles, it seems that with the traction control system too, is what you need. I was late for the plane anyway - even if only one living soul reminded me of the change of hours, then there was time to defile at the airport terminal. I must say, the shoe was able to perfectly soften not only the gait, but also the mood. And the expectation that this would be something quite coincided with reality. And then both shoes plowed the whole trip like bees (if you, of course, can imagine plowing bees). Plus the first - even after a long flight, the legs do not swell and feel good in shoes. Plus the second - you can walk as long as you like, and your legs do not buzz with fatigue. True, it's difficult to stand in one place for a long time, especially if a laptop bag is thrown over your shoulder - the shoes immediately remind you of the unnatural position of the spine.
Two weeks later, a feeling of straightened shoulders appeared. And what I liked most of all - smooth rolling accelerates walking several times, finally shoes have appeared that match my rhythm of life. "Where did you fly?" - this was the most common phrase that I heard after.
A month later, I already regretted that one Saturday evening I refused to wear MBT. A romantic evening with the man of my dreams was "complicated" by a dance lesson. Irish dances, with a lot of jumps - and a huge load on the foot, so MBT after training is just a salvation, with so careful care they envelop their legs, which have received their charge of energy and stress. But a romantic evening ?! But my legs ?! What if…? AND? A painful choice has been decided in favor of studs. As it turned out, in order to hear from the embodiment of male excellence on a mobile: "I'll be at the doctor's office, I will call you back in 15 minutes" and ... "the subscriber is out of the access zone" - for the whole evening. Two hours later, gritting my heart and listing all the closest relatives on both sides in alphabetical order, I ended up at home, and at five in the morning I received an SMS: "Honey, I suddenly ended up in the States, we'll write, we'll hear each other." Legs by that time had lost their temper and the system was completely and irrevocably. But at the training there was not some catchy jig, but simple rila, and to the metro - 15 minutes on foot. Conclusion - you need to shoe for yourself, after dancing - only MBT, and the studs can be left in the car.
The reputation of a reliable partner for its owner was confirmed by MBT footwear in the summer on Lake Baikal, when we got lost in the forest, sipped plenty of mud in the swamp and crawled out to the camp site, having lost several hours. The next morning the dry shoes were as good as new - no cracks, no wrinkles, no scratches. Yes, they are also good as an office option. In general, black station wagons ...
Clothes for MBT legs sometimes cause bewilderment among people who are not familiar with it - what is this miracle-yudo overseas?