Lighting approaches in a children's shoe store, or in a department / section of children's shoes are somewhat different from those used by merchandising and lighting specialists in adult stores. This is due primarily to the fact that children have a different perception of the world, color shades, a different concept of good / bad lighting, a different opinion about the comfort of shoes and clothes. Mikhail Gusmanov, an expert in the field of lighting solutions in retail, tells about the lighting features in the store / department of children's shoes, about the nuances that must be taken into account when installing lighting devices and choosing the degree of illumination of different areas of the trading space.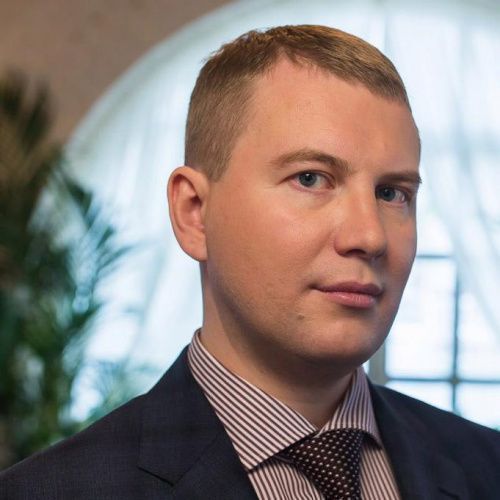 Mikhail Gusmanov
- Founder and CEO of NLT (New Light Technology), an expert in the field of LED lighting for retail.
Children's shoes today often cost more than adults. There is nothing surprising in this. Many collections for babies taking their first steps are special shoes that strengthen and support the children's foot, its development is an expensive pleasure for companies. There are a lot of designer shoes on the market, made either in a limited collection or with a unique design, made from natural and beautiful materials, and by definition it cannot be cheap. Therefore, there are a lot of shoes for children on sale, which is not in the mass market, but in the premium and even luxury segment. All this must be taken into account when selecting lighting fixtures for the trading floor.
Light zoning
The approaches to lighting shoes in different segments are different. If in a mass-market store, where there are a lot of inexpensive shoes, we can restrict ourselves to general light, then in order to draw attention to expensive new products or unique models, it is necessary to create light zoning. As a rule, in order to attract buyers' attention to such an area, it is necessary that the level of lighting in it be at least two times higher than in the general space of the store.
For example, for the mass market, the recommended level of illumination on the product is from 800 to 1 000 lux * (* Visible rays sent by the light source are called the luminous flux (f), the unit of measurement of which is lumen (Lm). If the luminous flux meets any surface, then this surface receives a certain illumination, measured in lux (Lx), 1 Lx = 1Lm / m2). Accordingly, in order to attract attention to some island or place where, for example, a new collection is exhibited, it is necessary to create a lighting level of at least 1 500 lux.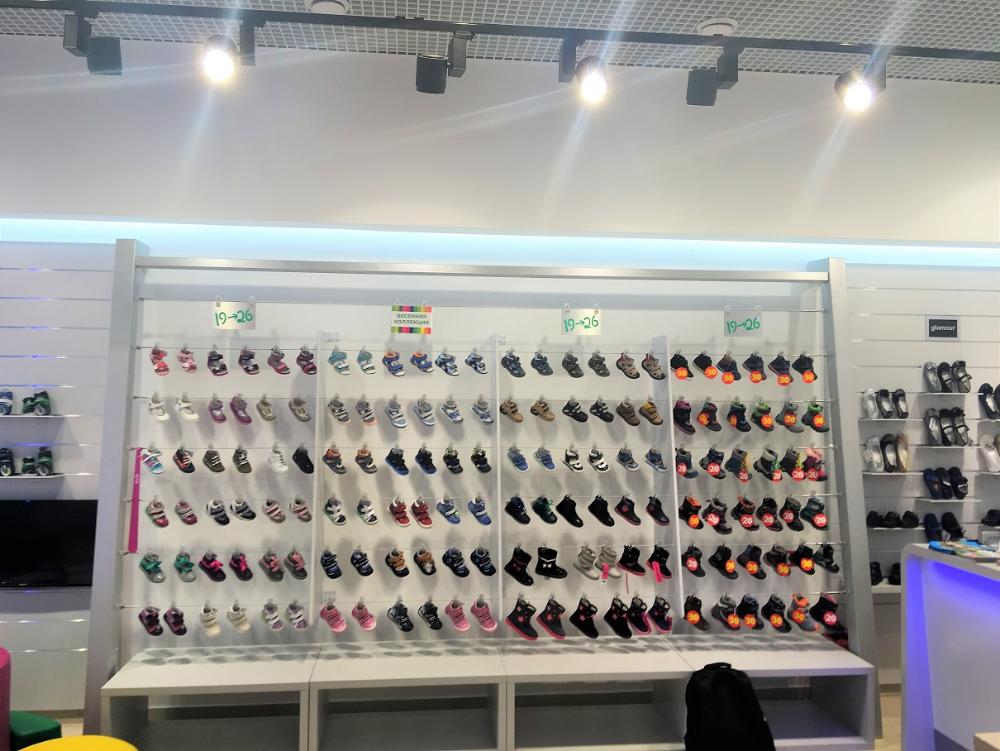 Warmer, warmer
In lighting children's shoes, you need to get away from neutral, cold tones, this is an important point and an actual trend, which I recommend adhere to retailers. Little is said about this, but there is a scientifically confirmed fact: cold light irritates children very much. The cold light does not annoy only the elderly, but we have a children's shoe store.
In most cases, in order to accurately choose the right size shoes for a child, it is important to come to the store with him and measure together - sometimes, measure one or two pairs of shoes. The fitting process is very important, as the baby will feel uncomfortable in shoes smaller or larger, she will rub her legs and create additional problems. Modern shoe technology allows you to adjust the dimension, but in most cases, children's models are closed and size adjustment is not possible in them. Children quickly grow out of their size, and in fact the change of shoes occurs quite often - for the first two to three years of life, a child can change shoes almost every one and a half to two months. And that means the kids are frequent visitors to the store.
That is why it is so important to create a warm, calm atmosphere in the store, like at home, so that the child is cheerful and not naughty. Then the children do not get tired, do not get nervous, relax and are less stressed. Although finding a child in a place of crowded people, which are shops, shopping centers, in itself is already a stress for the child. When he comes to the store and is busy with the fitting process (which he does not always like, especially the kids often refuse to try on shoes), he gets stressed. You can minimize the impact of stress with the help of lighting, creating a comfortable atmosphere in the store. The atmosphere is created by a warm spectrum (3 000 Kelvin), a high color rendering index (CRI must be greater than 90%) and matte lighting in the fitting zone - right where the shoe is fitting: the average level of light between what is on the shelf and the overall illumination in the aisles, should be no more than 1 000 lux.
IMPORTANT! The light falling from the lamps (even if they are accent lamps, track, for example) should be frosted at the place of fitting shoes, because the child is small, he looks up at an adult and can catch a "bunny". So that at the moment when the baby raises his eyes, he does not catch the "bunnies" and the lamp does not dazzle him, there should be a special lens in the light source that mattifies and scatters the light. A child who has caught such a "bunny", blinded, begins to act up, and at this point the purchase process may stop and will not resume again. The baby is uncomfortable, unpleasant and not at all ready to try on.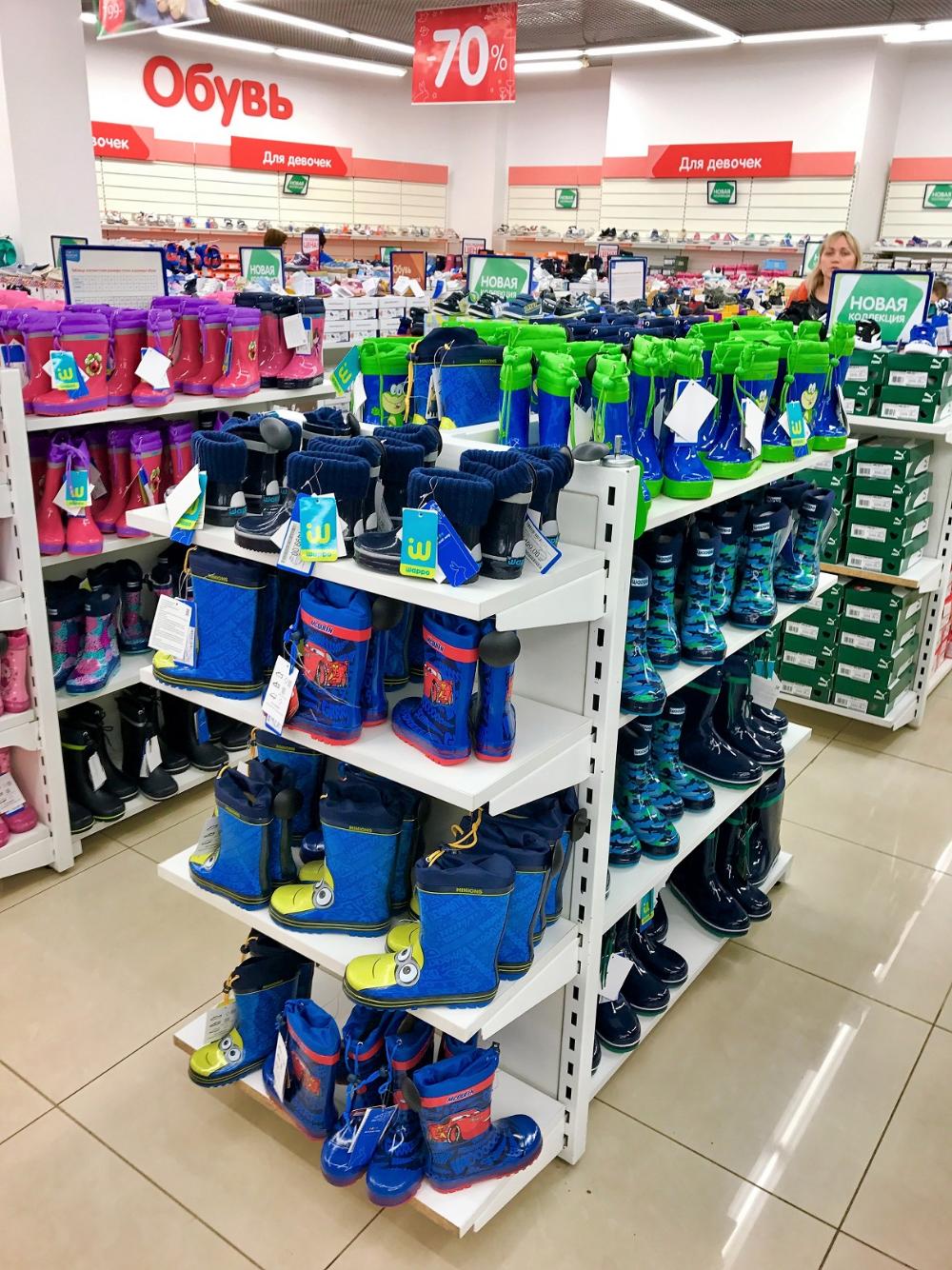 Little mods
The child is a small buyer, he also has the right to choose. Many modern children, especially those who are older than the middle age group, they follow fashion very carefully and try to imitate adults - they carefully select shoes for their outfit - dress or suit. This trend - that children begin to understand fashion from an early age - is present, therefore, elements of visual merchandising related to color blocking (putting on a shoe shelf a certain color, a certain style, a combination of these colors by model and size) are present in calculation. And in this case, warm light maximally well and brightly emphasizes color shoe collections. Children's shoes are not a business style, in which only strict colors are used - black, brown, white, blue. As a rule, children's shoes are bright: for girls - pink, red shades, for boys - blue, green, if black or brown, then with some interesting inserts. Of course, there are school shoes, but still it does not dominate the collections. In this case, in order to attract the maximum attention of buyers - both adults and children - it is important to focus on the product with warm lights. If the shoes are on the shelf, it is important to use light sources (for example, high-power LED strip), that is, the level of lighting on the shelf should be at least 1 000 lux, and this can only be achieved with LED strip power from 15 W per linear meter. It is very important to take this moment into account when selecting an LED strip, while the strip must be mounted in such a way as to ensure even illumination along the entire shelf. You can not mount the tape vertically, only horizontally, especially if the shoe shelf is wide.
Light accents
In the store where children's shoes are located, it's important to focus on the advertising banners that are placed in free space, for example, on the walls. This allows you to see a particular area with children's shoes from another part of the store. If we are talking about a large store with children's goods, then the area on which it says "Children's shoes" should be visible from afar, and even better if its design will be accompanied by advertising images of well-known brands of children's shoes, happy children in shoes making the choice of shoes presented in your store. All these elements encourage the buyer to find the necessary department inside the store and make a choice. A color picture / poster / poster is also best highlighted with warm light - 3 000 Kelvin; the higher the level of illumination, the more noticeable is the picture on the wall or facade in the trading room.
The entrance area of ​​the store or department of children's shoes is also highlighted.
Properly selected light will help to make the new collection and its individual models noticeable. It is important to install bright new products on illuminated pedestals of small height so that not only an adult, but also a child can notice these shoes. Children should see shoes well, be able to reach them. In this case, the child, paying attention to the shoes, will be able to pick it up, and this, by the way, will be a strong argument for the adult to still approve the choice the kid made in the store and buy the shoes he likes.
Key recommendations for creating a warm atmosphere:
use warm white light;
in the shop windows and in the entrance area, where the models are placed to attract the attention of buyers, double the level of illumination in comparison with the average illumination in the trading floor;
in the fitting area, use frosted light sources in order to provide a high level of illumination, but to remove the glare effect, because the child can catch the "bunny" and be upset, and all purchases will end immediately;
Lighting on the shelves must be done with LED strip with increased luminous flux, as a rule, on one meter the luminous flux should be more than 1 200 luminas. Only such a tape provides the necessary level of illumination;
the color rendering level is desirable to be more than 90%.
Such an approach is an effective tool for creating a comfortable atmosphere in which large and small customers can stay in the store for a long time and make good choice of shoes.
In the dark, all shoes ... yellow
As a rule, if the store is dark and the color rendering index is low, where dim light is used, the effect of yellowness is created, which distorts the color perception of shoes, misleads both parents and small buyers. And the children are very finicky: it may turn out that when trying on at home or on the street, the shoes will not look as advantageous as they looked in the store in poor lighting. As a result, the child may refuse to wear it.
Lighting in 3 000 Kelvin at a high color rendering index does not give a yellow tint. Such parameters enhance color reproduction, the color of shoes (but without yellowness) and attract the attention of the buyer. This should be remembered by retailers who use cheap fluorescent or LED lamps, or track lights with a low color rendering index.
This article was published in the 151 issue of the print version of the magazine.
Lighting approaches in a children's shoe store, or in a department / section of children's shoes are somewhat different from those used by merchandising and lighting specialists in adult stores. ...