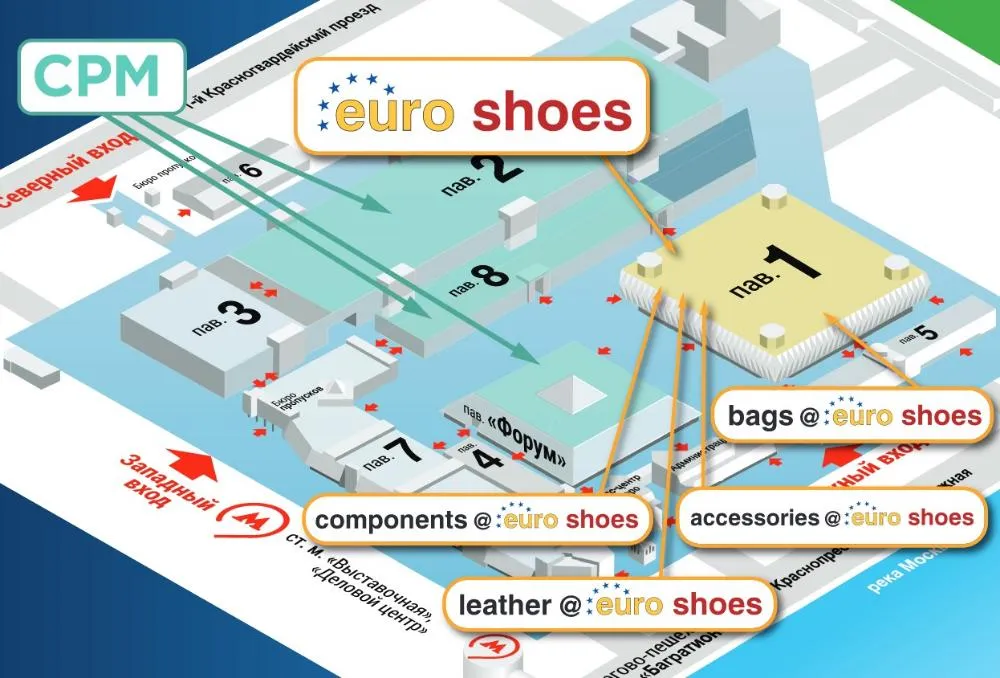 01.06.2022
4602
The largest event of the fashion industry will be held in Moscow
From August 30 to September 2, 2022, Expocentre in Moscow will host the largest international exhibition project, which includes the full cycle of the fashion industry: fashionable clothes, shoes, bags and accessories, leather, components, equipment.
Unique collaboration of exhibitions Euro Shoes premiere collection and CPM Moscow will present leading European brands of clothing, footwear, bags and accessories on one platform. In the new season, the exhibition will become even larger; sections of leather, materials, and components will be added.
The International Exhibition of Technical Textiles, Nonwoven Materials and Equipment Techno Textile (TECHTEXTIL RUSSIA) joins the international alliance of leading fashion exhibitions in Russia Euro Shoes@CPM. As well as another significant exhibition event of the industry, the International Exhibition of Fabrics and Accessories for the Production of Clothing Textile Salon, will be held on the same dates. Thus, an unparalleled diversity and vast exposition is being formed.

The fashion alliance expands partnership opportunities and expands spheres of influence. All European countries, all fashion brands, the full cycle of fashion production for the Russian market will appear in one space, in Moscow, at the Expocentre August 30 - September 2 2022.
An event not to be missed is coming!
Despite the large area that a large exhibition project will occupy (all key sites of the Expocentre will be involved: pavilions 1,2, 3, 8, Forum), the organizers of the event recommend exhibitors to book the best seats now. Interest in the project is huge, and the exhibition space is filled very actively.
Hurry up to participate, book your seats now!
The main event of the fashion market Euro Shoes @ CPM Moscow. Moscow, Expocentre, August 30 - September 2 2022
From August 30 to September 2, 2022, Expocentre in Moscow will host the largest international exhibition project, including the full cycle of the fashion industry: fashionable clothes, shoes, bags and accessories, leather,…
Editorial Office Shoes Report