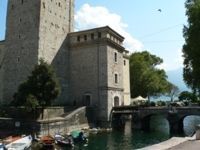 12.03.2011
5945
The wind of good luck, hope and profit
The Ora wind makes Lake Garda the world's best sailing destination. Lake Garda is composed of sandy beaches and rocky mountains. This is an alpine landscape and Mediterranean flavor. These are thermal springs and a gourmet paradise. This is the shoe show opening the European season.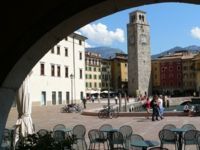 From 16 to 19 on January 2010, 1100 exhibitors from 32 countries will combine work and leisure on Lake Garda during the Expo Riva Schuh exhibition. This is the first exhibition on the European calendar, where you can see the collection a year before the season. Buyers will be able to continue the Russian Christmas holidays at this mountain-beach resort.
You can walk endlessly here, but for the full experience you need to catch a completely unique place - the cascading waterfall Cascato di Varone (Varone). Half an hour is enough to visit, but it's possible longer - very picturesque views.
After that, you can go straight to the mountain lake Thun. It is just beautiful, quiet, a great place to relax and have a picnic.
Going around the lake on the other hand, you can stay in the town of Bardolino, which the clergy also loved. This stop will delight lovers of Italian wines. The Zeni Wine Museum is a must. If you want to spend a late evening in a more crowded place, then you can wrap in Garda. Life is in full swing here especially on weekends. Very beautiful: the bridges and walls of the lake, the lights of cafes and restaurants, the Palazzo dei Capitani del Lago, the Palazzo Fregoso, the Palazzo Carlotti, the 16th-century Villa Canossa and the Albertini Villa - there is nothing to list.
We remind you that the Expo Riva Schuh exhibition runs from 16 to 19 on January 2010.
The Ora wind makes Lake Garda the world's best sailing destination. Lake Garda is composed of sandy beaches and rocky mountains. This is an alpine landscape and Mediterranean flavor. It…