Many come to Moscow for a dream. Many, but not all. Olga Kutepova is a rare exception to the rule. She didn't come here for a career. Once she fell in love with a big bustling city, in which she just wanted to live ...
For the sixth year Olga has been working as a sales assistant in the Payana Obuv store. Once she preferred a family hearth to a dizzying career. Today Olga is happy that she was able to realize herself as a woman and find herself in what she loved. She told Liliana Berger about work, life and dreams.
Children's love for Moscow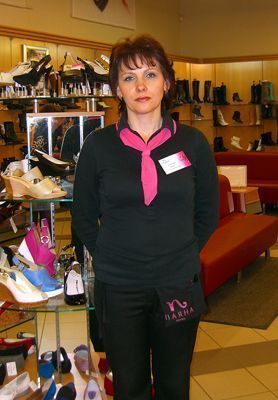 Our heroine was born in the Oryol region. As a child, Olga, having arrived in the capital for the first time, told her mother that when she grows up, she will definitely move to live in Moscow, closer to Detsky Mir and the candy store. And so it happened. Immediately after school, in 1982, Olga and her childhood friend arrived in Moscow. She did not have a dream to become a movie star, like millions of young girls of that time. She simply was in love with the capital, its wide noisy streets and vast squares.
In 1985, Olga graduated from a construction school and wanted to go to college. But these plans had to be postponed for the sake of another important matter - raising two children.
Olga is now 45 years old. And she's sure that she's starting a new phase of life: "Children have grown. Now it's time to think about yourself. " This year, Olga is going to get a higher professional trade education in order to start moving up the career ladder. She joined the Payana Shoes company from the Paris Commune, where she worked for five years.
She greets shoppers with a smile
At the entrance to the store, a fragile miniature woman approaches me. Polite smile, friendly look. Olga Kutepova immediately impressed me as an energetic and positive person. In the first words, it could be assumed that our communication will take place in a more than friendly and warm atmosphere.
"The first impression of the company is formed at a meeting with a sales consultant. A good seller, like a good psychologist, guesses the mood of the buyer at a glance. And only then begins a conversation with him. Our task is to listen to the buyer, raise his vitality and set him up for the purchase, "Olga explained.
Not every seller was given to persuade the buyer to an unplanned purchase of a pair of shoes.
"One episode is immediately recalled. The girl was late for a date. And then bad luck - the heel broke. Fortunately, there was a sale at the Payana Shoes store - shoes at a discount of 50%. Seeing the sign, she ran into the trading room and asked to pick up something that matches her image. Naturally, the nervousness spilled over into tears, and at first she did not like any model. But we reassured her. They picked up black high-heeled shoes with a strap around his leg. They looked very stylish and elegant. The girl left us very pleased. " That's how the employees of Payana Shoes saved the date ...
At this moment, a woman with a child came into the store. Olga greeted the buyers and delicately offered her help. The woman immediately asked:
- What are they wearing now? Are solid-soled shoes still in fashion?
- Fashionable shoes both on solid soles and high heels on a hidden platform. What shoes do you usually wear ?.
- I would like on a heel. Is the shoe comfortable?
- Yes, of course, the heel is almost imperceptible thanks to the platform. The leather is soft. I can offer you a classic model. Do you have 36 size? ..
While trying on, Olga managed to tell the customer about future updates, made her several compliments regarding the small foot size and offered several options for a clear understanding of the choice: black classic high-heeled shoes, brown on the hidden platform and low shoes on the hidden platform with lacing in front. The customer liked everything. She spun around the mirror for a long time, admiring the shoes, and could not stop at one thing .. After many sighs and self-belief, preference was given to a radically black elegant classic. Olga thanked the client for the purchase, and we continued the conversation ...
Workplace Creativity
I was shocked by the ease with which Olga navigates on the trading floor. The product is laid out so that the seller has all the shoes at hand. And do not leave the buyer for a long time.
Miracles of merchandising help? "Most of all, experience and creativity help in the work. We sometimes think through the system of laying out shoes ourselves, for our own convenience. Our customers are interested in different shoes. Mostly bought by season. Girls often take high-heeled shoes, ladies in the age prefer a low heel. The main thing is to find out what kind of shoes the client came for, then bring him to that part of the sales area where it is exhibited. This simplifies the task for both the seller and the buyer, "Olga explained.
Image of a sales consultant
The profession of sales assistant implies a number of preferences. A pleasant face, an inexhaustible positive attitude, regardless of the weather and consumer moods, energy, the desire for constant self-education, dictated by the desire to move up the career ladder, and much more.
And how does our heroine imagine this image? "Firstly, this is an attractive appearance and a neat look so that the buyer would be pleased to look at the seller. Secondly, the seller must be sociable, patient, energetic, attentive and stress-resistant. A friendly, sincere smile is a must. Thirdly, he needs to have a knowledge base about the subject of sales and the latest global fashion trends. I try to live up to the ideal, and it works out pretty well for me, "Olga laughs.
What else should the seller consider when working with customers? "People feel like themselves. A positive result is achieved through a love of work, a desire to make people happy, help them in choosing stylish and beautiful shoes. " To help store employees, trainings are regularly held. Indeed, more than 60% of buyers are women, among them there are very demanding and capricious people. And corporate training helps to cope with any problematic situations.
"Working with men is a pleasure. They purposefully come to the store, choose a model, try on and buy. In women, this process is delayed. This used to make me a little nervous. Now I understand that this is just the inevitable part of the work, "Olga said with a smile.
Her working day
Olga's workdays do not begin with morning coffee and with an invigorating shower, but with a smile.
"I am an owl. Therefore, in the morning I wake up with difficulty. To set a positive attitude for the whole day, I do a trivial exercise - I go up to the mirror, smile and send myself kisses. It invigorates. Further, according to plan. "
How do sellers get to know new collections? "We find complete information about the features of the collections on the Internet and glossy magazines. We test new models on ourselves, we check for durability, convenience of a pad. By the way, the first boots I bought in Payan Shoes I have been wearing for the fourth year already. "
What is the meaning of life?
Olga admitted that she was a little upset that she had not yet been able to fully realize herself. However, he does not regret anything in his life. "I am a happy woman. And the meaning of my life is in my family and my favorite work. I like to communicate with people, so what I do gives me incredible pleasure. And dreams ... Dreams sometimes have to remain dreams, otherwise it will be uninteresting to live. But who knows, maybe someday I will be able to open my shoe store? "
About Us In 1996, on the basis of one of the most famous Russian shoe factories - the factory named after Mukhanova was created by the company "Payana Shoes." The main principle of her work was the idea of ​​a national product that combines European quality and the traditions of Russian stylish shoes. As a result, in 1998, the brand "Payana" was born, under which women, men and children shoes are produced. In 2003, the first store of the company was opened. By 2007, the network expanded to 9 stores. Over the past few years, Payana Shoes stores have opened in St. Petersburg, Petrozavodsk, Krasnoyarsk, Murmansk, Yekaterinburg, Omsk and other Russian cities
Many come to Moscow for a dream. Many, but not all. Olga Kutepova is a rare exception to the rule.