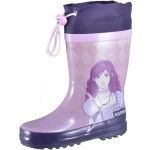 02.04.2012
3577
2012-04-02
The Kotofey trademark jointly with famous Italian company has developed a line of children's rubber boots Snow rain.
Children's boots Snow rain made from dense temperature resistant material before - 30 degrees. At the same time, the top of the shoe is made from waterproof textile material as well as There is a special three-layer insole that regulates the moisture inside the boot. Shoes decorated with colorful patterns of different topics - stylish boots with cars for boys or fashion boots with image dolls for girls.
The Kotofey trademark was registered in 2001 one year of the oldest Russian manufacturers of children's shoes OJSC "Egorievsk-obuv". Wide range of models and constant assortment update fixed behind us leading position among manufacturers of children's shoes. In year More than 1000 different models are offered, and update assortment is more than 40% per year... The total production is over 3 pairs per year.
The Kotofey trademark, together with a well-known Italian company, has developed a line of Snow-Rain children's rubber boots. Children's boots Snow-Rain are made of dense material that can withstand ...