On March 31, 2012, like every last Saturday of March, for 4 years already, IKEA stores and MEGA shopping centers throughout Russia will support the international action of the World Wildlife Fund (WWF) "Earth Hour". This step is an opportunity to attract the attention of many people and tell that each of us is able to accomplish a small feat and contribute to a great work to preserve the climate and the well-being of the planet.
On the last Saturday of March, at 20.30 local time, in IKEA 14 stores in all regions, the light will be dimmed for exactly one hour. In addition, the lights of the light tower, the symbol of the MEGA shopping center chain, go out.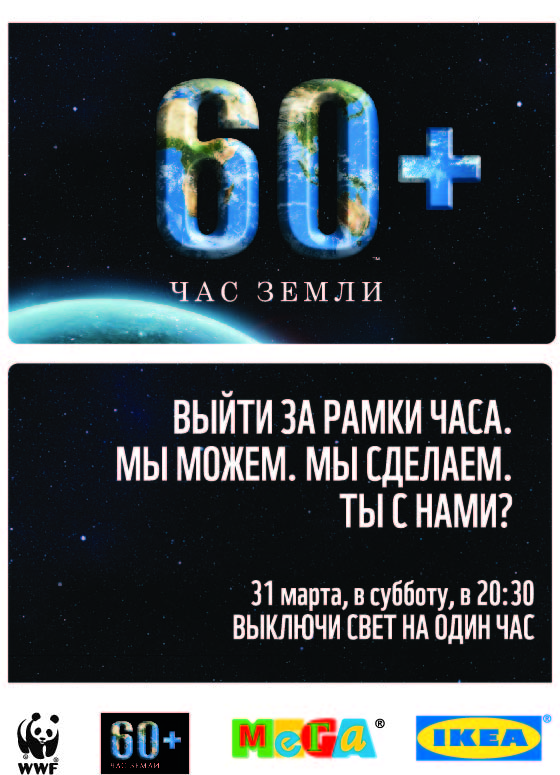 The Earth Hour action is the most massive action in the history of mankind that gathered last year 1,8 billion participants in 135 countries of the world on all continents. This year, everyone has a chance to become a hero and even save the world by arguing, having accomplished a small feat. For example, Fiji's president, 70-year-old Epeli Nailatikau, has already stated that he will walk 30 kilometers if commercial companies, non-governmental organizations and state-owned enterprises in Fiji take concrete measures that will have a positive impact on the environment.
"Social and environmental responsibility is an integral part of IKEA's corporate culture. One of our company's long-term strategies is to increase energy efficiency, "says Per Wendschlag, IKEA CEO in Russia. "We have been supporting the Earth Hour campaign since 2009 of the year and consider it a good opportunity to tell more than 227 to millions of our visitors across Russia about how each of us can make even a small contribution to the great work of preserving the climate and the well-being of our planet."
WWF Russia Director Igor Chestin became the first Russian to officially conclude his "dispute" of Earth Hour. "This year marks 10 years as the World Wide Fund for Nature (WWF) and IKEA strategic partners in Russia. We are pleased that the company has been supporting the promotion for 4 of the year. This is a big contribution to our common cause, "says Igor Chestin, WWF Russia Director.