"The monobrand format doesn't work today", "It is necessary to approach retail development very carefully", "If the crown has grown, it's a disaster" ... Talk with the general director of the Caprice German shoes chain store Anatoly Levshin and his business partner Yuri Rodzaevsky can be carried away quotes for a retail business textbook. The Shoes Report correspondent talked with the most experienced players in Russian shoe retail about the ups and downs in the business, the crisis and future development plans.
Anatoly Petrovich, how many stores are in your network now?
Anatoly Levshin: Four of them are the largest - this store on Semenovskaya and a store on the Universitet metro station, in the Tramplin shopping center (Lomonosovskaya St., 23). This is our first store that was opened four years ago. If you notice, we have a multi-brand. The monobrand format does not work now. I will not even name a brand that can be successful in this format. We work with the brands of the Wortmann Group, 50% is Caprice, but we have shoes that are more expensive - Peter Kaiser, HÖGL, Lloyd's, Pikolinos, Ara.
Here, on Semenovskaya, we have a store - 400 square. meters, nowadays such a large shoe store is a rarity ... After all, it needs to be filled and filled up correctly - present the model range, order a "size" so that any customer can find his own model in it. Naturally, we are considering development proposals, and we have never hidden this, but it is important that new points are no worse than long-running ones - otherwise, why open them? The money that you invest in opening an unsuccessful point will never return!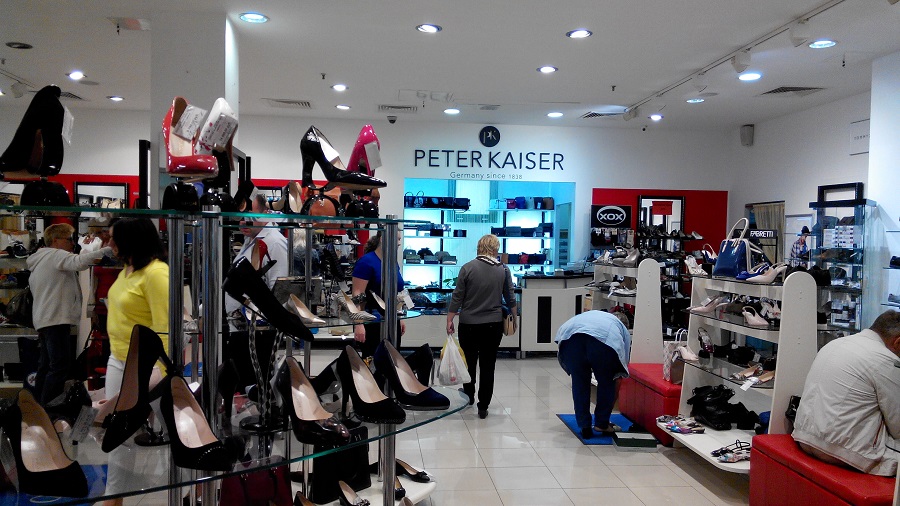 German shoes Caprice
That is, you are careful about network expansion?
Anatoly Levshin: I believe that it is necessary to approach retail development very carefully, especially since in good places rental prices are not reduced ... There are no vacant seats in Semenovsky, and they have never been here in 20 years of our presence. We have a small shoe network and this is its own specificity. When you have four stores, opening an unsuccessful point is a big risk, because it is 25% of the total turnover. If the network is larger, the risk of opening an additional store for the business will be, accordingly, less. But retail must be manageable, you need efficiency, the ability to quickly make changes to the work, according to the situation. We in each of our stores know where we have what it costs, and we go to work every day. Now the spring-summer 2017 collection is being formed, this is a very important point.
How does a buyer behave in a crisis? Is it moving into a lower segment?
Anatoly Levshin: Of course, someone is saving. But you know, there are those who have been wearing Peter Kaiser for many years, they still remain true to this brand.
And, for example, a company Zenden strives to create the widest possible network throughout the country. At the same time, we see that retailers who had large networks, such as TsentrObuv, Carlo Pazolini eventually came to collapse ...
Anatoly Levshin: Think about it, not a single empire has survived! Large-scale projects are difficult to manage. Again, the network must be managed. We have enough negative examples of the development of large retail - City Shoes, TsentrObuv, Monarch ...
Yuri Rodzaevsky: The problem is that in Russia lending is very expensive, because of this, the situation with large retailers is extremely unstable. Business is sustainable if you work on your money. And it's impossible to develop a large retail network in our country - another crisis sets in and companies go bankrupt.
Anatoly Levshin: Yuri and I have been working together in the market for 20 years. We are fans of our business, we stood at the origins. In the 90s we had a K + C company, and we were the first to introduce a new retail format with a wide range of products to the Russian market, our business was very successful then. I was in retail, Yuri was in wholesale. You can imagine: a day one of our shops on Mira Avenue sold 1000-2000 pairs! In March 2000, there was a queue for 6 hours at the store on Prospekt Mira.
Why was there such a stir? I remember that you had a good collection ...
Anatoly Levshin: The collection had everything that was possible, even American brands ... By the way, we had a youth section, there were Hush Puppies, Shoe, Kickers. But then our youth was not yet ready for this. Demand for the youth collection was weak. I think that we were a little hurried with the opening, especially at Semenovskaya, because in the 90 it was a district of factories ... But the classics then went well with us. In the store on Semenovskaya, we have constantly worked for 15 sellers and trainees. Neither in Moscow nor in Russia there were no more similar networks. There was a good team, everyone was a person. It happened - people, time, formats. Now collect it specially - it won't work. In the 1998 year - it seemed like there was a crisis - and we were selling premiums of 100 dollars to our sellers!
Yuri Rodzaevsky: Then, in the crisis year, everyone sank, and we, on the contrary, developed. Even exchange points were opened in stores so as not to miss the buyer.
Anatoly Levshin: In each store we had an exchange office, except for the store on Semenovskaya. People came, changed money and immediately bought something. Today we meet with partners from Omsk, Tomsk, Kachinsk, Chita, Chelyabinsk, from Moscow, with networkers who have been working on the 15 market for years, and they recall: "We went to you, they stole ideas from you." It is clear that in Russia then there were either Soviet formats surviving their age, or some kind of single-brand stores that did not stretch for a long time and left. We were the first of those who presented a fairly wide range, so the network has evolved. At some point, we began to expand actively - we opened on Zemlyanoy Val, on Kutuzovsky Prospekt, on Leninsky. And so long as there were 7 stores, the network was manageable, and everything was fine, but they opened the eighth, ninth - everything went wrong.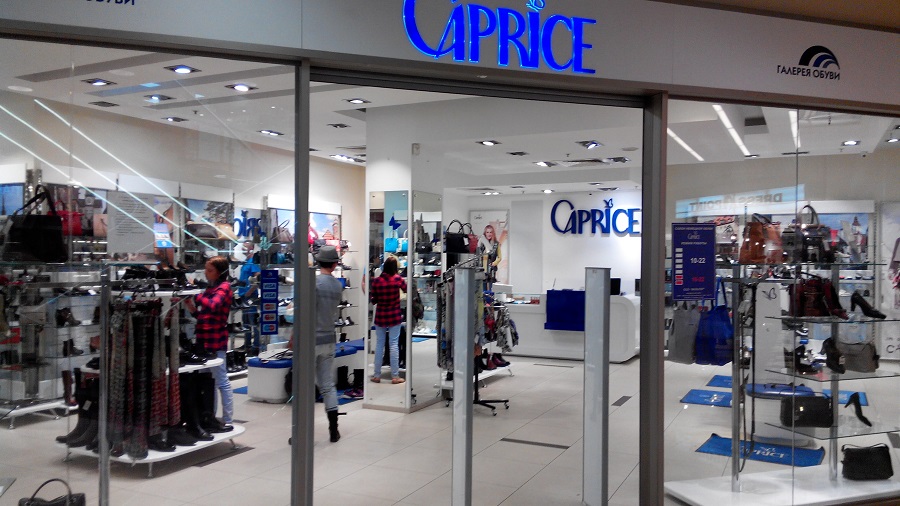 German shoes Caprice
We left K + S in 2000, but we had other stores - German Shoes. Yuri on Semenovskaya had his own - Eurostyle with an assortment of 1,500 models. And other people came to K + S, another team, the store turned into Zh, but that was already without us.
Yuri Rodzaevsky: "F" - it was a parachute project, a project to save the network. There was an attempt to reorient to cheap China.
And what kind of problems were in "K + S", why did everything go wrong?
Anatoly Levshin: This is all because of ambition, too often began to open new points, there were extra investments, and it was necessary to count money.
Yuri Rodzaevsky: We can say that dizziness happened from success.
Anatoly Levshin: Yes, if the crown has grown - this is a disaster, not everyone can handle it. And if it took off high, it will hurt to fall.
Yuri Rodzaevsky: By the way, in the Zh network, from the very beginning the strategy was built incorrectly, the stake was placed on the development of freestanding stores, on street retail. That was a mistake. Indeed, in the 2000 years, shopping centers began to develop.
Anatoly Levshin: Yes, then it was necessary to do exactly the opposite - to open in shopping centers. In addition, in those days, prospectuses were still in operation. The shops on the avenues - Kutuzovsky, Leninsky - were worth leaving. By the way, the Garden Ring never "worked" - we had shops on Sadovo-Kudrinskaya, on Zemlyanoy, on Smolenskoye - all of them were unsuccessful. If "Zh" left the shops on the avenues and went to the shopping centers, she would be successful.
Yuri Rodzaevsky: But it so happened that competitors entered the shopping centers, and "F" lost its position. Just Rendez-vous began to develop at this time, "City Shoes." "City", by the way, also failed, the network was poorly managed, focused on too cheap an assortment, and this led to overstocking. Strategic mistakes were made one after the other - in the end, everything was curtailed.
I know that in different cities there are still shops KC Shoes...
Anatoly Levshin: This is the retail of our former partners. KS shoes are in Yaroslavl, in Siberia - in Kemerovo, in Yekaterinburg. They bought shoes from us, the sign from them has remained since that time. In the 1998 year, many invested in the purchase of retail real estate, acquired stores in property, and due to this, they now feel more confident, as they can be flexible in pricing.
During your work in the shoe market, you have experienced several crises, is the current crisis different from the previous ones?
Yuri Rodzaevsky: The difference between this crisis and the previous ones is that then consumption did not fall too much, and during this crisis many refused to buy. But at the same time as purchasing activity declined, many players left the market. And it so happened that along with the decrease in consumption, the supply also decreased. Therefore, those who had the opportunity to work flexibly reacted to the situation in time, managed to resist and now feel more or less normal.
By the end of the year, is the consumption situation gradually leveling out?
Yuri Rodzaevsky: Yes, it is now leveling out a bit - the euro is no longer 85 and not 90 rubles, but 70-72 rubles. So the situation is even more or less prosperous, moreover, people are already accustomed to new prices. Demand and supply balanced, many centers are empty. We now have a lot of offers from landlords.
Do you think there is a future for shoe retail franchising?
Yuri Rodzaevsky: While there are such rates on the loan, it is very difficult. Because the franchise is taken by people who start a business, they have zero safety margin. And the franchise seller is not that big either. If something goes wrong with the franchisee, their problems hit the franchise owner like a boomerang, and he is forced to take the rest. Where will he go to them? After the accumulation of leftovers, there are delays in loans, and off we go. How many times have already tried - they begin to offer a franchise, and then the offer is sharply reduced, or the working conditions change. They increase the lump-sum payment ... But you can't develop a business like that!
Now many Western experts say that retailers should send funds for development on the Internet, as buyers often begin to get acquainted with shoes on the Web. How about development on the Internet?
Anatoly Levshin: Honestly, while we are working the old fashioned way. But we are excusable, because the network is small, and there is no urgent need for our presence on the Internet.
Yuri Rodzaevsky: In addition, there are statistics that the online store gives about 40% return. Still, shoes are a product that requires trying on. Although now in some online shoe stores they already give the exact parameters for each sold model (in length and width), so they can be checked with your foot measurements remotely ... Of course, over time, all this will be more developed.
Do you have any business development plans - do you want to keep what you have, or are you planning any kind of growth?
Anatoly Levshin: Of course, we are focused on development. If everything goes as we intended, then this year we will open another store in Moscow. But it is important that everything is thought out, and it is too early to disclose details.
Interviewed by Marina Shumilina
"The monobrand format does not work today", "It is necessary to approach the development of retail very carefully", "If the crown has grown, this is a disaster" ... I talk with the general director of the chain of stores "German shoes ...