The Italian brand AXA is one of the most popular and largest manufacturers of indoor footwear for Russia and Europe. In Russia, the AXA brand appeared in 1998 and is currently one of the most popular and beloved brands of slippers.
For 25 years now, AXA SHOES has been delighting our customers with unsurpassed Italian quality, comfort and beautiful appearance.
The main feature of AXA slippers is their exclusive technology DEO Fit и DEO Push, thanks to which they exude a pleasant aroma with every step. This know-how is confirmed by a European certificate issued by the Swiss Institute for Certification of Industrial Products. The pleasant smell from the manufacturer lasts up to six months. Then you can "refuel" the slippers yourself through special holes in the heel of the sole. You can use your favorite perfume.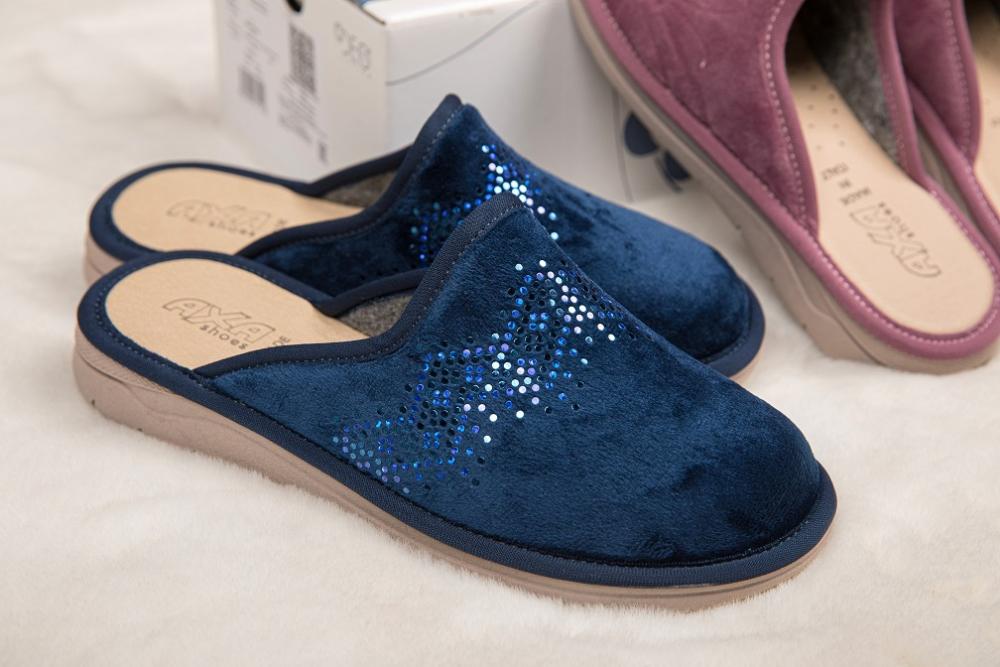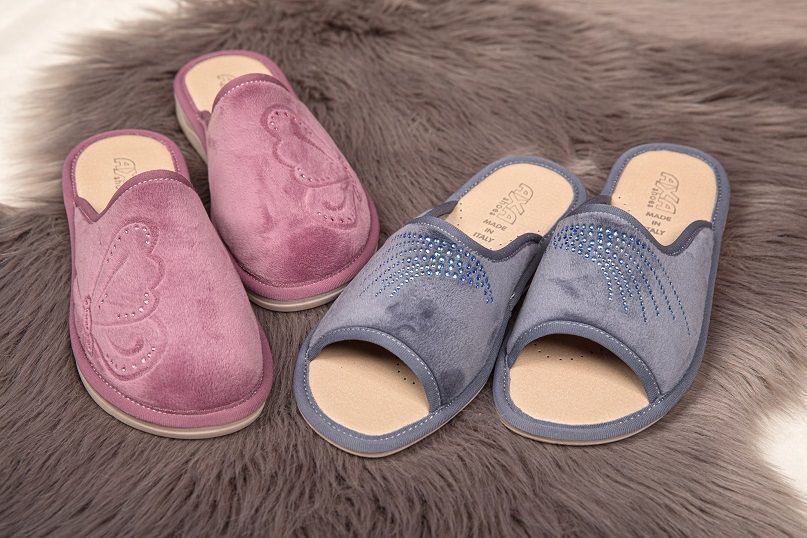 The collection includes two types of soles. Natural cork is added to the soles of the first type - the bark of the cork tree, which grows in Sardinia. The technology makes it possible to implement an "anti-shock" system with high shock absorption capacity. When producing another type of sole, natural foam latex is used, which perfectly follows the shape of the foot. These slippers are always comfortable and never chafe.
Both types of soles are coated with a special coating as thick as a human hair, which prevents slippers from slipping even on a wet surface.
The anatomical insole contains brown coal dust, which is an excellent adsorbent of unpleasant odors and sweat.
The top of the slippers is made of delicate and soft fleecy velor with the addition of silk threads.
The splendor of the collection is complemented by the various decorations on the top. These include rhinestones applied with a factory press (so they never fall off), and various prints, as well as real hand embroidery.
As you can see, there are really many advantages. These are not just slippers, they are the house shoes of your dreams, which are available at any time. It is especially important to purchase AXA slippers in the autumn-winter season, because in addition to the expected cold weather, when your feet especially want warmth and comfort, the New Year and Christmas holidays are coming up. And AXA house slippers are a great gift!
Why is purchasing wholesale AXA slippers from an official distributor profitable?
1. Huge selection of AXA home slippers for the whole family.
2. Reasonable prices available to any buyer.
3. Convenient order form and payment using any method existing today.
4. The brand participates in all significant international shoe exhibitions, so designers are constantly aware of new fashion trends and new seasons.
5. Unsurpassed Italian quality and magnificent appearance of AXA house shoes.
Buy wholesale slippers AXA Shoes only from the official distributor in Russia on the website www.axashhoes.ru
The Italian brand AXA is one of the most popular and largest manufacturers of indoor footwear for Russia and Europe. In Russia, the AXA brand appeared in 1998 and is currently one of…