Santoni is the most expensive shoe in Europe (Naomi Campbell was wearing sandals for 3,5 million euros at the presentation of the new Montblanc jewelry line). Santoni is Trilux's unique volumetric dyeing technology that allows you to mix colors so that they look like a plaid. Santoni is brand promotion through the Olympic Games (in 2008 for Beijing, the company launched the Santoni Club collection - Santoni Olympic - moccasins made of soft leather on comfortable soles decorated with the embroidered motto of the Olympics: "One world One dream" ("One planet, one dream "). We talked about ideas, technologies and national pride with the owner of the Santoni brand, Giuseppe Santoni.
- In the 2007 year, Moscow was the only city where four Santoni boutiques were opened - more than in any other megalopolis in the world. And it was about the discovery of several more. Have they all withstood the 2008 crisis of the year? How did the company survive this difficult time?
- Our stores easily enough survived the economic crisis due to the highest quality and impeccable style.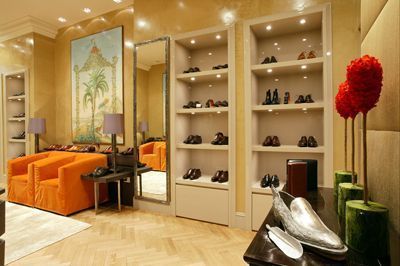 our shoes. After all, Santoni is not just shoes, but a real work of art, a kind of investment for our customers. In addition, the company, having 30-year-old traditions and unique handmade technologies, always looks positively into the future, using all possible innovations. Santoni is now preparing for a new strategic partnership that should bring success to the brand. The traditions of past generations, continuous improvement, creative search, innovation - these are the secrets of our company's success even in the most difficult economic situation.
- Brand Santoni appeared in Russia in the 2002 year. What image of Russian buyers have you developed during this time? How have they changed in eight years?
- Russian clients of Santoni, then and now, are business men and women who travel a lot, who have seen the world. They value quality, exclusivity, impeccable style, exotic materials and uniqueness of style. They love classics, but always strive forward, carefully following all trends, fashionable novelties and innovative technologies.
- On the issue of innovation. Are you continuing the research on artificial leather aging begun by your father Andrea Santoni? Maybe you have some kind of area of ​​interest?
- The company today is proud of the unique technology of aging leather patented by our brand. The experiments begun by my father are continuing and now, we are looking for new options for coating and leather vintage.
- You also have unique anticatura technology. What it is?
- Technology anticatura - A special staining process that my father started using. This is the most important "recipe" from Santoni, making our shoes unique. For three hours, the master paints each pair in different colors, alternating layer by layer, until the painted surface acquires a deep, voluminous hue, giving the leather a peculiar 3D effect.
- How to determine that the leather is real and of good quality?
- Real leather should be soft, but dense enough, without any defects on the surface. The leather that is used in our production, before becoming the basis for a new pair, is carefully checked by experienced craftsmen in the laboratory of the factory.
- What materials do you prefer to work with?
- When working with the men's collection, I prefer soft calfleather and the leather of exotic animals (python, crocodile, sea stingray).
- How do you assess the success of the company now? What is your main task in 2010?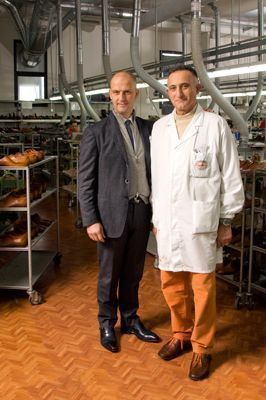 - In 2010, we plan to strengthen our position in the segment of fashionable women's shoes thanks to our new creative director Edmundo Castillo, who, despite some difficulties and challenges of the last three years, confidently consolidated the new image of Santoni, creating an amazingly sensual and fashionable Rose Collection line. These are shoes for true fashionistas who follow all the latest trends, for feminine, sexy, glamorous young ladies with an impeccable sense of style. We are proud of the Rose Collection, the haute couture shoe collection with which the company intends to firmly establish itself in the international fashion market. The main thing for the brand in the upcoming season is the promotion of the Rose Collection women's line, as well as the expansion of distribution and the opening of new stores, including in Russia.
- Is fashion an art or a business?
- Fashion in our company is represented by the chic and sensuality of the Rose Collection women's line, art is represented by the male line, a limited collection that fully reflects the brand's philosophy: shoes as a masterpiece. Each pair, made in an exceptional color, is completely sewn by our craftsmen, who carefully preserve all traditions, so the end result is not just a pair of men's shoes, but a real handmade masterpiece.
- How to find a balance between fashionable design and shoe comfort? What is more important for you: color, shape, material?
- Of course, a clearly verified formula, what is the balance for each particular pair of shoes, simply does not exist. We adhere to the following rule: ideal shoes are style, comfort, uniqueness of each model created from durable materials of the highest quality.
"You run the business with your sister." How are your responsibilities distributed?
- I am fully involved in the processes of product development, marketing strategy and distribution. My sister Ilia is involved in administrative and financial matters. As a result, our entire family is focused on managing the company. We are constantly looking for new ideas and ways to develop our business, jointly discussing and making the most important decisions for the brand.
- Do you have young designers in the team?
- We have three teams of designers who work independently, but constantly consulting with me. The idea of ​​continuity of generations is very important for us - both for a specific collection and for the general philosophy of the company. Therefore, a school for training young specialists has been opened at our factory, where representatives of the older generation successfully pass on the secrets of unique hand-made technologies to our young masters.
- In 2006, you started a joint project with Mercedes - the release of the Santoni for AMG sports shoe line. What is the fate of the line?
- Marketing relations with Mercedes AMG continue from season to season with the advent of new colors and new models in our common collection.
- In which country are these sneakers best selling?
- Unfortunately, I do not have statistics at hand, but I can say that this model is especially popular with American consumers.
- You had a special line of shoes for the Beijing Olympics. Is the appearance of the Santoni for Sochi collection possible for the 2014 Olympic Games of the year?
- So far, there are no plans to create such a line for the Sochi Olympics. However, this is a really good idea! In June, for the World Cup, we launched a limited series of sneakers with football symbols. They depict the flag of South Africa - the mistress of the championship. By the way, we provided a unique opportunity for each of our customers: they themselves can choose a flag for drawing on the leather surface.
- Are you interested in any kind of sport?
- My hobbies are car and swimming. Sitting behind the wheel of a Mercedes AMG, swimming in the sea with children in their free time in summer - these are the little joys of life. Moreover, this does not distract you from work, because wonderful sandy beaches are located very close to our factory.
- What is your closest attitude to work - pleasure, self-realization, human relations?
- Our family is fully engaged in this business, for us it is a life's business, a business that brings us mutual pleasure, this is what and for what we live. Our shoes are the embodiment of our values ​​and traditions.
- Tell us about yourself: how did you get into the shoe business? did you have any doubts? was there a desire to try yourself in some other field?
- I decided to work in the company of my father immediately after graduation. First headed the international distribution department. And when I was only 20 years old, I began to travel the world, working together with the company's designers. " It was a whole new experience.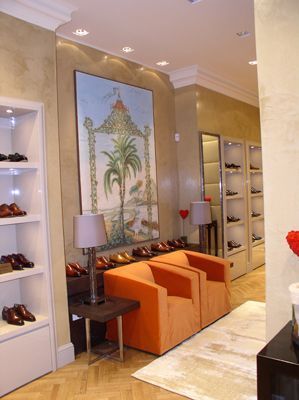 - Do you remember the first pair of shoes made with your own hands? What was she like?
- My first pair of shoes ... Of course, a pair of real Santoni men's shoes made by myself.
- What is creativity for you - a state that you can enter and which you can hold, a flash of insight, intuition, the harmony between commercial calculation and the flight of fantasy?
- Creativity for me is first of all harmony. After all, what is a successful collection? This is a well-balanced relationship between fantasy and comfort in daily wear, between fashion and the laws of classical elegance.
- Do you like to go shopping yourself?
- Yes, shopping for me is not only a way to spend free time, sometimes it also becomes a professional duty. Especially at those moments when we begin preparations for the creation of a new collection: the creations of other designers help to assess the market situation, our own position and sometimes serve as an excellent source of inspiration.
- What does money mean to you?
- Money is important for maintaining a good standard of living, but it cannot be an end in itself. This is by no means the most important thing in life.
- What is more important: time or money?
- Time, in my opinion, is a unique, "luxury" key to success and prosperity.
- It used to be that Russian people were not used to counting money in grief or joy. Is it right now?
- It's not about the money, but the absolute exclusivity and uniqueness of each pair of shoes, luxury that the Russian buyer never stinted and spared no money with.
- What features distinguish the Russian market of luxury shoes?
- The Russian buyer, like no one else, appreciates the luxury of shoes and accessories and is ready to invest his money in it.
- How many pairs of shoes should be in the wardrobe of a woman, and how many - of a man?
- In women, this number can tend to infinity. A man should have 10 – 12 pairs of shoes; necessarily one pair of sneakers, one pair of classic shoes with a double strap, one moccasin, one pair of boots.
- Being an Italian, what are you most proud of in your country? - I am in love with the history of Italy, with everything connected with art and design. I am proud that I am Italian, and I can call myself the real son of my fatherland, giving the world the best handmade shoes.
Santoni is the most expensive shoe in Europe. We talked about ideas, technologies and national pride with the owner of the Santoni brand, Giuseppe ...