KixBox - two stores that sell rare models of the iconic sneakers Fred Perry, Lacoste, Nike, Puma - most of all resemble the street. But if in the first this street is closed and from the outside it really looks like a box, a kind of nook, then the second store, thanks to glass windows, seems lighter and more open, like a toll highway. And the camper tape that screams about the sale, which encircles part of its square, suggests road works.
But, as it turned out, the tape is a temporary and forced measure. Partial repair of the store is competently made up for the concept. The track will again begin to function in normal mode as soon as the problems are fixed.
Concept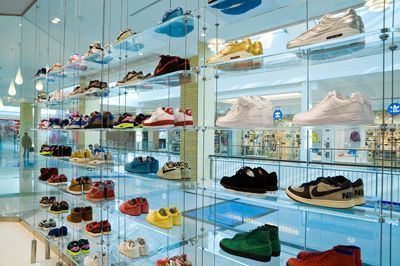 Today, in the youth street fashion segment, thanks to its unique range of products, KixBox is a coveted brand. Of course, it is too early for him to talk about general fame. He is popular mainly within subcultural hipsters, football fans and others. Due to its interesting positions in the assortment, for many of them it is the number one store. Although recently, this cult KixBox has been broadcasting to a wider audience, attracting the attention of outside "observers" and instilling in Moscow a love for streetwear (streetwear). But in any case, the store works for a youth audience from 17 to 27 years old.
The first KixBox was opened in 2006 by the same team that developed UK Style, Fred Perry and Magazin Zing. At that time, UK Style was just starting to experiment with the English streetwear style. Premium brands like Griffin or Maharishi appeared in it, and Puma and Nike from sneakers. But store owners looked to the West, where there were already many conceptual shops, both expensive and not so. Most of them were originally initiated by subculture insiders, later turning into a profitable business. In Russia at that time there were no specialized conceptual sneaker stores. But focused on sports and fashion - plenty. Therefore, there was simply nowhere to sell limited series of sneakers, and they were sometimes exhibited in not very suitable places, for example, in sports chain stores, where priority is still given to sports rather than life style. According to Maxim Kalmykov, marketing director of Style Operators (operator of KixBox, UK Style, Fred Perry stores), manufacturers of sneakers work strictly according to the distribution matrix, which divides the sales channels into six types. So in the stores "sports specialist" sold shoes for one sport, say, football. Its wider range - already in the sports department store - is the second channel. The third and fourth are sport life style shops that specialize in casual shoes. The fifth and sixth channels obey fashion. And if the Six stores are the first lines of well-known brands, then the fifth channel, which is considered to be KixBox, is filled with affordable designer sneakers. "That is, Puma Alexander McQueen is the sixth channel, and Puma Clyde is the fifth," confirms Maxim Kalmykov. And this fifth channel before 2006 in Russia was not. So the idea was born to separate streetwear-sneakers and clothes from UK Style in a separate direction, opening their own store - KixBox. Its range includes limited edition models: those that are produced in series from 200 to 2000 pairs.
Range
KixBox represents iconic street fashion brands such as Stussy with a long history and strong connection with subcultures, alternative design brands (Sixpack, Ontour, ALIFE) and unique products by leaders in the running industry (Nike, Puma). Naturally, most models (approximately 60 / 40) are male. The assortment of stores has both clothes and shoes, but the latter has priority. It's simple: the re-release of Fred Perry's Kenilworth Nylon running shoes, or one of the classic Blazer Nike silhouettes released as part of the Vintage Glory collection, or the rare Lacoste Stealth Crocodile devoted to crocodile legends and myths cannot be found elsewhere. The reason for this is the exclusive and distribution obligations undertaken by the KixBox team. "We are the exclusive distributors of the brands Fred Perry, Stussy, Sixpack, ALIFE," says Maxim Kalmykov. - This was done to a greater extent to protect our own retail. Still, the strength of KixBox is its uniqueness. It presents status brands, although they are not so well-known among the masses, but they are highly valued in their segment. Therefore, if a second store with the same brand mix appears, it will become a serious competitor to us. "
In turn, from the shoes presented in the Fred Perry boutique, the Fred Perry models in KixBox differ in their rulers. So, in the monobrand, the first lines are exhibited, for example, classic sneakers for table tennis, which are cult for Fred Perry. Therefore, they are produced in small runs and distributed as part of a limited distribution. This means that such sneakers can only be sold in a boutique. Otherwise, the cult of this authentic model will be destroyed.
With other shoe brands, things are much simpler. Relations with them are built on distribution rights. Nevertheless, the exclusive theme is also present in working with Nike, Lacoste and some other companies, since for these companies KixBox is considered a conceptual and strategic partner. That is, those who provide decent sales within the framework of understanding the niche market. So, under the exclusivity stamp, he is offered separate limited lines. "This story happened with Crocodile Mythology Lacoste," continues Maxim. - The only alternative for the company was the Central Department Store, but there the goods risked being lost, and, in addition, it would clearly be further from the consumer. And since we are a strategic retailer for them, the distribution issue was quickly resolved. "
As recognized by KixBox, Nike and Fred Perry are the largest sellers. Lacoste is also in good standing, but often in terms of model line-up it creates competition for Fred Perry, so they are not keen on them at KixBox. "Puma, Kit, ALIFE is the second division. They have no breakthroughs, but they have stable average sales, "says Maxim Kalmykov.
Merchandising
"The main principle is simple: clothes-shoes, boys - to the left, girls - to the right," adds Maxim. - Weighing - one thing at a time, one pair or half pair. Another hint of the departure of things from mass. At one time we tried to do zoning on topics, but in the end this approach did not take root. KixBox is an alternative store, so it's difficult to promote any image in it, since not all customers will agree with them. And it's not always convenient because of the small area. " That's why the layout is very natural: by model and color, they prefer to avoid strict merchandising rules in KixBox. Shoes are displayed in separate zones: in the first store above the brackets with clothes, in the second one it occupies the entire space of shop windows. Moreover, the equipment is very modest: shelves, only some of which have a bright color accent. The colors of the interior are soft and calm: green, gray, blue and background white, black. Neutral tones are caused by a bright product that will be lost on juicy shades.
Staff
KixBox employs young people who "like sports and sports design, street culture, noisy parties, teamwork," this is the characterization of the team at KixBox itself. "The seller's job at KixBox is a kind of sport, belonging to the world of street culture, fashion and design." The main requirement for applicants is "a desire to work and the ability to communicate openly with a customer," the store's website says.
Random people rarely come for an interview. Search for sellers is carried out constantly and mainly through the official websites of the company. That is, a person who is not interested in streetwear is unlikely to go to this site and run into a vacancy.
An absolute priority when choosing an employee is an adherent of street culture. He already has minimal knowledge about this subculture, and he will be taught on the spot to know the names, specifics, brand concepts, as well as the sales technique. "As a rule, the main difficulty lies in the inability to communicate with the client," says Maxim Kalmykov. - A lot of people come in, but the seller should start communicating with everyone. This is an elementary service that affects sales. "
In essence, KixBox is an absolutely franchised project. At least any city with a millionaire or the one where the retail chain is formed can have it. Indeed, at the price Fred Perry sneakers are equal to Adidas.
KixBox - two stores that sell rare models of the iconic sneakers Fred Perry, Lacoste, Nike, Puma - most of all resemble the street. But if in the first this street is closed and from the outside ...